Oct 19, 2017The following are news announcements made during the past week by the following organizations:
iDTRONIC;
Murata Americas;
Stanley Healthcare;
Checkpoint Systems;
CipherLab USA;
Suprema; and
LEID Products.
iDTRONIC Releases Two New RFID Readers
iDTRONIC has released two new RFID readers: the ID GATE 6500 Turnstile Reader and the ID COLLECT 5000 Card Capture Reader.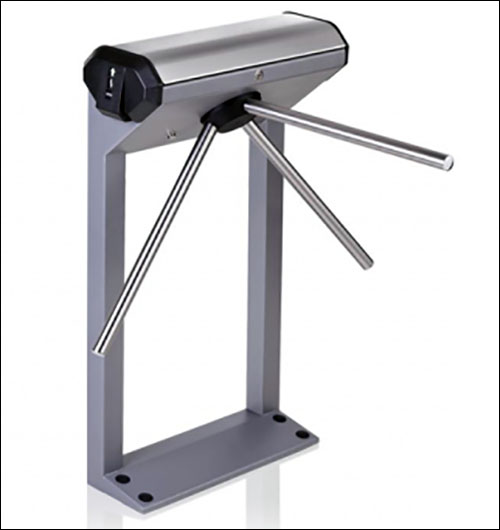 The three-armed turnstile ID GATE 6500 is designed for indoor applications. Intended for access-control applications, it can be purchased directly from the company. The LED illumination of the turnstile shows whether or not a person is authorized to access an area. A green light indicates authorization, while red signifies that the turnstile is closed and access is denied. The ID GATE 6500 comes equipped with an emergency key. Optionally, it can be equipped with mechanical anti-panic folding arms, which can only be folded down manually.

The ID COLLECT 5000 Card Capture Reader is designed to operate within turnstiles as a device for reading and capturing data from proximity cards issued to visitors for entering and exiting a property. The device has a capacity of 450 cards. The ID COLLECT 5000 is made of stainless steel, while its housing is composed of ABS plastic. The reader operates with access-control solutions, such as turnstiles, and can be integrated with a company's existing system.
Murata Intros Small RFID Tag for Wearable, Health-Care Markets
Murata Americas has introduced its LXMSJZNCMF-198 tag, a RAIN RFID tag with an integrated antenna. Measuring 1.25 millimeters by 1.25 millimeters by 0.55 millimeters (0.05 inch by 0.05 inch by 0.02 inch), the tag can withstand over-molding and embedded processes, and provides tracking and tracing capabilities to support product authentication and brand protection. Its size makes it suitable for use in eyewear, watches, wearables and health-care applications, the company reports, such as identifying test tube samples.
The solution integrates Impinj's Monza R6 tag chip to create a solution that can be incorporated into an end-product. It delivers a typical read range of 10 millimeters (0.4 inch) using a 500mW reader and supports the global UHF band from 865 to 928 MHz. The tag complies with the ISO 18000-63 UHF RFID standard and the EPCGlobal Gen2v2 standard.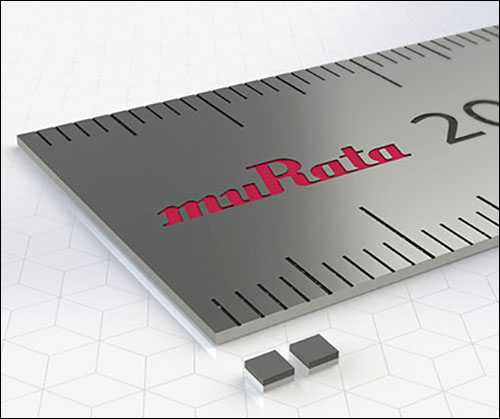 "Murata leveraged its technological, material, and design expertise to develop the LXMS-198. By teaming with Impinj, we're able to develop a new and innovative product for an emerging market," said Gerry Hubers, Murata Americas' business-development manager, in a prepared statement. "In addition to its ability to tolerate the plastic over molding process, this RAIN RFID tag is capable of withstanding liquid nitrogen temperatures—a benefit few other products on the market can deliver today."
"Thanks to the new LXMS-198 package, manufacturers and retailers of small items can take advantage of all the benefits RAIN RFID has to offer," said Carl Brasek, Impinj's senior director of product management for silicon products, in the prepared statement. "With Murata's new package and Monza R6's superior performance, item size and materials are no longer barriers to using RAIN RFID solutions."
Stanley Healthcare Wireless Emergency Call Solution Receives UL 1069 Certification
Stanley Healthcare, a provider of life-safety and security solutions for the senior-living and health-care industries, has announced that its Arial Wireless Emergency Call solution has received certification for the UL 1069 standard for hospital signaling and nurse-call equipment—the recognized standard for such systems in North America. Skilled nursing and other senior-living facilities in states that mandate UL-1069-compliant nurse-call systems will be able to utilize the solution's wireless infrastructure and features while meeting regulatory requirements.
"As the leader in safety and security solutions for senior living, we are very pleased to bring the proven wireless performance of the Arial solution to even more parts of the country," said Greg Borecki, Stanley's VP of senior living and fall management, in a prepared statement. "Arial is a comprehensive safety and security platform for senior care, encompassing nurse call, emergency call, wander management, fire alarm integration and much more. And now it offers wireless UL 1069 nurse call functionality, making it a single platform spanning the entire spectrum of senior care, from independent living to skilled nursing."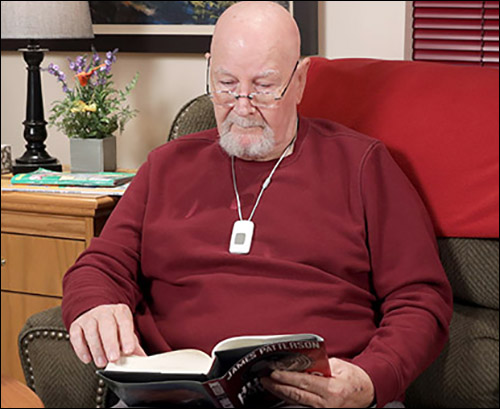 The Arial solution employs wireless and other technologies to help organizations improve resident care. Wireless infrastructure is quicker and cheaper to install than traditional wired systems, the company reports, with less disruption to residents and personnel. It also enables communities to quickly expand or modify coverage based on changing needs. Since the Arial solution supports multiple applications, senior-living communities can leverage their initial investment to meet other needs.
In addition to integrating a range of other systems, such as wander management and fire panels, the Arial solution offers an analytics dashboard for communities to benchmark and measure performance. It also comes with a mobile application allowing workers to view and manage events, as well as coordinate responses and document actions taken.
Checkpoint Systems Wins Asia Business Achiever Award
Last week, Checkpoint Systems received an Asia Business Achiever Award. During a ceremony held at Cordis Hong Kong, the organization presented Checkpoint with its Innovation and Quality Assurance Award.
The Asia Business Achiever Awards are hosted by the Asia Business Consultancy Association, a Hong Kong-based business-consultation platform. The awards are given to enterprises and individuals from industrial and commercial circles who have made outstanding achievements in Asia. They encourage enterprises to set up a solid brand image, achieve excellent results, make a contribution to society and promote cross-industry exchanges throughout the continent.
"This award means a lot for Checkpoint Systems and is the affirmation of our excellent management team, innovative and high quality products and performance of civic responsibility," said Mark Gentle, Checkpoint Systems' VP of sales for the Asia-Pacific region, in a prepared statement. "Checkpoint Systems has high-level corporate management and the leadership is composed of a group of international and local experts. Under their excellent leadership, Checkpoint Systems transforms from an anti-theft and loss-prevention equipment supplier in the past to a loss management consultant and partner required by enterprises."
He added, "The world is developing towards the smart city—the retail industry integrates physical networks and electronic platforms. Checkpoint Systems masters the state-of-the-art technology, integrates the smart concept into products, provides higher value total supply chain solutions, combines the whole logistics, inventory, loss prevention and customer experience, and builds a smart ecological environment".
CipherLab Unveils Mobile Computer Able to Read RFID, Bar Codes
CipherLab USA, a company that designs, manufactures and markets automatic identification and data-capture (AIDC) products and systems, showcased its latest rugged mobile computers and bar-code scanners this week at NACS SHOW 2017, held in Chicago, Ill. At its booth, CipherLab introduced its new rugged RS31/RS50 Series Touch Mobile Computer and its 9700 Series Industrial Mobile Computer, designed for warehouse, logistics and supply chain operations.
The 9700 meets the IP65 standards, the company reports, and offers multiple reader options, including f laser, 2D imager, extended range laser and near/far 2D imager. Three keypad options make the system user-friendly, according to the company. The mobile computer operates on both Windows and Android platforms, facilitating application development. Accessories include a pistol grip and software support.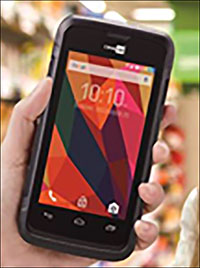 The RS31 is intended for use in field sales, field service, retail and health care. Running on the Android 7.0 operating system, the device enables users to capture data in 1D or 2D bar codes and RFID, as well as deploy Near Field Communication (NFC) applications. Weighing 260 grams (9.2 ounces), the RS31 is designed to be easy for users to carry in the field, while providing reliable wireless connections allowing accessibility to enterprise systems. It has an IP67 rating and provides 1.2-meter (3.9-foot) drop resistance.
"The RS31 series is a refined and evolved mobile computer that gives users the next generation processing power today," said Luis Wu, CipherLab USA's VP and general manager, in a prepared statement. "All of its highly efficient advantages are designed with a familiar user experience to ensure maximum productivity."
Running on Android 6.0 with GMS certification, the RS50 allows worker to adopt Google applications for their tasks, while its 4.7-inch display comes with bare- and gloved-finger and stylus inputs. The device streamlines data capture and supports the collection of 1D or 2D bar codes, as well as RFID, documents, photos or videos, and NFC applications.
Suprema Intros RFID-enabled Fingerprint Access-Control Device
Suprema, a global provider of biometrics and security solutions, has announced the launch of its BioEntry P2 mullion-type fingerprint access-control device. According to the company, the device has a slim design and provides multi-card-reading capability.
BioEntry P2 is designed for both enterprise-level access-control systems and small to medium businesses. It comes with a 1.0 GHz CPU, the company reports, and can achieve speeds of up to 10,000 matches per second. It contains 8 GB of memory, can accommodate up to 10,000 users simultaneously and provides instant matching results with minimal lag time.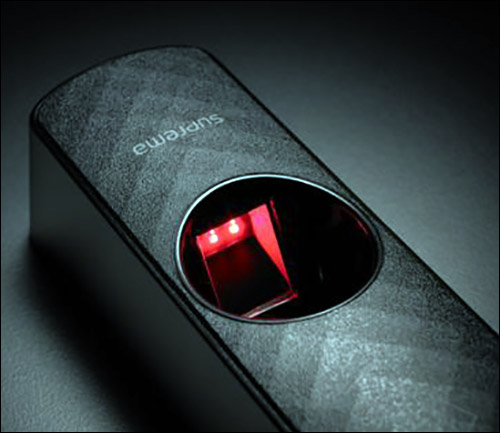 The system combines a fingerprint algorithm, an optical fingerprint sensor and dual-band RFID technology. The latest algorithm is more accurate than its predecessor, according to the company, and reduces false rejection rates, thereby improving security. It can compensate for unsatisfactory fingerprint captures, including direct sunlight conditions and distorted finger images.
Supporting all HID multiCLASS-compatible RFID standards, the device features both LF (125 kHz) and HF (13.56 MHz) RFID technology and can read most types of RFID card standards with a single device. These include MIFARE, HID iCLASS, DESFire, FeliCa, HID Prox, EM and NFC.
"The new BioEntry P2 is the spearhead of our 2nd generation access control line-up and it clearly reflects Suprema's commitment to enterprise-level markets," said Hanchul Kim, Suprema's director of global business. "From the initial design stage, we aimed to bring the most versatile biometric access control solution regardless of RFID standards and size of the projects it covers."
"The primary market for BioEntry P2 is enterprise-level access-control systems, where there is significant demand for biometric solutions with ease of installation and future-proof technologies to cope with fast evolving authentication methods," Kim added in the statement. "Its innovative, multi-RFID reader covers most standards in the market, while it integrates with legacy systems as well as providing users with the capability of adopting new authentication methods into their existing system including RFID, mobile and biometrics."
LEID Products to Demonstrate Asset-Management System
LEID Products LLC, a provider of electronic locker and cabinet storage with biometric asset protection and control, has announced that it will send an asset-management team to next week's IACP Conference and Exposition. The International Association of Chiefs of Police (IACP) trade show will take place at the Pennsylvania Convention Center in Philadelphia, Penn.
LEID Products, attending for the 11th consecutive year, will be among the more than 600 companies exhibiting at this event for law enforcement, which provides an opportunity to more than 14,000 dedicated professionals from across the country and around the globe for learning, collaborating and experiencing new technology. LEID's exhibit will offer live demonstrations of its BACS Systems, a set of intelligent biometric access-control systems used to secure and track critical inventory, including weapons, equipment, keys and evidence.
According to the company, compromised evidence and stolen weapons continue to make news headlines. Recent reports from Alabama and the Dallas area have detailed thefts of jewelry and dozens of stolen guns, at least one of which was later used to commit a homicide.
"At this year's show, we will be demonstrating our patented BACS System," said Sam Hoff, LEID Products' president, in a prepared statement. "It effectively limits the potential liability of missing weapons or compromised evidence for law enforcement agencies who were previously using traditional paper log methods. The BACS system's secure automated storage provides electronic tracking and limits unauthorized access to sensitive items."