Sep 08, 2014During his junior year studying mechanical engineering at the Massachusetts Institute of Technology (MIT), Benjamin Harvatine sustained a serious wallop to his head while competing in a wrestling match. He is not sure exactly when, during that fateful match, he sustained this concussion, but he recalls thinking, "Just keep pushing." Following the match, he realized he was more than just fatigued—he was also dizzy and had trouble speaking clearly. Throughout the months it took Harvatine to fully recover, he was dogged by the question: How could this have been prevented? Then, while enrolled in a class called Sensors & Instrumentation, he realized how he could have avoided that concussion—and he also saw a business opportunity to innovate the ways in which young athletes and their coaches track and evaluate concussions, by using a combination of wireless sensors and a smartphone application.
"We had a project called 'Go Forth & Measure,'" Harvatine says. The assignment was to select sensors from a wide array of options, take them out into the real world, measure something and report back through a poster session. "So I took a couple accelerometers and strapped them all over my wrestling headgear."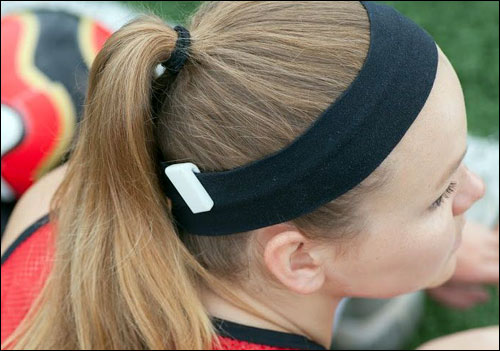 During the past few years, physicians, athletes and coaches have become increasingly aware of the dangers and prevalence of sports-related concussions. Such brain injuries disrupt synaptic connections and can have long-term health effects, especially on youth athletes whose brains are still developing. According to the New Jersey-based nonprofit group Cleared to Play, 21 percent of all traumatic brain injuries among children in the United States are associated with participation in sports and recreational activities. Even soccer headers (passing the ball with one's head) can lead to serious injury, depending on the frequency and intensity of impact. The New York Times recently reported on a study showing that a history of multiple head injuries seemed to increase the likelihood of developing amyotrophic lateral sclerosis (ALS).
Wrestling headgear consists of ear guards that cover a competitor's ears to protect them from an injury commonly known as "cauliflower ear" that is caused by repetitive impacts. Such headgear, however, offers no protection from blows that could lead to a concussion. With the sensors attached, Harvatine was able to record the number and severity of knocks that he sustained to the head in the course of a match—information that could be used to determine in the event that an athlete was approaching an injury-inducing threshold.
Buoyed by his initial results, Harvatine began asking teammates to try out the very rudimentary and not-yet-wireless setup he had devised. "I had to follow people around the mat," he recalls with a chuckle, "because the sensors were tethered to a data logger that was plugged into my laptop." For the class, which took place during April 2011, he developed a proof-of-concept prototype wired sensor, designed to track and log dangerous head impacts.
Harvatine then began fleshing out the idea further with Seth Berg, a former MIT classmate and electrical engineer. The sensor would need to collect impact data over time, Harvatine explains, and transmit that information wirelessly to a smartphone application, which would analyze the raw data so that coaches, players, trainers and parents could then make sound decisions regarding whether players should take a break and allow time for healing. When athletes continue training while recovering from a concussion, secondary brain injuries can have serious, long-term consequences. To help detect significant head impacts and determine whether they merit extended rest time for recovery, the app also offers short cognitive tests that athletes can undergo on the sidelines and then upload for coaches to review. The full solution—consisting of the sensor and phone app—is called Jolt. The pair launched a Kickstarter campaign in late August to fund the project, and are now 50 percent of the way toward achieving their $60,000 goal.
Inside the Jolt sensing unit are two accelerometers. One, which measures high g-force impacts, is linked to a second accelerometer that quantifies softer hits to the wearer's head. This second accelerometer is important, Harvatine notes, because over time, a series of low g-force impacts could potentially cause permanent injury to the brain. Both accelerometers are connected to an onboard processor than manages energy use—when and how the device changes from sleep mode to active use—in order to extend battery life.
The unit contains a rechargeable lithium-ion battery (as well as a port for a micro USB charger) and a low-energy Bluetooth transceiver, which forwards the impact data, along with a unit identifier associated with the player's name, to a smartphone application that then uploads the data to cloud servers via the Internet. The collected data is stored in the cloud, where it is compiled into a database containing the athlete's history of head impacts, as registered on the Jolt sensor. The player's physician can be provided with access to this injury history, as well as the results of his or her cognitive tests. The Bluetooth link is reliable up to a distance of approximately 100 meters (328 feet), Harvatine reports. Data that is not successfully received by the smartphone is stored on the Jolt sensor, which automatically attempts to upload that information to the cell phone with which it is paired, once it is back in range.

If the Kickstarter campaign is successful, Harvatine says, and if he and Berg advance their sensor from the hand-built prototype to a manufactured product, the Jolt system is expected to retail for $100 (though early Kickstarter backers are receiving a $20 discount).
Helmets designed for football and other high-impact sports, such as ice hockey and field hockey, are now available with embedded or after-market impact sensors, built to track severe impacts and transmit the data wirelessly to coaches. Riddell and CCM, manufacturers of helmets for the National Football League and the National Hockey League, respectively, are building sensor technology into offerings for professional athletes, as well as for high school and collegiate teams.
In fact, Harvatine says, there are 15 existing impact-sensor products already on the market that are designed for athletes. Still, he notes, the Jolt is unique because it can be used for a range of sports. The sensor's electronic workings are encased in flexible rubber and are joined to a small plastic clip—the entire device is smaller than a book of matches—that athletes can attach to a headband, a hat, a helmet or wrestling headgear. "I was a multi-sport athlete as a kid," Harvatine recalls. "Back then, I would have wanted something I could take off my baseball cap and put on my wrestling headgear."
Harvatine says his research shows a potential market of 24 million youth athletes in the United States, ranging from kindergarten to grade 12, who are at a high concussion risk because they play such contact sports as football, hockey, wrestling and soccer, and are thus potential users. In addition, there are between 10 and 15 million participants in snow sports, including skiing and snowboarding, who could benefit from the technology as well.
"After we reach our Kickstarter goal, we hope to move into brick-and-mortar store sales," Harvatine states. "One day, I expect the Jolt sensor is something you'll be able to buy as easily as a helmet and shin guards."