Apr 28, 2008VeriChip has launched a direct-to-consumer initiative known as Health Link, making its RFID system—previously branded as VeriMed—available to customers in South Florida's tri-county area. For $149, a consumer can have a passive 134 kHz RFID chip, compliant with the ISO 11784 and 11785 standards, implanted in his or her arm, with the transponder's unique 16-digit ID number linked to a database containing that individual's medical records and, if they so choose, a living will.
VeriChip is partnering with hearing care provider HearUSA to make the chips available. With the system, consumers can call an 800 number for additional information. HearUSA telemarketing personnel will answer questions about the system and direct interested parties to HEARx stores in their area. Customers can visit one of HearUSA's eight HEARx locations in Florida's Palm Springs, Martin and St. Lucie counties, and have a VeriChip-licensed nurse implant the transponder there in the store. Consumers need not be HearUSA or HEARx customers to have the chip implanted.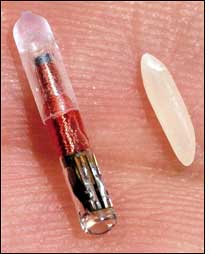 According to Scott Silverman, CEO and chairman of VeriChip, the company changed the name of its system from VeriMed to Health Link because the new moniker is expected to have a wider appeal for consumers. Health-care data resides on a Web-based server hosted by VeriChip. After the first year, a patient pays $9.99 per month to keep that information active on the server.
Thus far, about 900 hospitals on the East Coast have agreed to participate in the VeriChip system. These hospitals have received RFID interrogators that can be used to read a patient's embedded VeriChip RFID transponder to automatically access that person's medical records. Of those hospitals, Silverman says, about 200 have completed VeriChip training on using the system, and have been provided access to the VeriMed database, as well as interrogators to scan unconscious or unresponsive patients. At present, 16 South Florida tri-county regional hospitals—including Bethesda Healthcare System, Good Samaritan Medical Center, JFK Medical Center, Jupiter Medical Center and St. Mary's Medical Center—participate in the Health Link system.
The RFID microchip is injected under the surface of a patient's skin, in the rear upper portion of the right arm. If a Health Link member arrives at a hospital's emergency department unconscious, unresponsive or confused, medical personnel can use the Health Link interrogator to retrieve that person's identification number to access his or her personal health record.
Thus far, Silverman says, only about 600 people in the United States have embedded VeriChip transponders. However, the company expects that number to rise as hospital employees gradually make it a standard practice to scan the arms of unresponsive patients being admitted to an emergency room in order to access their identity and medical records immediately.

In 2007,
Alzheimer's Community Care
(ACC)—a West Palm Beach, Fla., provider of support to Alzheimer's patients and their caretakers—began implanting RFID chips in about 200 volunteers who are clients of the organization (see
Alzheimer's Care Center to Carry Out VeriChip Pilot
). That pilot is still ongoing, according to Silverman.
Because only 600 people currently have the chips, Silverman says, hospital personnel interrogating patients' arms are unlikely to detect any embedded tags. As such, making the scanning process an automatic part of the check-in procedure for incapacitated patients is a challenge. Silverman indicates he expects that problem to be alleviated as more consumers opt to have the implants done. "That's been part of the frustration we have today," Silverman says. "We need examples of the system saving lives." To date, he explains, there haven't been enough chips in use for that to happen.

The direct-to-consumer campaign began Monday with a Web site, HealthLinkinfo.com, and television ads in southern Florida's tri-county area displaying the 800 number and promoting the health advantages of having an RFID chip implanted in one's arm. "We intend to appeal through advertising to high-risk patients and their loved ones," Silverman states. The 30- and 60-second ads will air for three months, and the company also intends to run newspaper ads in the Florida Sun Sentinel and Palm Beach Post.
Silverman hopes to enroll at least 1,000 new participants in the Health Link system. If he reaches that number, he says, he will consider the campaign a success. After three months, if the campaign is successful, VeriChip plans to expand the Health Link system to other regions of the country, most likely beginning in northern New Jersey, where a relatively large percentage of hospitals participate in the VeriMed system.
"Assuming we reach our goal of 1,000, we are prepared to expand," Silverman says, noting that HearUSA has locations throughout the country. "There are lots of companies we could work with." He adds, "If, three months from now, nobody gets the chip, we will have to look at our business model."