Mar 30, 2014Radio frequency identification has finally found its rightful place in the retail IT ecosystem. The rise of omni-channel retailing and shoppers' increased expectation for on-demand information are creating unprecedented pressure for real-time inventory visibility. As a result, RFID is poised to become a critical retail enabler, uniquely designed to provide the insight that retailers need to optimize inventory and store operations. To draw a clearer picture of exactly what is happening with RFID in retail, Tyco Retail Solutions teamed up with Ann Grackin and Bill McBeath, at ChainLink Research, to identify the main use cases driving the adoption of RFID today, and to outline the goals of RFID projects in place among retail executives.

The ChainLink team surveyed and interviewed more than 120 retailers, primarily headquartered in North America and Europe, but many with a global retail footprint. The results of this research underscore the firm belief that RFID technology is the cornerstone to achieving inventory visibility, and that it will help drive store performance in 2014 and beyond.
Drivers for Implementing RFID Today
RFID technology has made huge strides in recent years. The retail user community has conducted pilots, learned many lessons and identified strong use cases. Standards have been established to create interoperability across the supply chain. RFID technology performance has improved greatly, while at the same time, costs have dropped dramatically. The technology promises new insights as retailers transform their business operations. To find out what is driving the current wave of adoption, the ChainLink team asked retailers for their top three reasons for implementing RFID now (see Figure 1).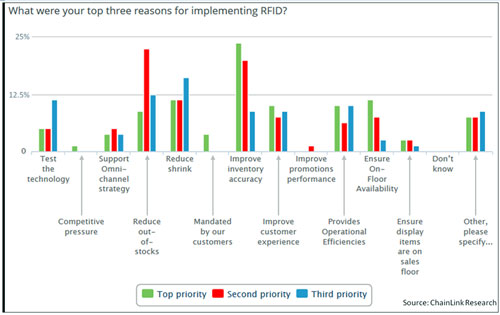 Not surprisingly, improved inventory accuracy was noted as the top reason for implementing RFID among retailers surveyed. Unlike any other technology, RFID has the power to capture item-level, enterprise-wide inventory data, in order to provide accurate visibility. Without this unprecedented level of accurate visibility, retailers lack the strategic insight to fuel better business decisions. With it, however, they can optimize sales, improve processes and control losses. In fact, RFID inventory-intelligence solutions are proven to increase item-level inventory accuracy to 99 percent, which improves store merchandise allocation, selling floor availability, sales and customer satisfaction. And with RFID-based solutions, forward-thinking retailers are laying the foundation for a successful omni-channel retail strategy, critical to success in today's retail environment.
The Use Cases for Inventory Visibility
Many retailers who reported strong benefits of RFID technology launched their programs with a focus on improving inventory accuracy and visibility. Inventory-management applications were the center of gravity from which additional use cases were added as programs matured. Footwear was noted as an interesting category, with RFID being used to ensure that the correct shoes are on display and are not causing overstock issues in the back room, adversely impacting sales and gross margins. We have seen the results of a successful RFID implementation in the sleek footwear departments at two of the world's largest department stores (see Saks' RFID Deployment Ensures Thousands of Shoes Are on Display and Macy's Inc. to Begin Item-Level Tagging in 850 Stores). With similar use-case deployments, these retailers leveraged RFID-enabled display execution technology to drive high display compliance rates, thus ensuring that all back stock was represented on the selling floor. RFID helped to ensure accuracy and efficiency for what was once a traditionally manual and error-prone process. By relying on RFID, these major retailers realized the immediate benefits of increased sales and margins, as well as an improved customer experience.
RFID Best Practices
As RFID implementations are evolving, the research team also sought to learn more about lessons learned from projects that stalled or were cancelled. When asked why an RFID program was cancelled or halted, respondents cited among their top reasons a lack of well-defined use cases, a lack of executive support and other competing business priorities. This finding underscores the importance of selecting use cases and deployment plans that yield the most rapid return on investment (ROI), so that benefits are large enough to win against competing uses of capital and other initiatives that consume management attention.
One common thread among successful implementations is that they usually start with the area of fastest ROI. According to the research, for most retailers, this is a focus on products with "high mix complexity," such as style-, color- or size-intensive items, including apparel and footwear, inkjet cartridges, certain cosmetics, fragrances and certain sporting goods. What these categories have in common is the need to keep many variations available on the sales floor, so that when a customer walks through the door, items of the correct product, color and size are in the proper place at the right time. The primary driver here is an increase in sales resulting from on-floor inventory availability and out-of-stock reduction. RFID ensures increased inventory accuracy and visibility, appropriate merchandise allocations, and timely replenishment alerts to drive these results.
Conclusion
According to ChainLink Research's Grackin, "Perhaps the most important step forward for RFID among retailers has been the end users' accumulation of expertise and deftness in understanding the different uses and the ability to derive a compelling ROI. They have realized that ultimately, success is not about the technology, but understanding what to do with the visibility, providing accurate new data, capabilities and insights—what business and process changes can be made that have the most value for a retailer's particular set of products and operating model. The real growth in adoption occurred as retailers realized significant value from item-level tagging, especially accurate inventory visibility, improving on-floor availability at the store. This has driven the implementation of RFID on billions of items among many of today's top retailers. As a result, they are realizing a sizeable operational, financial and customer-satisfaction advantage over competing retailers who are not using RFID."
Research confirms that new life has been breathed into RFID, and that retailers capitalizing on this opportunity are winning the hearts (and wallets) of customers around the globe. There has been no other new technology in many years that offers retailers the broad range of benefits RFID provides. Those retailers not currently considering RFID will find themselves struggling to compete as the RFID renaissance gains momentum.
Randy Dunn is the director of global sales and professional services at Tyco Retail Solutions.