Jan 31, 2008As of today, more than 200 San Francisco area commuters will be able to use Sprint cell phones to pay fares on the Bay Area Rapid Transit (BART) subway system, as well as purchase a meal at any local Jack in the Box restaurant, through a trial of Near Field Communication (NFC) technology that will run through the end of May.
"This is truly a landmark development," proclaimed James Fang, BART's board director, during a news conference and demonstration of the system, held Tuesday in a downtown BART subway station. Fang claims this is the first time NFC—a wireless technology that employs a high-frequency (HF) RFID protocol to exchange data securely through RFID modules embedded in electronic devices such as cell phones—is being tested both in a mass transit system and in a retail environment.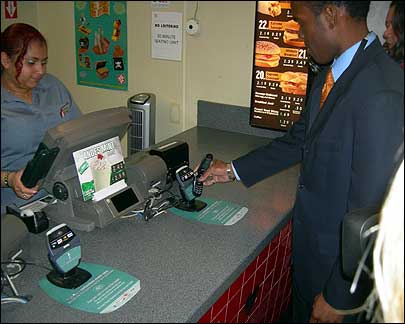 Fang says subway turnstiles throughout the BART system are already equipped to accept transit fares from NFC phones. That's because RFID interrogators were installed in the turnstiles in 2006, as part of BART's EZ Rider program that issues RFID-enabled plastic cards to frequent BART commuters, who then create a debit account linked to the ID number encoded to the inlay. As each EZ Rider commuter approaches a turnstile, that person holds the card (the size of a credit card), up to the reader to initiate the fare transaction and open the gate. The EZ Rider program began in mid-2006 and has been well received. According to BART, 20,000 commuters currently use the cards.
The 230 participants in the NFC trial—all existing EZ Rider members and Sprint account holders who volunteered for the program—will utilize NFC-enabled phones in the same way they used the cards. The participants are being provided Samsung NFC-enabled handsets, which they began picking up yesterday at Sprint stores in San Francisco. To initialize their payment accounts, the participants remove the SIM card from their old phone and place it in their NFC-enabled handset, then enter payment information—either a debit or credit account—into an online registration form created by ViVOTech, a Santa Clara firm that is also providing the software to power the NFC application inside each phone.
Once registered, each participant receives an ID number that they key into the phone to open the payment account application on the handset. They then go through a series of steps to load the payment accounts for BART—and, if they choose, Jack in the Box—to the phone's NFC module, provided by NXP Semiconductors.

BART hopes that enabling riders to pay for fares with their phones will make commuting a more convenient, efficient mode of transportation, while also boosting its ridership. Participants in the EZ Rider card program like being able to load and reload value onto the card using a Web interface, the agency says, rather than having to wait in line at BART stations to load value onto paper tickets at crowded kiosks.
The NFC phone will keep participants out of those queues, and a cell phone is generally easier to pull out of a bag or pocket than a plastic card is to pick from a wallet; therefore, using the phone could shave off a few seconds spent getting through the turnstile—and a few seconds sometimes make the difference between catching and missing a train. What's more, BART consumes 32 million paper tickets each year. If payments made by NFC really took off and many BART users started using their phones to pay for fares, the transit agency could make significant reduction in ticket costs.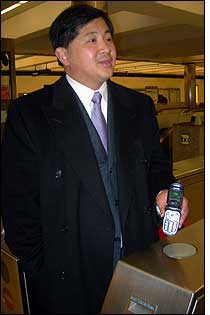 Working with Jack in Box on the project paints NFC as a compelling technology not just for single uses, but for multiple ones—which could greatly reduce the number of cards or payment tickets commuters need to tote around in their wallets.
The participants each pay $45 to load up the BART debit account, and the agency is kicking in the last $3 as a fare discount. Those taking part in the trial will be able to setup their payment accounts so that when either the BART or Jack in the Box stored value on the phone falls below $10, the value on one or both accounts will be automatically refilled by pulling funds from the participant's debit or credit card. They'll also be able to check their available balances using the phone. First Data, a payment processing firm that facilitates merchants' ability to accept credit, debit, prepaid and loyalty cards, is providing the payment processing services for the trial.
For added security, participants can choose to set up a personal identification number that they'll need to key in before accessing the NFC functionality. Unless they choose to do so, however, they'll be able to just press one button to activate the NFC function, then hold the phone up to the payment terminal. If any participants lose their trial phones, they can contact Sprint to have the device deactivated.
In addition, the phones can download directions to the nearest Jack in the Box location, using an NFC smart poster inside the Powell Street BART station. To do this, participants can hold the phone up to an RFID tag embedded in the poster. The NFC module will collect a URL from the tag, and the phone's Web browser will call up the Web page for that URL to display the nearest restaurant location. Participants will use the phones to pay at Jack in the Box locations, simply by holding the phones close to the RFID readers that were installed at the restaurants nationwide in 2006 to enable acceptance of RFID-enabled credit cards. Once the transaction is complete, the clerk will then hand them a receipt for their order.

"We're always looking for new and innovative ways to enhance our guests' dining experience, and providing a variety of payment options is a convenience that our guests appreciate and want," says Michael Verdesca, division VP of systems development for Jack in the Box. "As RFID payment technology becomes more prevalent, Jack in the Box's experience in this trial will help us be well-prepared to meet our guests' needs."
According to Fang, an additional smart poster will soon be installed at another station, enabling users to download the trailer of an upcoming feature film onto their test phones.
BART says it spent $350,000 on the project, $250,000 of which was used to implement the program. This included configuring a database to hold participants' account IDs, and linking their user accounts to First Data's payment processing services. The other partners in the project, including First Data, ViVOTech, Samsung and NXP Semiconductors, financed their own contributions to the program.
In the future, Fang says, if the NFC trial goes as planned and receives positive feedback from the participants, BART could be joined by transit systems in other cities, such as Los Angeles or Chicago, in supporting the NFC technology by establishing accounts that consumers could use to access transit systems in different cities using their NFC phones.
Before this can happen, however, cellular carriers will need to make NFC handsets widely available. Samsung is not yet selling the NFC handset to the public, but Nokia offers an NFC-enabled model in the United States and in Europe. In Asia, RFID-enabled cell phones are widely used for making retail and transit purchases.