Jan 26, 2023RFID Journal LIVE! 2023 will feature end-user companies discussing RFID's use in various industries, as well as exhibitors offering tagging solutions for a wide range of applications. To learn more, visit the event's website.
Presented here are recent news announcements in the radio frequency identification and Internet of Things industries.
Beontag Secures Loan from Deutsche Bank Syndicate
Beontag, a manufacturer of self-adhesives, smart tags, digital labels, and labeling technology solutions including radio frequency identification (RFID) and Near Field Communication (NFC), has announced that its Tags Lux Sarl subsidiary has secured and closed a binding agreement for a syndicated loan of €120 million ($130 million) with several global banks. Deutsche Bank serves as the lead arranger for the loan. This is the Brazilian company's inaugural transaction from the European loan market, through a syndicate of global banks supporting the company's international growth.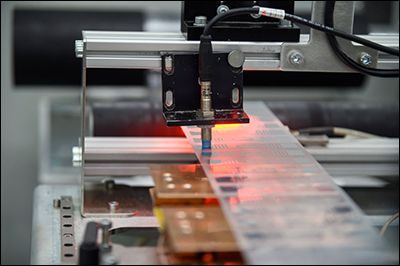 Beontag, which provides digital RFID and NFC solutions for fashion and consumer brands, is expected to have achieved €550 million ($595 million) in revenue for 2022, with international and national acquisitions, integrations and expansion contributing to significant growth from pro forma actualized revenues of more than €400 million ($433 million) the previous year. The firm has been growing at a fast pace, acquiring several RFID companies in the past year (see Label Company Beontag RFID Acquires Confidex, Beontag RFID's VP Reveals the Firm's Global Strategies and Beontag Acquires Adhesive Company Technicote).
This syndicated loan represents the first significant international capital raise by the company, whose operations span more than 15 international facilities, with a presence in more than 40 countries. The loan will mature within 60 months from the closing date, with an 18-month grace period, including a possibility of prepayment. Beontag says it intends to use the net proceeds from the issuance to refinance its existing debt. Any excess proceeds, the company notes, will support organic strategic initiatives across multiple geographies and enhance liquidity.
"Investment is a key aspect of our journey to become a truly borderless, end-to-end solutions provider of self-adhesive label stock and IoT solutions," said Pedro Christ, Beontag's chief financial officer, in a prepared statement. "And we believe this syndicated capital raise is a good example of the confidence of international investors in Beontag's global strategy, as well as our current operational fundamentals. For 2023 and beyond, we are excited to continue to innovate and expand our solutions to meet our clients' demands for future-focused support, all while taking care to improve our ESG [environmental, social and governance] credentials and reduce the impact of our sector on the planet."
42Gears Supports Zebra RFID Devices and Printers
42Gears, a Zebra Technologies PartnerConnect independent software vendor, has announced that its SureMDM unified endpoint management solution now supports Zebra's Link-OS printers and RFID devices. The company completed Zebra's Validated Program for SureMDM in 2020, during which the product's interoperability with select Zebra mobile computers was validated.
The SureMDM device-management solution is designed to help front-line workers and IT administrators use Link-OS printers, as well as Zebra's FX7500 and FX9600 fixed RFID readers (with firmware version 3.10 and above), stay productive at their workplaces. With the latest updates, users can manage the complete device lifecycle management for Zebra printers and RFID devices, from provisioning and deploying to supporting firmware updates and remotely monitoring devices in real time.
Users can get device insights such as network information and memory details, as well as create compliance rules for the devices. They can remotely send Zebra Programming Language commands, transfer files to printers and obtain device information, such as battery status, print speed and firmware version. What's more, the company says, users can gain insights about Zebra's RFID devices, such as their temperature, antenna status and RFID connection status, with just a few clicks.
"It's not just smart or rugged devices that businesses use," said Prakash Gupta, 42Gears' co-founder and COO, in a prepared statement. "They need a host of other devices for business operations, and it's equally important for organizations to be able to manage and secure them. That was the idea behind creating a technology that could help manage devices that do not run a traditional operating system, such as printers. We are a longstanding Zebra partner and are excited to be able to help customers manage Zebra printers and RFID devices in the easiest way possible."
ABI Research Predicts IoT Energy-Harvesting Growth
In its latest white paper, "74 Technology Trends That Will—and Will Not—Shape 2023," analysts from global technology intelligence firm ABI Research have identified 41 trends that will shape the technology market, as well as 33 others that, while attracting speculation and commentary, are less likely to move the needle during the next 12 months. In the Internet of Things (IoT) space, the research indicates, 2023 will be a strong year for energy-harvesting startups, whereas printed electronics will not reach the mass market.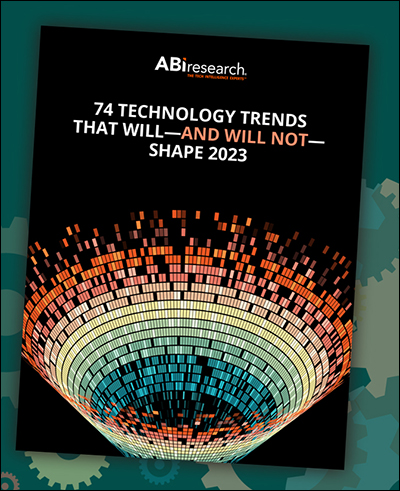 "War, inflation, political upheaval, energy shortages and the ongoing fallout from a global pandemic are still creating a persistent sense of uncertainty," said Stuart Carlaw, ABI Research's chief research officer, in a prepared statement. "Labor shortages, supply chain issues, falling consumer sentiment and rising input costs are squeezing many markets. However, the common aspect between all of these is that technology can either be the anchor dragging down operations or the mainsail powering companies forward."
Energy and batteries for the Internet of Things will continue to be an important topic for 2023, ABI Research predicts, and will become a more central consideration for IoT designers. Throughout the past three years, energy-harvesting companies for the IoT have begun to proliferate. During this span of time, the organization explains, these businesses have tended to be engineering experiments, though many are reaching a stage at which products are being commercialized at scale.
Last year, approximately $110 million was invested in energy-harvesting startups, ABI Research notes. In 2023, that number is expected to grow with larger funding rounds, thus scaling technologies and popularizing the concepts of massive and ambient IoT. As technology approaches and production processes mature, semiconductor manufacturers' acquisition of energy-harvesting companies is expected during the coming year.
One area of growth for the Internet of Things is printed electronics—conductive inks, metal etching, and laser-direct structuring for electronic circuit designs or developments in printed batteries. However, ABI Research reports, that market is still in its infancy, and the organization does not expect 2023 to be the year when the sector is transformed. "However, 2022 has given us some of the first glimpses into what new printing technologies could bring to the IoT," ABI said in the prepared statement, "and as the market matures in the coming years, technology vendors and adopters should start assessing considering what position they want to occupy."
Industry IoT Consortium's Latest Journal of Innovation
The Industry IoT Consortium (IIC) has published the newest edition of its Journal of Innovation, titled "Business Outcomes of Utilizing Innovative Technologies in Industrial IoT." The Consortium, focused on helping industries, organizations and society accelerate the adoption of a trustworthy Internet of Things, is a program of the Object Management Group. The JoI highlights innovative ideas, approaches, products and services emerging within the Industrial Internet, including trustworthiness, artificial intelligence, digital twins, data, digital transformation, smart cities, smart factories and edge computing.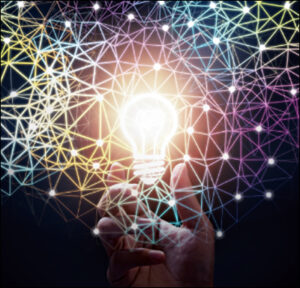 Edy Liongosari, Accenture Labs' chief research scientist and the chair of the IIC's Thought Leadership Task Group, said in a prepared statement, "This volume of the JoI provides the benefits of using innovative technologies on industrial IoT to transform businesses in various ways. Innovative technologies can help companies generate new revenue streams and improve efficiency, productivity and competitiveness."
The article "Machine Economy—The New Frontier of Digital Transformation in IoT," by IoTeX's Xixin Fan and Siemens' Steeve Baudry and Sourabh Narayan Singh, covers the technologies required for a machine economy, which comprise a network of smart, connected and economically independent devices and machines acting as autonomous market participants capable of executing economic transactions with little to no human intervention. And in "The Role of 5G in the Adoption of Enterprise Augmented Reality," Mark Sage of the Augmented Reality for Enterprise Alliance (AREA) and Saverio Romeo of Emerging Technology Observatory share survey results and case studies conducted by AREA regarding the role of 5G in augmented reality.
Siemens' Gunter Beitinger, Andreas Kind, Maximilian Weinhold, Florian Ansgar Jaeger and Saad Bin Shams contributed "The Role of IIoT for Decarbonization Shown in the ESTANIUM Network." This article provides an overview of the Estainium Association for trustworthy supply chain and exchange. It shows how trust technology, such as verifiable credentials, can share a product's carbon footprint data in a verifiable and trustworthy manner, enabling an industry to reach the goal of Net Zero carbon emission.