Nov 12, 2008Although more than 1 million Scottish citizens currently carry a National Entitlement Card (NEC), the Scottish government would like to add a little excitement to the contactless card solution—intended to reduce the handling of cash and promote the use of certain services. The NEC is part of a national program intent on modernizing public services in Scotland. For the past two and a half years, Scottish residents—primarily students and the elderly—have been utilizing the cards to access public transit. But as Sid Bulloch, National Entitlement Card manager, says, "The program needs more punch to it."
That punch is coming in a quest for pilots being launched in the city of Dundee, focused on health improvement and easy cash payment solutions. In one case, pregnant women are using their NFC-enabled contactless cards to prove they don't smoke, and to earn free food. Another project, scheduled to launch at the end of this year, will enable cardholders to use their cards as a payment solution at participating stores.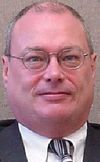 The NEC program is reliant on Scotland's 32 local councils, which manage and oversee the projects with federal funding. Of these, Dundee City Council is leading the way in the development, delivery and management of the smart card, according to Jim Kinney, director of operational services at the Improvement Service, the Scottish agency overseeing the NEC program. Each card contains a contactless NXP Semiconductor Mifare Classic chip encoded with a unique ID number linked to relevant data regarding the card's user, such as his or her name, and services that person can receive in a back-end database managed by the agency.
In some cases, the chip's 4 kilobytes of memory are encoded with other information, such as the cardholder's birth date as proof of age. Multiple contactless cards are currently available, issued by various councils throughout the country for a variety of local services, but the council is developing a single Scotland-wide program it calls the Card Management Solution (CMS), using the NEC card—a service that all parts of the Scottish public sector will be able to use.
"The NEC is designed to support a number of national and local applications," Kinney says. "The biggest national application is transportation."
Scottish citizens over age 60, as well as disabled persons, can travel free by bus, while students pay a discounted rate. The NEC card can be read by NFC interrogators at such locations as on buses, and at schools for purchasing food, as well as for membership access to health clubs or golf courses. Once a user scans the card, that person is granted the appropriate discount. It also serves as proof of age for those entering clubs or purchasing alcohol or cigarettes. Local councils provide the cards—which can be loaded with services by local merchants and agencies, such as library membership—as well as paid services for which the cardholder is allowed a discount.

Thus far, Bulloch says, 1.4 million of the contactless NEC cards have been issued since March 2006. About 2,500 buses are equipped with NFC readers, from a total of 7,000 buses nationwide.
In April 2007, the Dundee City Council and the Dundee Local Authority, together with the Tayside Health Board, launched a pilot known as "Give it Up for Baby," which is still ongoing. The pilot's participants are pregnant smokers who agree to attempt to stop smoking as part of a program known as the Dundee Healthy Living Initiative. Thirty-six pharmacies throughout Dundee, as well as two ASDA stores and Community Midwives—a local nonprofit agency focused on increasing the number of healthy pregnancies—participated in the program.
To date, 100 women have joined the program, each of whom has been provided with an NEC card (if they didn't already have one). When a participant visits one of the pharmacies, she blows into a device that measures carbon monoxide levels to determine whether she has been smoking. If found to be smoke-free, she presents her card and the pharmacy directs that data to the Dundee Local Authority, which then credits her card with money she can then use to purchase food at ASDA stores.
After more than a year of piloting the system, Bulloch says it has successfully aided pregnant women in kicking the smoking habit. "It's the mix of monitoring and cash incentive that seems to work," he explains. "Anecdotal evidence from quitters is that the leverage of the reward allows them to step out of the socially acceptable norm of smoking because they are getting paid to quit."
As a result of the program's success, Bulloch note, the council hopes it or other agencies will be able to roll out additional monitoring plus incentive programs for all smokers residing in low-income sections of Dundee. "We believe such a scheme can be sustained over the longer term," he says, "with private sector contributions into the system."

In December, the Dundee City Council and
sQuidcard Ltd.
plan to launch a pilot known as sQuid eMoney. During this pilot, 180,000 cards will be eligible to be used as prepaid cards from north of Aberdeen to Edinburgh.
The payment system can be utilized for such low-cost items as coffee, a newspaper or a sandwich, says sQuidcard spokesman Lloyd Mullenger. "It makes paying for things extremely easy and convenient," he states, "and saves you from fiddling about with coins, helping you to keep an eye on your money and where it's going."
Dundee City Council and NEC are providing sQuid eMoney functionality to existing NEC cardholders in that city, to pay for low-value items. Cardholders can add the sQuid features to their card at sQuid point-of-sale locations in participating stores, then employ the cards to pay for goods and services at health clubs, libraries and stores—or they can order new NEC cards with sQuid functionality added.
A prepaid balance can be loaded on the cards at stores and service providers participating in the sQuid program, or online. Payment data is stored in the sQuid back-end database, linked to the card's unique ID number. Participants can load up to £100 ($152) in this account. Participating sQuid merchants are equipped with RFID interrogators that can read a card's ID number.
The system is expected to go live in Dundee at the end of this year. This service, Bulloch says, will reduce cash handling, help card users manage their money, and make cashless payments available to a sector of citizens who otherwise may not be able to acquire a credit card or bank account.