Mar 14, 2023For more than 20 years, we've hosted our annual RFID Journal LIVE! 2023 event. As the RFID world has endured ups and downs, so has RFID Journal. Like everyone else, we survived the Great Recession of 2008, though it wasn't easy, and that was followed 12 years later by another recession brought on by the COVID-19 pandemic. During both setbacks, things got scary for everyone for a while. Yet through all of this, the world's largest RFID conference and exhibition has continued to help companies benefit from the technology's many business applications.
LIVE! 2023 will be held on May 9-11 at Orlando's Orange County Convention Center (see Registration Now Open for RFID Journal LIVE! 2023). Now in its 21st year, the event will showcase RFID tags, readers, software and implementation services from a variety of manufacturers, and it will also feature this year's RFID Journal Awards ceremony (see Finalists Announced for 17th Annual RFID Journal Awards). Innovative new products are introduced every year at the conference, and there's still time for attendees and exhibitors to register.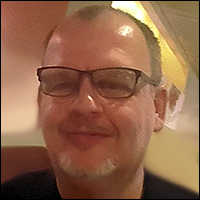 Founder and editor Mark Roberti retired in 2021 after overseeing the first 20 RFID Journal LIVE! conferences (see The Wind of Change, Connections and Recollections, On Mark Roberti's Retirement and RFID Journal Founder Launches Consulting Firm). But LIVE! is still going strong, thanks to the efforts of senior editorial events director Debbie Hughes, senior sales director Alan McIntosh, senior editor Claire Swedberg, marketing director Christian Merhy and others on the RFID Journal team, so you won't want to miss out on this year's event.
As those attending LIVE! all these years know, Debbie Hughes has been indispensable in making LIVE! the amazing resource it is. She's a large part of the reason the conference has survived the world's turmoil, and she's been working night and day to come up with an incredibly strong speaker lineup. I asked her to provide insight into why companies should participate in the conference, and to spotlight some of our most impressive speakers from whom attendees can learn. Here's what Debbie had to say:
I think the keynotes are the strongest we've had in years, in terms of brand-name recognition. We lead off with the McDonald's Uses RFID to Improve Visibility and Operational Efficiency panel, moderated by Dr. Bill Hardgrave, president of The University of Memphis. Panelists include Bob Vasilisin Jr., director of field supply chain, and Sue Fangmann, director of U.S. supply chain, from McDonald's Corp., as well as Guilda Javaheri, chief technology officer for its chief supplier, Golden State Foods, and Justin Patton, director of Auburn University's RFID Lab.
That's followed by the 2023 RFID Journal Awards finalist session in the category of Best Use of RFID/IoT in a Product or Service (see UPS Improves Productivity with RFID). And the final keynote is the RFID Journal Awards finalist session in the Supply Chain and Logistics category, Digital Transformation Revolution: Lockheed Martin Leads the Way, presented by Corey Cook, the chief of Lockheed Martin Advanced Technologies Concepts for logistics and sustainment at RMS Orlando.
Representing a number of manufacturing companies around the world, we have an impressive lineup of diverse projects. For the first time at LIVE!, the U.K. division of BAE Aerospace will present a deployment that features an RFID asset-tracking system at 20 manufacturing buildings located across three different sites in the United Kingdom (see RFID Improves Asset Tracking at BAE Systems in U.K.). Julien Destraves, Michelin's RFID system designer, and Dr. Antonio Rizzo, full professor for industrial logistics and supply chain management at the University of Parma, will present a session about Michelin's use case, focusing on logistics and traceability (see Michelin Develops RFID Tag to Identify Tires for a Lifetime).
We also have another awards finalist session, Appliance Manufacturer Improves Efficiencies with RFID, presented by Vestel, a home and professional appliances manufacturing company headquartered in Turkey, and a case study from Pilkington Brasil (see Car Glass Manufacturer Deploys RFID to Increase Visibility and Performance), an automotive glass manufacturing company that is using RFID to improve supply chain traceability.
And, of course, there is Silver Sponsor ELATEC, which is joining forces with Polaris Automation and Caron Engineering to demonstrate the streamlining and unification of authentication solutions throughout a smart factory. These companies will show how such solutions can be deployed to enable smart workforce tracking and improve safety and security at industrial plants (see Integrating Physical Access, Time and Attendance, and Machine Authentication in the Smart Factory).
As you can see, this year's event will be extremely informative and highly beneficial to those seeking to deploy or pilot RFID technologies. LIVE! 2023 will also feature other tracks and training, along with a selection of panels featuring AIM committee members and other major players from the RFID world. But for many attendees, it's the case studies that are of the most interest, and in that regard, this year's event has turned out to be one of the strongest in our company's history.
Debbie Hughes and Alan McIntosh have devoted themselves to making LIVE! 2023 one of our most memorable conferences, even in a world changed by a global pandemic, economic adversity, war in Europe, political upheavals and other obstacles. There is still so much for companies to learn about how RFID and IoT technologies can improve their business, and RFID Journal LIVE! is the only place where they can learn it.
Rich Handley is the editor of RFID Journal and has been with the company since 2005. Outside the RFID world, Rich has authored, edited or contributed to numerous books about pop culture. You can contact Rich via email.