Jul 22, 2022
Following the recent retirement of RFID Journal's founder and editor, Mark Roberti (see The Wind of Change), many people expressed their admiration for all that Mark accomplished in his twenty years as the public face of the radio frequency identification sector. Among them was IoP Journal editor Edson Perin, who wrote a wonderful editorial about his long-time friend and colleague (see On Mark Roberti's Retirement).
Yesterday, Edson alerted me to a YouTube video in which Mark discussed his decision to retire. The interviewer, Jim Allan, invited Mark to speak on his Connections Web series, which features (as he describes at his podcast page) "people I know, or want to know better, who have an interesting story to tell," and who have "made a big decision, a non-profit to promote, or even something to sell."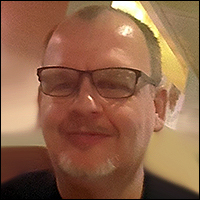 Mark sat down at Allan's studio in Ontario, Canada, where the two looked back at the genesis of Mark's career (believe it or not, it all started at a Chinese restaurant), as well as how he learned about RFID and how he formed RFID Journal with the goal of educating companies and readers about the technology. Allan has known Mark for years (even longer than the 17 years I've known him), since he was the next-door neighbor of John Hull, Mark's long-time friend and later RFID Journal's art director.
Allan produced promotional videos for numerous RFID Journal LIVE! conferences, in fact, so he played a background role at RFID Journal from nearly the beginning. Allan's familiarity with Mark and with RFID Journal's history provides a comfortable, nostalgic, entertaining and at times amusing listening experience between old acquaintances discussing how industries evolve and grow. Allan comments on how early RFID Journal events were "a uniquely collaborative atmosphere" in which everyone was still learning, and how that began to change as the years went by. Mark offers this in response:
"Especially in the early days, there was a strong sense of community. And I think… we all felt we were changing the world—that this technology was going to revolutionize supply chains… So speakers and exhibitors, we all knew each other. And then, as it got bigger, that sense of community kind of got lost a little bit, but it was very collaborative and still is."
Mark discusses how RFID Journal was conceived as a solo operation based out of his guest bedroom, and how it quickly grew into something much larger. He and Allan reminisce about how the first LIVE! event was nearly derailed by the last-minute cancelation of the keynote speaker, how the recession of the late 2000s nearly destroyed RFID Journal (what he describes as "the worst experience of my life"), and how the company not only bounced back from such speedbumps but thrived in the years that followed. They even touch on RFID Journal's brief adoption of a mascot, Tag-Man.
If you're curious about the history of RFID Journal, Mark's journalistic philosophies and pride at having built a global, well-respected brand, the sacrifices he made to keep RFID Journal running, why the company was acquired by Emerald, his future plans (a consultancy may be in the works) and what led to his decision to step down as editor, be sure to watch the video, titled "Connections: Mark Roberti." It's a fascinating story.
Rich Handley has been the managing editor of RFID Journal since 2005. Outside the RFID world, Rich has authored, edited or contributed to numerous books about pop culture. You can contact Rich via email.