Mar 16, 2016Publix—a southeastern U.S. supermarket chain with 980 pharmacy locations—has entered into an agreement with AmerisourceBergen to use AmerisourceBergen's RFID-based drug-management system, known as Cubixx, to track specialty pharmaceutical products at the retailer's pharmacies. The Cubixx system will allow the pharmacies to automatically track products that are billed only when used, such as specialty consignment items. (At this time, Publix is not providing additional details regarding its use of the Cubixx system.)
For the past decade, ASD Healthcare—AmerisourceBergen's specialty pharmaceutical distributor division—offered its Cubixx solution initially to acute-care facilities, as well as to pharmacies, clinics, hospitals and even patients, to track RFID-tagged products inside their Cubixx coolers (see ASD Healthcare Deploys RFID Refrigerated Drug Cabinets). Specialty medications are especially challenging for health-care providers to offer, according to Chris Flori, ASD Healthcare's VP of business innovation, because they are used infrequently and can be very expensive. Increasingly, therefore, hospitals and other health-care providers are moving toward a consignment model in which they stock a small number of specialty drugs, paying only for those that are dispensed. However, he adds, tracking such products manually can be an onerous task without an automating technology like radio frequency identification.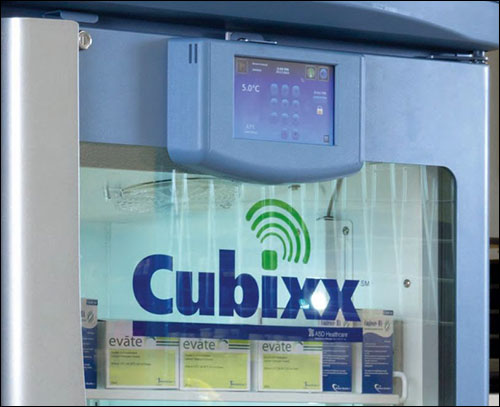 "Publix and AmerisourceBergen are both focused on providing patient-minded solutions," Flori says. "As the need for specialty medication increases, this partnership enables patients to continue to use Publix as their pharmacy, trusting that they'll get the right product when they need it."
Many pharmacies already utilizing the Cubixx inventory-management solution are also offering the units to patients who use high-value specialty medications in their own homes. In this way, the Cubixx system can track—for the patient, physician and pharmacy—whether and when medications are being removed from the unit, thereby enabling prescription orders to be refilled. The system can also prompt a follow-up call from a pharmacist or physician if it appears that a patient is not taking his or her medicine at the expected rate.
The Cubixx units vary from 1.7 cubic feet to 56 cubic feet in size, and organizations can use just a single unit, or a fleet of them. Each comes with a built-in ultrahigh-frequency (UHF) RFID reader and an RFID reader antenna array. The make or model of reader and antenna varies, depending on a pharmacy's particular criteria and the specific Cubixx unit in use. The units can serve as refrigerators or freezers, with the readers capturing tag reads at temperatures down to -30 degrees Celsius (-22 degrees Fahrenheit). Cubixx units and data are completely customizable, Flori says, adding, "Information is HIPPA-protected, and ASD Healthcare ensures patient privacy is maintained."
The units collect RFID read data and forward that information back to the Cubixx software—hosted either on the user's own server, and integrated with its own management software, or on a cloud-based server—via a cellular or cabled connection. Cubixx also includes a portal so that stakeholders, such as ASD Healthcare, drug manufacturers, physicians or pharmacists, can access the information if authorized.
ASD Healthcare medications that are destined for storage in the unit come with passive EPC UHF RFID tags attached to them. The tags are provided by a variety of vendors, Flori explains, depending on the form factor required and the particular use case. ASD Healthcare prints and encodes each tag and stores its unique ID number on that tag, along with details about the product to which it is attached, such as its lot number, manufacture and expiration dates, and volume. That data is then stored in the Cubixx software.
Upon receiving medications, pharmacy personnel simply place the products directly into the refrigeration unit, which begins reading the tag IDs. Each drug's status is then updated in the software to indicate that the product is in the cooler unit and available for use. The temperature within each unit is also monitored and collected by the Cubixx system, along with the expiration dates of all products stored within.
When a prescription is being filled, a staff member opens the refrigerator. If the pharmacy opts to require an identifying action, the system can prompt the user to indicate his or her identity at that time. In that case, a touchscreen on the front of the unit would list the names of any employees authorized to remove products, at which time the user would press his or her name. Information such as the time and date, as well as the person removing the product, is thus recorded.
When medications are removed, the Cubixx software also records that action. If the Cubixx software is integrated with a pharmacy's own management software, the patient for whom a particular drug was removed could also be linked to that data.
The pharmacy can then pay for the product. Cubixx also automates inventory reorders based on criteria established by the pharmacy or manufacturer.
The ability to sell such products on consignment, Flori says, allows pharmacies, such as those operated by Publix, to stock specialty items that they otherwise would not offer due to the high price of managing those goods.
"Automation and precise product tracking will allow Publix pharmacies to maximize their ROI and reduce transaction time," Flori states. "Pharmacists at Publix will have faster access to temperature-controlled products, peace of mind that inventory will never get too low, and [knowledge] that products meet all safety standards, simply by plugging in and stocking Cubixx."
Additionally, Flori says, these benefits reduce the administrative burden on pharmacists. This allows more time for them to connect with patients regarding what he describes as increasingly complex treatment plans.
"We expect the number of specialty products available at retail to grow," Flori says, "requiring more from the pharmacist to help patients manage chronic conditions and access higher-cost specialty pharmaceuticals."