May 20, 2008A New Zealand company has rolled out what it deems one of the Asia Pacific region's largest commercial applications of radio frequency identification to date using RFID tags and interrogators complying with Electronic Product Code (EPC) standards. EastPack, a firm that packs, stores and ships more than 12 million trays of kiwifruit annually to locations worldwide, says it is reaping the benefits of the system less than one month after it was rolled out across the company's three sites.
Thanks to the RFID system, EastPack has already shipped 2 million more trays of kiwifruit in 2008 compared with the same period of time last year, through increased efficiency in tracking and tracing pallets of the fruit. After three weeks, says the company's administrator, Donna Smit, the system was able to locate pallets to the exact position 98.6 percent of the time.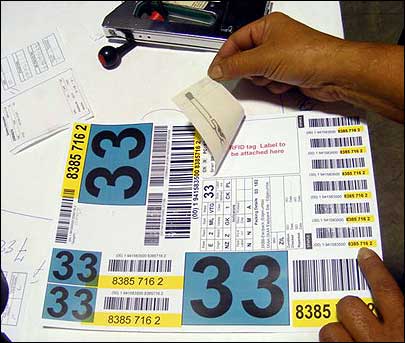 "The accuracy is amazing, and we believe that we can improve that to 100 percent in the next few weeks," Smit says. "There are less incidents where pallets are unable to be found, and we are cutting the number of times we have to move a pallet before shipping."
EastPack maintains facilities in the New Zealand towns of Edgecumbe, Opotiki and Te Puke, and has 42 refrigerated storage rooms, each of which can hold between 600 and 700 pallets. At its packing houses, the company stores kiwifruit in refrigerated rooms, sometimes for months at a time, before retrieving it to meet specific shipping orders.
Knowing a pallet's exact location at any given time is particularly vital, Smit explains, because some pallets of fruit do not keep as long as others. "We need to be able to ensure that the fruit that does not keep is shipped sooner in order to reduce incidents of fruit loss," she says. "But knowing exactly where a pallet is also allows us to grab the closest available pallet of fruit for shipping without having to move lots of other pallets. This increases the efficiency of staff and means orders can go out more quickly and not at the last minute."
EastPack previously employed a bar-code system to track pallets. Bar-coded labels, attached to the pallets, were read by a scanner located on the forklift. It was up to forklift drivers, however, to manually type in the pallet's position and row. "The problem was," Smit says, "we could not always get the drivers to type the information in."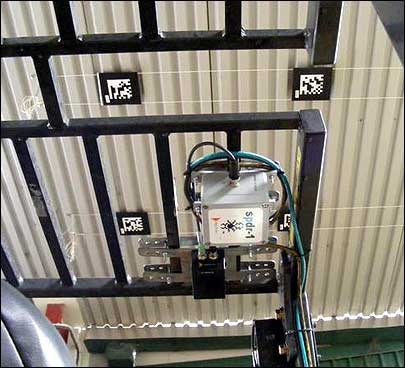 EastPack employs staff seasonally for periods of up to 12 weeks, so there is little time to train them effectively. When it became particularly busy in the warehouse, many drivers forgot to update the location information. Knowing it needed a modern technological solution, EastPack sought help from GS1 New Zealand, a member of GS1, an international organization that includes EPCglobal, which develops standards for technologies to support the use of RFID. GS1's goal is to make EPC technology the global RFID system for product identification.
Erik Sundermann, a senior consultant with GS1 New Zealand, initially provided information on the technology, standards, applications and benefits of EPC RFID, then visited the sites to document EastPack's processes and identify where RFID could help. "The biggest pain point for EastPack is that it stocks fresh produce, which is perishable," Sundermann says. "If a pallet goes missing for too long, then the fruit is spoilt and can not be exported. But EastPack also needed a thorough inventory of its stock, because there are such different varieties of fruit, different quality levels and different pack types, some of which are not appropriate for some markets."

Sundermann learned that if a pallet was not where it was supposed to be, EastPack's forklift drivers simply took the next available pallet and flagged the first as missing. As a result, the company was unaware of how many pallets it was losing. The challenge confronting GS1 and EastPack, therefore, was twofold—to identify every pallet and its contents, and to ascertain its exact location. The required margin of error in determining location was less than half a meter—otherwise, one pallet could be mistaken for another.
Australian RFID hardware supplier Peacock Bros. provided a system that could achieve both goals. "To identify the correct pallet, we put an EPC Gen 2 RFID reader with antenna on the forklift," Sundermann explains. "The pallets have an RFID tag transmitting on a UHF frequency between 865 and 868 MHz. When a pallet is picked up, the tag is read and the contents identified. A height sensor also determines if the pallet was stacked at the top or bottom of the pile."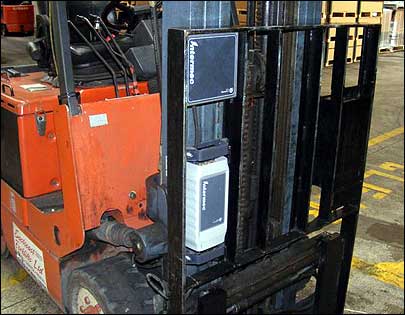 To determine the pallet's exact location, Peacock Bros. also developed signs printed with unique 2-D bar codes identifying that location, then placed the signs on the ceiling of the storage houses, and installed a digital camera on the forklift. "The camera is pointed to the ceiling, and when a pallet tag is read, the camera takes a digital snapshot of the bar code on the ceiling," Sundermann says. "It decodes the bar code and provides the exact location." This information is then instantly transmitted to EastPack's inventory management system via a wireless infrastructure.
Before installing the new system, GS1 and EastPack conducted a proof-of-concept test. "We were very confident in the RFID system, so most of the testing was of the location system," Sundermann says. "But kiwifruits do have a high concentration of water, and we had to be sure that it did not interfere with the UHF tag and reader."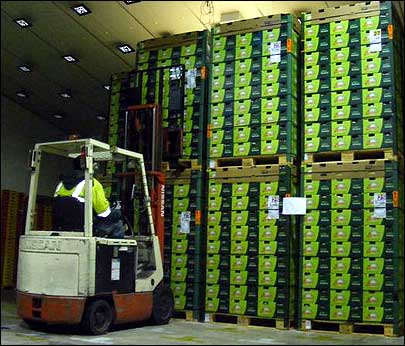 EastPack launched a pilot in July 2007, equipping five refrigerated storage rooms with pallet tags and a small number of forklifts with RFID interrogators and cameras. The system's accuracy exceeded 90 percent, the company reports, and the ceiling-mounted bar-code signs enabled pallets to be identified to within 20 centimeters of their exact location.
"It worked so well that EastPack decided on a full rollout rather than a phased rollout," Sundermann says. "As testing had finished in November, and the fruit season began in March, it was a challenging schedule."
According to Smit, the system was in place by mid-March. Early results have been promising, she says, and the company is confident the system will pay for itself in time. "Once we get this project bedded down, we may even look at expanding it into other areas," she states. This could include tagging field bins used to bring fruit to the packing houses. In addition, the company might also utilize the RFID system to track forklift movements to improve efficiency, as well as to assess cool-storage utilization to more effectively stack pallets.