Jul 03, 2012Based on the results of an international pilot using EPC Gen 2 RFID tags and readers to track shipments of wine from Europe to Asia, GS1 Italy and GS1 Hong Kong have determined that radio frequency identification technology could make the supply chain more visible, to the benefit of wine producers, importers and distributors—and the researchers also speculate that those benefits could extend to retailers and consumers. The two groups recently completed the pilot, which consisted of testing an RFID-enabled supply chain of wine between Italy and Hong Kong. The solution employs Electronic Product Code (EPC) passive ultrahigh-frequency (UHF) tags placed on bottles of wine, cartons and pallets, as well as temperature sensor tags placed in cartons and on pallets, and affixed to the wall of an Italian vineyard warehouse.
The project commenced in June 2011 and ended last August, while analysis of the data lasted until February 2012. It involved tracking wine products from four Italian wine companies to two Hong Kong importers/distributors (Watson's Wine Cellar and Summergate Fine Wines), and ultimately to wine shops in Hong Kong. Azienda Agricola Le Macchiole, an Italian vineyard and wine producer, participated in the pilot, along with Ceretto, Barone Ricasoli and Marchesi Antinori.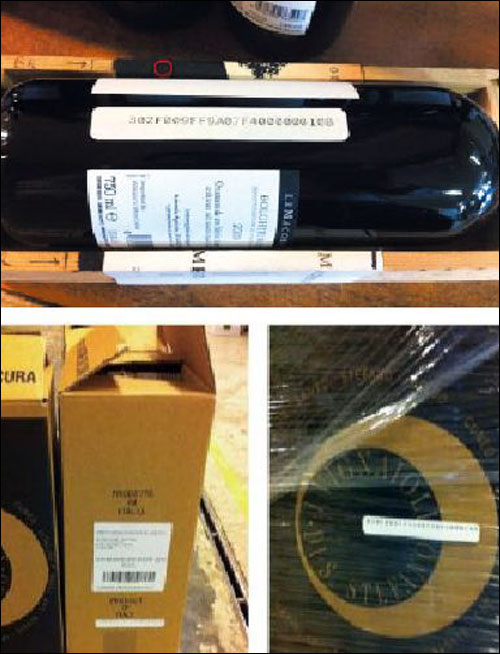 The two GS1 agencies aimed to determine how well imported products could be monitored using an RFID solution to track the bottles from when they were shipped from the wine producer until they left the local importer, en route to the wine shop.
Italy is the third highest wine-producing country worldwide, producing 4.06 billion liters (1.07 billion gallons) of wine in 2011, 2.1 million liters (531 million gallons) of which were shipped to Hong Kong.
The pilot was intended to determine how well the sharing of RFID data between supply chain members could meet the needs of a growing industry. The Hong Kong wine sector has been growing, according to a USDA Foreign Agricultural Service GAIN report published in 2011, which reported that the dollar value of wine imports has more than doubled since 2008.

Typically, bottles of wine travel from the vineyard warehouse to a distribution center, and then on to a seaport in Italy for exporting. The goods are received at the Hong Kong port, and are directed through a warehouse and finally delivered to wine shops. The two GS1 organizations wanted to ascertain whether the technology could provide better information regarding whether there is sufficient stock to fulfill orders at the Italian vineyard's warehouse; determine how well RFID could be used to document when wine leaves the DC in Italy, is loaded onto a ship and arrives at a port in Hong Kong; and evaluate inventory levels at the Hong Kong importer.
Altogether, the pilot was conducted on eight pallets loaded with a total of 630 cases (containing a total of 3,780 bottles), says Linda Vezzani, an EPC specialist at GS1 Italy. GS1 Italy's staff installed an Intelleflex TMT-8500 battery-assisted passive (BAP) temperature-sensing UHF RFID tag at an Italian vineyard warehouse, on the wall on which the wine was stored, and also inserted a single temperature tag within one case on each pallet. Additionally, a temperature tag was placed on one of every set of two pallets before the loaded pallets were shrink-wrapped.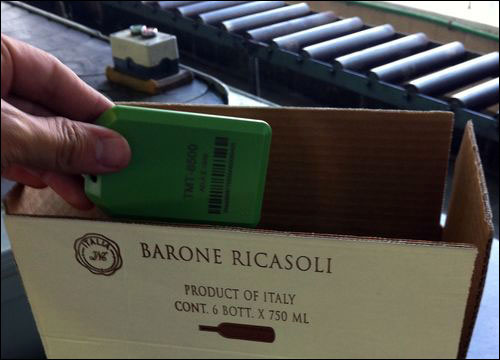 According to Vezzani, a label featuring a Lab ID UH100 passive EPC Gen 2 UHF RFID inlay (made with an Impinj Monza RFID chip) was attached to each pallet, case and bottle.
First, the shipment to Hong Kong was prepared, at which time employees attached an adhesive RFID label to every bottle. The unique ID number encoded on the tag was then stored in GS1 Italy's Web-based EPC Information Services (EPCIS) software, along with the bottle's stock-keeping unit (SKU). An RFID label, encoded with a Serialized Global Trade Item Number (SGTIN), was also attached to the carton once it was filled (with about six bottles). The carton was then passed through an Impinj Speedway Revolution R420 tunnel reader, and the ID numbers of the carton and each bottle's RFID tag were married to each other. The cartons were loaded onto a pallet, to which an RFID label, encoded with its own Serial Shipping Container Code (SSCC), was attached. Next, the loaded pallet passed through an RFID gate, where another Impinj Speedway reader captured the pallet tag's ID number and associated it with the IDs of the carton and bottle tags.
The TMT-8500 temperature tags—provided to GS1 Italy by GS1 Hong Kong—measured and stored the temperature at regular intervals, and could then be read at the wine cellar in Hong Kong as the pallet was unloaded. This enabled the team to determine the conditions to which the wine had been exposed.

In addition, a TMT-8500 tag affixed to the wall of the vineyard's warehouse was read, to capture the temperature history within the storage area while the wine was located at that site.
Once the loaded pallet left the vineyard warehouse bound for the DC, the RFID tags, including the temperature sensor tag, were read again at the Impinj reader gate, and that data was stored in the EPCIS system. The tags were interrogated when the pallets arrived at Watson's Wine Cellar and Summergate, and again before the wine was shipped to the wine shops—each time using a Convergence Systems Ltd. (CSL) CS461 fixed reader installed at the door. Simultaneously, the sensor tags were read using an Intelleflex FMR-6000 fixed reader, in order to capture temperatures and tag ID numbers.
Read data collected in Hong Kong was stored on GS1 Hong Kong's ezTRACK Web-based application, based on the EPCIS standard. That information was then shared with the EPCIS-based data stored by GS1 Italy.
Based on the pilot's results, GS1 Italy determined that the accuracy of supply chain data could be increased from 80 percent (when orders were filled according to a purchase order) to 100 percent, and that logistics management could be improved based on having better knowledge of products' locations.

"This is the first-ever wine-traceability pilot by using EPC RFID in item level to improve global real-time product-shipment visibility," says Emma Chan, GSI Hong Kong's industry and product marketing manager. As a result of the pilot, she reports, the technology proved that retailers in Hong Kong can "achieve full visibility of the whole movement of the wine products, from oversea vineyard to their storage destination, which eventually improved their inventory management and quality assurance."
In the future, the technology could help retailers predict overstock or out-of-stock events, and provide consumers with quality assurance in stores, by reading a label's tag in order to access data regarding when and where wine was bottled, as well as the temperature at which it was stored.
GS1 Italy and GS1 Hong Kong could opt to conduct additional RFID-based pilots to further evaluate the tracking of wine throughout the supply chain. However, the organizations note, there are no immediate plans to do so at this time.
GS1 Italy has received a 2012 Innovation Italy Award for this project. In September of this year, the organization intends to organize a working group with the aim of further developing supply chain solutions specifically for wine producers and retailers.