Aug 21, 2015At the National Clean Energy Summit next week in Las Vegas, where President Obama will make a keynote address, a crucial topic to be discussed is the modernization of the electrical grid. The Siebel Energy Institute, a grant-making and research organization founded by software entrepreneur Thomas Siebel, estimates that $2 trillion is being invested this decade in upgrading the power infrastructure globally. One of the ways utilities, technology companies and energy producers are working toward modernizing the grid is by building microgrids. These are small electrical grids designed to accommodate and quickly switch between a variety of energy sources, including renewable energy generated in neighborhoods or by businesses.
Microgrids use sensor networks and real-time analytics and control systems to provide a framework for quickly responding to demands for electricity, and for ensuring the most efficient use of its various power sources. (Earlier this year, the Industrial Internet Consortium (IIC), a member organization working to accelerate the deployment of industrial Internet of Things technologies, announced that it was partnering with a range of vendors, including Real Time Innovations (RTI) National Instruments (NI) and Cisco, to create the Communication and Control Testbed for Microgrid Applications to develop a repeatable industry framework for building and managing microgrids.
RTI, which provides messaging software that is used to connect a range of devices such as microcontrollers or actuators that control processes in distributed systems such as microgrids, has announced RTI DDS 5.2, a major upgrade to this machine-to-machine middleware. Built on the Data Distribution Service (DDS) standard, which describes a common language to enable distributed systems used in any industry to send and receive data messages and commands, RTI DDS 5.2 has more than 40 new features. Key enhancements include support for data exchange both within devices and in the cloud-based applications, and support for load transaction processing via a message queuing service.
Green Energy Corp., based in Eugene, Ore., is an RTI customer that has been using the new DDS 5.2 version. One of Green Energy Corp.'s products, the GreenBus microgrid control software, is an open-source, cloud-based platform that serves as an interface between a microgrid and the local main utility grid, while also integrating data related to weather, electricity prices and the operation of the main utility grid—information that is vital to a microgrid's management.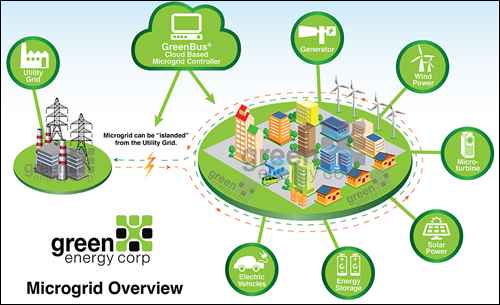 "DDS 5.2 is an enabler for us," says John Camilleri, CTO of Green Energy Corp. "It helps us simplify testing and drive device interoperability, toward our ultimate goal, which is to create a Lego block design-build approach to microgrids."
DDS 5.2 also supports visualization tools, which customers can use to see the live flow of data across a system and to troubleshoot problems. "Visualization gives us an opportunity to jump in and debug [a microgrid]," says Camilleri. That's an especially important feature when a microgrid operator is transitioning into or out of standalone mode (known as "islanding"), wherein the grid operates independently of the main grid.
Camilleri says Green Energy Corp. is targeting its services not only to municipalities interested in developing microgrids in partnership with utilities, but also to commercial entities and the military. He says each of these groups have different motivations for wanting to use microgrids. Municipalities are seeking to become more resilient to grid-wide outages and severe weather events, while also better utilizing small-scale but intermittent renewable energy sourced nearby. Commercial users want to lower energy costs, such as by consuming energy generated onsite and selling excess energy to local utilities, while also reducing their carbon emissions, either to meet internal goals or as part of a cap-and-trade program.
"In order to leverage the IoT within the power space, you need to understand the information being exchanged between systems, so a common semantic model of data is driving that. Regardless of what device it is, it's always speaking the same language. That drives not only for interoperability but also drives our ability to solve problems in a uniform way across [customers]," Camilleri says.
The hope is that using the DDS standard will make establishing and operating microgrids less complex for Green Energy Corp. and other stakeholders in the industry.
"We have the technology; we have the engineering skills," says Camilleri of the emerging microgrid market. "But the cost [of deploying and operating microgrids] is too great. We need the ability to replicate them cheaply."