Jan 26, 2012Swiss waste-management- and material-transportation company Challande et Fils is tracking the locations of its containers and waste bins as they are deposited at construction sites and other locations, using RFID tags on the bins, as well as readers on trucks to transmit GPS location data, along with each tag's unique ID number. The solution, known as ChisFleet, is provided by AgoraBee, an RFID and GPS technology firm. Since the system's installation in September 2011, Challande reports, it has reduced the risk of misplaced bins, as well as the amount of time staff members spend trying to identify the locations of the 250 to 400 bins in use at any given time.
AgoraBee developed ChisFleet to help waste-management and construction companies to track assets—such as trash bins—that may be located over a variety of sites, and thus be difficult to track. The firm launched in 2006, initially selling its product exclusively to suppliers before opting to, in some cases, install the system themselves directly for end users. The ChisFleet solution, according to Jari-Pascal Curty, AgoraBee's managing director, was designed both to incorporate GPS tracking with RFID, and to enable those with their own data-management software to view the locations of their vehicles, as well as those of tagged items.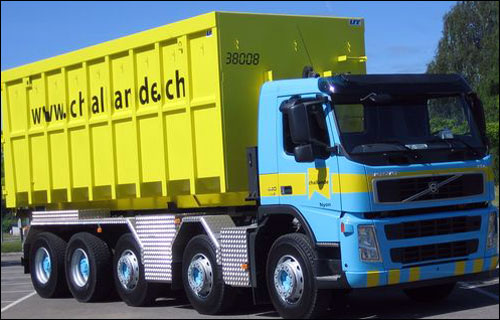 The system consists of AgoraBee's Krypton active 2.4 GHz RFID tags made with Nordic Semiconductor's nRF24L01+ chips, using a proprietary air-interface protocol, that are attached to trailers, trucks or other large cargo. According to Louis Harik, AgoraBee's head of research and development, the tags beacon with a unique ID number at a preset rate—most typically about 10 seconds.
Receivers, manufactured by AgoraBee, are installed on trucks that capture those transmissions and forward the data to a back-end system via a cellular connection. The receiver also transmits its own GPS position, and in that way, the software can detect and calculate not only which tag is being read, but also its exact location. When a truck deposits a waste bin and drives away, that bin's tag transmissions are no longer received. The software thus determines that the bin has been unloaded, and links its tag ID number with the vehicle's location at that time. The tag's read range is typically up to 30 to 100 meters (98 feet to 328 feet), the company reports.

Challande et Fils, based in Nyon—between Geneva and Lausanne—distributes material and waste for its customers. In the case of waste removal, the company provides bins to a customer's site, removing those bins that have been filled with, for example, construction materials or environmental waste. The trucks also transport containers loaded with machines and tools, tiling and stone, and safety equipment and clothing, and later remove the containers from the customer's site once that customer no longer requires those items.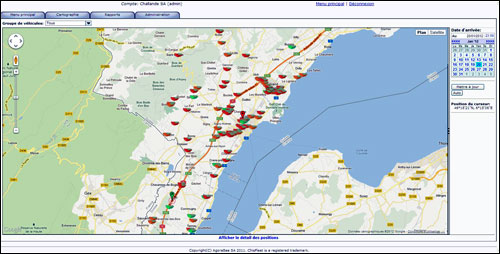 Click here to view a larger version of the above image.
Because Challande et Fils has several hundred bins located at a variety of sites, managing them can be challenging, the company indicates. For the past 10 years, the firm has used GPS devices installed in the trucks to locate the bins, says Frederic Voisin, Challande's operations manager. In this way, management and dispatchers knew where trucks were located, and could manually track the location of a particular container in motion, based on the position of the truck assigned to that container. The GPS data alone did not provide confirmation of which container was being carried by which truck, however, and could not track where a bin was deposited by a truck. This could, at times, cause confusion that could lead to the loss of bins, Voisin says.
With the AgoraBee system, Challande can receive data about a container's location, and manage that information on its existing management software. The ChisFleet software then displays each bin's location in the form of an icon on a map of the company's region. The software can also change an icon's color in the event that it has passed the date of expected pickup.

AgoraBee can provide software for the solution, Curty says. However, the read data is typically managed by a customer's own software, or by a third-party fleet-management solutions provider.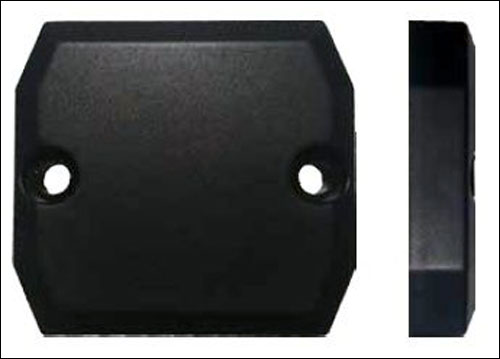 In the future, Challande expects to integrate its billing software with the AgoraBee solution, thereby enabling it to automatically generate bills for customers based on the length of time that a particular container remained on a specific work site. Voisin does not indicate, however, when that is expected to take place.
AgoraBee tags are also available with built-in sensors for measuring such variables as temperature or motion. In this case, the tag, attached to a container or other object, could transmit to readers mounted within the area. If the sensor data changes, or falls out of pre-set range, the interrogator could issue an alert.