Apr 25, 2023RFID Journal LIVE! 2023 will feature end-user companies discussing RFID's use in various industries, as well as exhibitors offering tagging solutions for multiple applications. To learn more, visit the event's website.
Avery Dennison has added ChatGPT and artificial intelligence (AI) functionality to its atma.io connected product cloud. The latest features, the company reports, are designed to enhance the existing solution, which provides information about the location and status of goods in the supply chain, with recommended follow-ups, to improve efficiency and reduce workers' repetitive tasks. Avery Dennison predicts that the addition of AI and ChatGPT will help atma.io users meet compliance requirements for the pending Digital Product Passport (DPP) regulation in Europe or other global rules issued around sustainability.
Initially, the ChatGPT and AI additions to the existing cloud-based platform will provide the ability to create a set of automated recommendations based on events in the supply chain. In the long term, the company plans to offer natural-language queries, as well as customized content created specifically for consumer-facing experiences. Atma.io is expected to provide personalized notifications according to users' requirements. While the new functionality automates much of the communication efforts based on supply chain data, it will maintain a requirement for human input with each event using this technology, according to Michael Goller, Avery Dennison's global technical director for atma.io.
Atma.io already incorporates some machine learning and AI in the form of analysis, forecasting and predictions that come from raw data regarding products in a supply chain. With UHF RFID and other automatic identification technologies capturing automated data about each product as it moves from manufacturing site to store, the software can provide visibility into each product's location, indicating if a problem may be occurring. However, users have typically had to view that information and then take action.
"What we've learned over the past," Goller says, "is that even if you flag certain critical events to operators, the usual means to actually solve it involved [them] opening their e-mail client and actually reaching out to people," to investigate further or respond to the issue. That meant users would have to decide whether they needed to contact a factory operator or warehouse manager via text or e-mail, then manually write a message indicating what they'd noticed and what needed to happen.
Keeping Humans in the Loop
Therefore, Goller says, Avery Dennison took the concept of generative AI to streamline that process. That means users now can employ a single tool (atma.io) to identify specific events in the supply chain—for instance, shipments that are delayed or are failing to meet purchase-order expectations—and then generate a response. While companies using the ChatGPT and AI features can automate what happens after an issue is discovered, the solution is designed to draft messages to speed up communications, while keeping the human operator in the loop.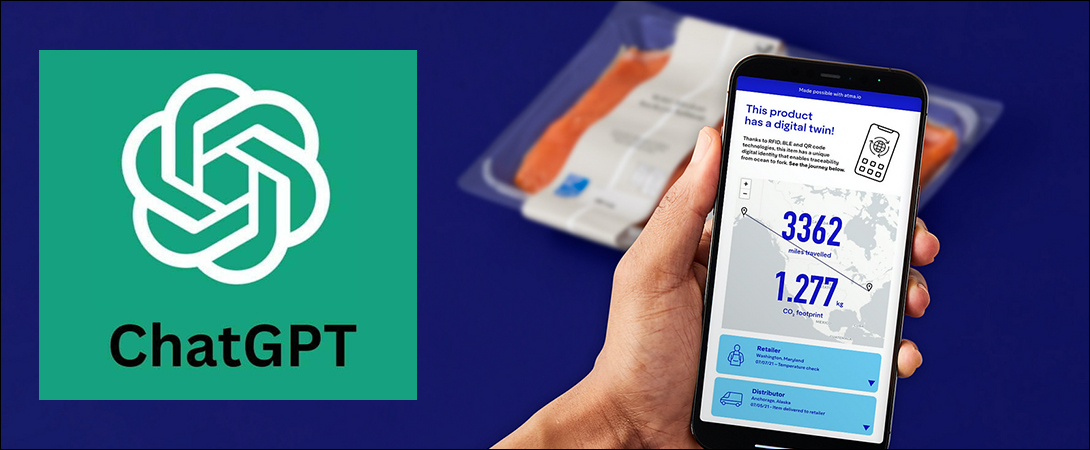 "We're not attempting to fully automate the process by autonomously triggering a response" to an event, Goller explains. Instead, if the software detects a problem, such as an unusual dwell time, atma.io will alert the approved manager to identify that issue and suggest the response, such as e-mailing a warehouse manager. The message is crafted according to the situation's severity.
For instance, a more strident message would be issued if a shipment had been delayed for an extended period of time. The software would make a recommendation to the appropriate manager, and that individual could then simply press a prompt indicating they would like the AI-crafted message to be sent to the necessary party. "The ultimate decision to send out these messages is still with the operator of the platform," Goller states. "We always keep the human in the loop."
Users can customize responses according to their needs, such as during specific critical supply chain events. For example, a retailer may want to receive an alert if products have been dwelling at a single site, based on an RFID tag read. A tag on a product might be read at a warehouse's staging site, but it might not yet have been loaded onto a vehicle or been received by the expected recipient. If the product were delayed by a certain number of hours, a reminder message could be sent to the warehouse. If the delay were longer, a more urgent message could be issued to supervisors, asking for a response within an hour.
Cutting Down on E-mail Writing
The immediate benefit for users will be to reduce the amount of effort required to communicate with the appropriate personnel, Goller says. On average, the company reports, customers have said a typical transaction triggers several, if not dozens, of emails back and forth. The ChatGPT and AI functionality is not intended to eliminate this need for communication, Goller says, "But it significantly speeds up the process so that people actually can focus on more important parts of the business."
That, Goller adds, serves as an overall efficiency gain and an operational excellence gain, ensuring goods reach their destination on time, without errors and with less human intervention. "By establishing an [automated] thorough follow-up on delivery dates and commitments," he explains, businesses can expect to increase their rate of meeting transportation deadlines, while reducing loss.
Following the immediate functionality that is being provided, Avery Dennison expects to release an enhanced version that will be able to do more, such as provide human speech with which operators can converse, receiving updates regarding a shipment's status, and approving the next action verbally. The technology could help users better understand their sustainability, ensuring they ship goods in a way that minimizes the carbon footprint. "With the use of this technology," Goller explains, "companies will ultimately be able to make more informed decisions of where and how to transport goods and how to react to issues and challenges."
For example, businesses could compare the carbon footprint of products made in a given country or by a specific manufacturer with those from another nation or supplier. Such details will matter for companies as they strive to comply with upcoming regulations, including the Digital Product Passport, expected from the European Commission. The DPP legislation is aimed at supporting a circular economy of goods that are built, transported, used and recycled responsibly. The passport requires a unique product ID number for every product so that it can be properly tracked.
While the DPP regulation is not yet finalized, Goller says the industry has a good sense of what the information requirements will be, so the adoption of the new functionalities will benefit them. "In the future," he states, "I think ChatGPT and AI functionality will drive a lot more informed decisions, and provide better visibility and more efficiency in the supply chain." The solution, he adds, is tailored to ensure privacy and safety by including the necessary software-based data-security safeguards, and by requiring human intervention.
Key Takeaways:
ChatGPT and AI functionality enables atma.io users to receive messages prompting them to authorize responses based on specific events, such as a delayed shipment or a pending due date.
The features will still require human interaction to approve, for instance, an automatically generated message before it is sent to another party.