Feb 02, 2011Since 2003, Bluechiip Ltd., an Australian startup located in the Melbourne suburb of Scoresby, has been developing a radio frequency identification system that employs tiny passive RFID tags based on micro-electromechanical systems (MEMS) technology, capable of operating in extreme temperatures. Within the next 11 months, the company says it hopes to make its technology commercially available, with STMicroelectronics manufacturing the MEMS tags.
The system is designed for use on items in cryogenic storage, with tiny tags that can be embedded in vials or attached to bags of medical tissues and other products stored at temperatures too cold for most standard RFID tags to function. By mid-2011, Bluechiip expects to provide evaluation packs or startup kits of the technology for those wishing to test the system within their own environments, says Brett Schwarz, Bluechiip's managing director and CEO, while the MEMS tags are expected to be made commercially available by late 2011.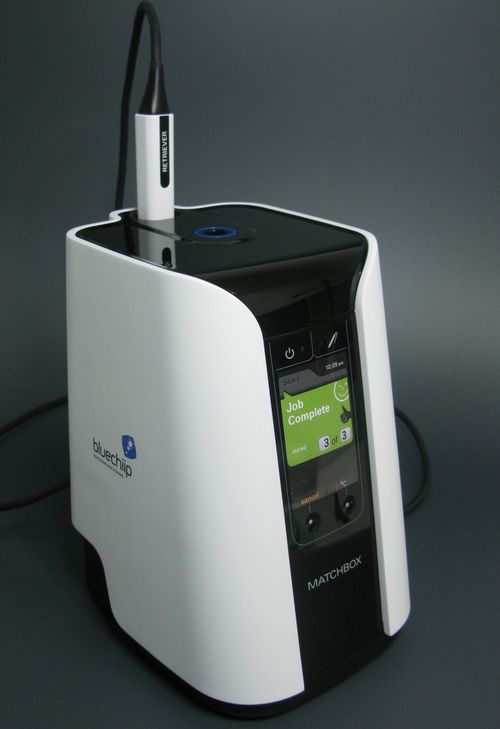 The tags include the ability to measure temperatures and transmit that information to a Bluechiip reader, which can be set to trigger an alarm if a temperature threshold has been reached. The evaluation kits will come with tubes and vials with integrated tags, as well as Bluechiip's Matchbox reader, which employs a proprietary air-interface protocol to capture data from the MEMS tags. An individual vial can be read by placing it into an insert on top of the Matchbox reader. The Matchbox's Retriever wand, which contains a 25-millimeter-long reader antenna, can be placed in a liquid nitrogen tank to capture the tag ID numbers without having to remove vials or tubes from the tank. The kits will include Bluechiip's Stream software, which interprets temperature and ID data from tag transmissions, in addition to storing data and triggering alerts.
The system is intended to help pharmaceutical and health-care companies manage what can be hundreds of thousands of temperature-sensitive products, often stored at temperatures as low as -196 degrees Celsius (-321 degrees Fahrenheit) or as high as +200 degrees Celsius (+392 degrees Fahrenheit). The Bluechiip tag can also be integrated into a plastic sample-storage container during the injection-molding process used to manufacture such a container, as well as survive sterilization processes. Although some standard RFID tags can operate in extreme heat or cold (see ORLocate RFID-enabled System for Surgical Sponges and Instruments Gets FDA Clearance and RFID Tag Built to Survive Gamma Rays), they come with limitations, according to Schwarz. For example, he says, most standard RFID tags require thermal packaging to insulate their silicon chips, which makes the tags too large to attach to cryogenic tubes.
Bluechiip, operating under the name MEMS-ID, began with a prototype MEMS-based tag small enough to be attached to surgical devices and capable of withstanding sterilization (see MEMS the Word). The passive tag, which measures 4 millimeters (0.16 inch) in width and length, contains an array of metallic resonators built upon a silicon substrate that includes a printed circuit-board antenna. The resonators vibrate upon receiving an RF signal from a reader, thereby emitting a backscattered signal in varying frequencies that are converted into a unique binary serial number. Currently, the tag's read range is approximately 3 to 5 millimeters (0.12 to 0.2 inch), though Bluechiip may develop a new generation of tags with differently sized antennas that could increase that range.

"Traditional passive RFID chips are CMOS Integrated Circuits (ICs) that use semiconductor technology," Schwarz explains, "whereas the Bluechiip device uses MEMS technology to build the array of resonators." Because the MEMS tag is mechanical, he says, it can withstand harsh temperatures, and can thus be smaller and less expensive than standard RFID tags that must be packaged with insulation to protect them from extreme temperatures.
In 2008, a pharmaceutical firm visited the company, seeking a system for tracking stem cells, umbilical-cord blood, tissues and other products stored in ultralow-temperature freezers, or in liquid nitrogen. Because these items are sensitive to temperature changes, they must be monitored closely, and since they are small and are generally stored in large quantities, health-care companies have sought an automated method for tracking each item's location and temperature conditions. Labels printed with bar codes and text often became obscured with frost, the pharmaceutical company explained, and required that an item be removed from its tank in order to be scanned or read. What's more, standard RFID tags had trouble operating in the extremely cold environment.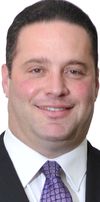 Recognizing a greater need in this industry, Bluechiip changed its marketing focus to biobanking—the practice of storing tissue samples for the health-care industry—and began developing a solution that was tested by the Peter MacCallum Cancer Centre, located in East Melbourne, in July 2010. The test was designed to determine whether the tags could be used to track bags typically employed to store white blood cells in liquid nitrogen, thereby increasing the efficiency with which tags are located, as well as reducing the time the tank needs to remain open while a specific bag is being sought.
The Peter MacCallum Cancer Centre attached the MEMS tags to several bags that would typically be used for storing white blood cells, but in this case, they contained saline solution. The staff inserted the wand into the tanks to capture each tag's ID number and temperature. That data was then interpreted and stored on Bluechiip's software, and was compared against the temperature readings taken with a traditional thermometer in the tank.
All tags on bags at both room temperature and within the cryogenic tank read properly. The average time to search for a bag, Schwarz says, was reduced by about four seconds (averaging 23 seconds to locate a bag), compared with a manual method of searching (averaging 27 seconds per bag). Other benefits, he notes, included reducing the risk of breaking a blood bag due to manual handling, as well as ensuring that samples remained in their low-temperature environment since they did not need to be taken out during the retrieval process.

Several substantial changes have taken place since an early prototype was developed in 2007. Although initially, Schwarz says, the MEMS tag transmitted at the 13.56 MHz high-frequency (HF) radio band, the new version uses an RF band between 1.5 MHz and 4.2 MHz, which increases the signal's quality.
Bluechiip converted from a private firm to an unlisted public company in March 2010. The company is now preparing to list itself on the Australian Stock Exchange via an IPO to raise AUS$3 million to AUS$6 million, to be used to fund the final stage of development and the subsequent commercialization of the MEMS solution.
STMicroelectronics intends to begin manufacturing the tags by the end of this year, thereby enabling Bluechiip to make the system commercially available to health-care businesses that may have already utilized the evaluation kit and want to track tissue vials or bags in freezers. "ST's extensive experience in MEMS technologies and its solid manufacturing capabilities make it the perfect partner to Bluechiip in commercializing our innovative tracking tag," Schwarz states. Other key markets for the technology in the future will include security, defense, industrial, manufacturing, waste, aerospace and aviation, he says, "which play to the robust nature of the Bluechiip technology."
"Bluechiip is an innovative early-stage company, that has developed a groundbreaking tracking solution, aimed at a range of markets, but initially in health care, such as biobanks," says Francesco Italia, the general manager of ST Microelectronics' sensors and microactuators business unit. "ST will manufacture the silicon, and we anticipate continuing our efforts to make Bluechiip successful."