Jun 01, 2015Lighthouse, an Australian provider of a cloud-based software platform that integrates mobile apps with Bluetooth beacons, has opened an office in the United States in a bid to grow the customer base for its enterprise-based beacon solution. Cleaning and maintenance service provider Spotless is utilizing the system to manage its workers at malls in Australia.
Spotless provides janitorial services to malls and other customers. For some of its customers, whose facilities are located in high-traffic public areas, the janitorial services provided must be very intensive—in a food court, for instance, a cleaning person is expected to walk through and clean the area every five minutes. For bathrooms, the cleaning requirements may be set at every 20 minutes, in part to protect against "slip and fall" litigation. Without an automated system, a cleaning company has had to rely on staff reports—often manually written down on paper by the workers—regarding how many times services were provided in each area. Spotless tried using a solution requiring that employees tap a passive RFID tag built into a wand against a reader installed in each location, but found that if an employee forgot to tap his or her wand at the reader, the time that individual spent at that location was not recorded. It also created a disruption of work for staff members.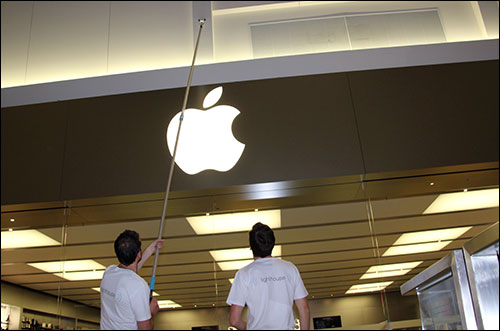 During the past year, the cleaning company conducted a pilot deployment of Lighthouse's solution at two malls (in New South Wales and in Victoria), where Lighthouse installed a total of 300 beacons in places such as the food courts, in front of stores and in bathrooms, according to Michael Carne, Lighthouse's sales and partnership VP, who is based at the company's New York office. Spotless employees use an Android-based smartphone running an app that Lighthouse developed and then integrated with the Lighthouse software platform. Lighthouse is also providing Spotless with content-management and analytics software on its hosted server. Spotless found the solution successful enough that it is now deploying the technology at all 40 of the malls it services throughout Australia, with the total quantity of installed beacons expected to reach 10,000.
Two years ago, a Melbourne-based digital solutions developer called InLight launched Lighthouse, with an initial focus on providing software-management systems using GPS for location data, and more recently Bluetooth beacons. Lighthouse is piloting its technology at casinos and hotels for tracking the movements of security personnel, as well as pursuing customers in the cleaning and maintenance sector. Carne notes that while there is a lot of buzz around beacon solutions for retail and promotion applications, enterprise solutions also provide considerable benefit.
According to Carne, his company's solution is beacon-hardware agnostic. However, at the shopping malls that Spotless services, Lighthouse is installing Bluvision iBeeks beacons. A Spotless employee simply turns on the Bluetooth setting of the smartphone that Spotless provides to that worker, uses the app to sign in to her shift, and then goes about her work for that day. As she moves from one area to another, the beacon at that location transmits information to her smartphone, which sends data back to the server, via the app, indicating where she is at any given time, such as in a bathroom or hallway. Not only can that data then be analyzed for use in future training and deployment of staff members for specific jobs, but it can also be presented to Spotless as a digital record of which services were provided, as well as when, for how long and how often. (Spotless did not respond to requests for comments.)
The content-management software also enables a company's managers to view location data in real time, including seeing icons on a map of a facility indicating where a worker has been. Carne says the system can typically collect thousands of events for one person during a given shift; therefore, management of the collected data is of significant importance. "That's where the maturity of our solution is so important," he states. "As Lighthouse is being used as a compliance point of record, it's critical the product is robust and secure. Our engineers have been developing enterprise software for the last 10 years, and we have invested significantly to ensure the platform has the capability and capacity to manage millions of events per day."

The Lighthouse software can identify, for instance, the average amount of time spent by all personnel at a given location, or just a specific staff member, or it can identify when a particular area is taking longer than expected to service. The firm is also developing a new version of the app that will be able to display an alert to an employee, letting him know if he is running late for a specific assignment, for example, or if he is spending more than the expected time at a location. He can also use the app to report any problem onsite that requires more labor or assistance from others.
About two months ago, Lighthouse moved into its New York office. Since then, Carne says, the company has been engaging in discussions with potential U.S. customers, such as hotels and casinos.