Oct 28, 2002Oct. 28, 2002 - Trays, dollies, totes, pallets, carts, containers –supply chains are littered with reusable assets that companies would like to track more closely. Radio frequency identification would seem like an attractive option. But few companies want to invest large sums in tags, readers, software and system integration – especially when the economy is weak and sales are falling. TrenStar, an asset management company based in Denver, Colo., thinks it has the solution: Outsourcing.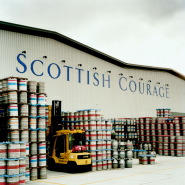 Last month, TrenStar purchased more than 1 million beer keg's from Carlsberg-Tetley Brewing Ltd., one of the largest brewers in the U.K. TrenStar is putting RFID tags on the containers, and over the next 15 years, it will provide Carlsberg-Tetley with a keg management service. The brewer will pay for the use of the kegs on a "per fill basis." Earlier in the year, TrenStar purchased nearly two million kegs from Scottish Courage Ltd., the U.K.'s leading brewer, as part of a similar deal.
Under the unusual arrangement, TrenStar will put RFID tags on the rim of each keg and install fixed readers alongside conveyors in its own depots. Handheld units will be given to drivers who will scan the kegs as they go on the truck and as they are delivered to pubs. (TrenStar doesn't own any trucks; it uses third party logistics providers.)
The company will provide kegs to the breweries as they need them, deliver them to the pubs, pick them up from the pubs, weigh and wash them and then send them back to the brewery to be refilled. The movement of the kegs is tracked along the supply chain, and the brewers can go on TrenStar's extranet site to see exactly where any particular keg is at any moment in time.
More important, the system enables users to generate reports about how long the kegs were in the brewery or how long a particular keg with a particular brand was in a pub. These reports can be sent automatically via e-mail to anyone in the company. So marketing can know how well a particular brand is doing at the pubs, production can see how quickly the kegs are turned, and finance can calculate how much of a refund the brewer will get on excise taxes paid (more on tax savings later).
TrenStar's unique approach is reshaping the British brewing business. The company is looking to expand into non-beer beverages in Europe, chemicals and automotive in the U.S., and other industries worldwide. "We are tying the benefit to usage, says Mike Dempsey, TrenStar's executive VP for North America and Asia-Pacific. "With RFID, there are a lot of people dipping their toes in but they aren't taking the plunge because of the risk. We mitigate the risk by managing the technology process and providing to clients. They don't have to worry about investing in the system up front."

TrenStar got into the RFID business almost by accident. The story starts in Edinburgh, Scotland, where Scottish Courage Breweries, which produces Courage, John Smith's Newcastle Brown Ale and other well-known beers, began tagging its own kegs about four years ago. Scottish Courage owned some 2 million. The company was losing 4 percent of them a year to theft and spending $10 million a year (in a flat market) to replace them.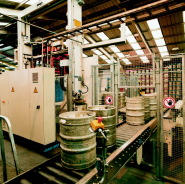 Scottish Courage's parent company, Scottish & New Castle, had already tried bar coding and knew it had some major drawbacks. Under ideal circumstances in the brewing distribution environment, bar codes could be read only 95 to 98 percent of the time. The industry wanted to use a new label for each trip, which meant that the system generated no historical data about the container. The system was open to abuse by customers, who could simply deface, peel off or replicate the label. And bar codes brought no benefits to the production process.
Scottish Courage looked at RFID tags and found they had significant advantages over bar codes. They could be permanently attachment to the beer container, so they could generate historic data as the kegs passed through the production plant. The tags could be read virtually 100 percent of the time, and since they had no moving parts, they were maintenance free. The data stored on the tags could be encrypted, so the customer couldn't tamper with it. And by using read/write tags, information about a container and its contents could be updated as the keg passed through the production process and down the supply chain.
Scottish Courage made the bold decision to use RFID to track 2 million kegs moving from six breweries to 23 depots in the U.K. to several thousand pubs. The brewer spent $12 million and worked with a company called Saco Systems of South Africa. Saco developed a tamper-resistant low-frequency (125 MHz) RFID transponder encapsulated in a rugged injection-molded plastic tag that could be permanently attached to the metal kegs and which could withstand exposure to steam and cleaning fluids. The tags can be read from 20 to 30 centimeters as they move along some 15 conveyor belts. Saco also developed a hand-held device that could read both RFID tags and barcode labels.
The result: container losses were cut in half. Cycle time -– the amount of time from when a keg is first filled, to when it comes back from a pub and is refilled -- improved to 40 days, from 47 days. For each day of improvement, the company was able to reduce the size of its keg fleet, freeing up $14 million in cash. And the company was able to better able to control the unofficial supply chain, where pubs under contract with Scottish Courage bought beer more cheaply from others. That helped to boost sales by 3 to 4 percent.
Another side benefit has been the recovery of excise tax on unsold beer. Each keg's precise weight is stored on its tag. When the kegs return from a pub, they are weighed again, and the tiny amount of beer remaining in the bottom of the keg is calculated. If every container has only 500 milliliters of returned beer, Scottish courage gets back the duty paid on 45,000 barrels a year.
The system has also created a platform for improving production and maintenance. Since the person filling it knows the precise weight of the keg, the kegs can be weighed after filling to make sure they have been completely topped up. And since information on cleaning and maintenance is written to the tag, Scottish courage knows exactly when the keg was last cleaned, it knows whether a keg needs a quick steaming or a complete overhaul.

TrenStar got into the RFID business because an employee at its parent company, Trencor, a South African company that owns the world's largest fleet of dry intermodal containers, knew Graham Miller, senior manger of logistics at Scottish Courage. The gentleman was also working with MicroStar Keg Management in Denver on a project. Through these connections, Trencor wound up merging its technology unit, Trencor Solutions, with two companies owned by the Leede family in Colorado and Global Container Management to create TrenStar.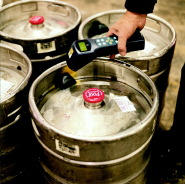 The deal brought together MicroStar's expertise in managing kegs with Trencor Solutions Internet software for tracking assets, and Global Container Management's logistics expertise. The aim was to create a new entity that could own and manage large fleets of reusable containers and provide customers with visibility into their supply chain. Scottish Courage would be the first attempt to prove the model could work.
TrenStar offered to buy the brewer's entire pool of kegs and manage it for them. Scottish Courage agreed. "It provided capital for our business to expand globally," says Miller. "Tracking kegs was not fundamental our core business. And we weren't prepared to devote huge amounts of money to upgrade our process of data management."
In short, TrenStar was going to pay Scottish Courage for the kegs and give them sophisticated IT systems to take advantage of the RFID tags. The brewer has to pay a fee for each time a keg is filled, but the company now has a fixed cost that makes it easier to project costs over a year. "It's a good deal for both sides," Miller says.
The contract calls for a 12-month changeover. TrenStar purchased KTP, a large U.K. system integrator that has worked on a number of RFID projects, including the Prada store in New York. KTP is doing a software upgrade to prepare for the changeover, and TrenStar is developing the staff and the expertise they need to take over the management of the kegs. Under the contract, TrenStar will take over management of the kegs by Jan. 1, 2003.
Dempsey says the main differences between his TrenStar and other container leasing outfits is that the TrenStar's model promotes supply chain efficiency. "Most other companies put the onus on the user," he says. "You can use the asset or not use it. With our model, which we call utilization-based leasing, we own the assets and we provide them to you on a utilization basis, which means we are encouraged to make the supply chain as efficient as possible so we can turn the asset."
The company's aim is to buy up most of the kegs in the U.K. market and manage them for the entire industry as a neutral third party. That will enable TrenStar to create efficiencies across the entire supply chain. For instance, kegs could be sent to and from the nearest depot, instead of from a brewery-owned depot across town. And the total number of kegs can be reduced since each brewer doesn't need to carry extra in case of a spike in demand.

TrenStar's goal now is to move beyond beer. Its targeting industries where a lot of high-value assets need to be tracked across a complex supply chain. "Our goal fundamentally is to own an industry," says Dempsey. "If we can identify industries where we can be a neutral party with a majority share of the assets in the industry, that's nirvana for us."
The company already has a large presence in the South African auto industry, tracking reusable containers, and Dempsey would like to see that expand globally. Steel pallets and bombproof unit load devices (HULDs) are potential markets. And TrenStar is already moving into tracking other beverage containers in Europe, where environmental laws encourage the use of containers that can be refilled, rather than thrown away.
"We have a strong capability with RFID as an enabling technology," says Dempsey. "What we are doing now is using that RFID experience and system integration expertise to do these large-scale mobile asset management systems. Our Web-based tools give customers complete visibility and tracking capability for their mobile assets. It could be a gas tank or a fork truck. And once we start pooling a specific industry, we can reduce the average variable cost for the use of containers across the entire industry."
The business model will likely appeal to companies in industries where margins are thin and tracking assets is a headache, not a core business skill. One question is how flexible the company's core Internet technology is for tracking within different industries. Wayne Aronson, Trenstar's CIO, says the basic system of tracking goods works for almost any company in any industry, and the Web interface and reports were built so that they could be customized by the customer. Among the reports you can create are "Drayman's Performance" in the beer industry and "Consumption Summary" for the food sector.
"We can work with bar codes, RFID tags and a client's own unique numbers by linking them to our numbering system," Aronson says. "We can track the container and the contents inside. We link contents to the container. If only a few items are removed at a particular station, they can be scanned out and we can continue to track the container."
The system scans and reports at three levels: site, receiving, and dispatch. You can drill down on the Web and see where any container is at any time, and you can manage by exception by having the system send reports when a container didn't arrive when and where it was supposed show up. TrenStar has the capability to integrate the data with existing enterprise resource planning software, particularly SAP.
"When we first developed the system for ourselves seven years ago, we made a lot mistakes," says Aronson. "But we persevered, and it was only through working in a lot of companies where we reduced their inventory holdings and introduced efficiencies with our or own containers and management system that we started getting requests to manage third party containers. That's how the business was really born."