Mar 13, 2019Textrace is now offering licensing for companies that wish to build RFID-enabled woven labels, while its partner and sister company, Jakob Müller AG, is making two new machines developed for creating the labels. The machines can be used to weave text into those labels, along with an integrated woven RFID antenna, and can also create non-RFID labels.
The company has been developing its textile-based RFID labels for eight years, but the new platform (known as Soft Brand and Care Labels) and machines are now putting the products in the hands of service bureaus, label makers and potential end users. "We expect to have first tests and pilot volumes with one or two brands running in 2019," says Stephan Buehler, the company's CEO. "The interest and feedback are very promising so far from sports, fashion and underwear brands we have directly approached."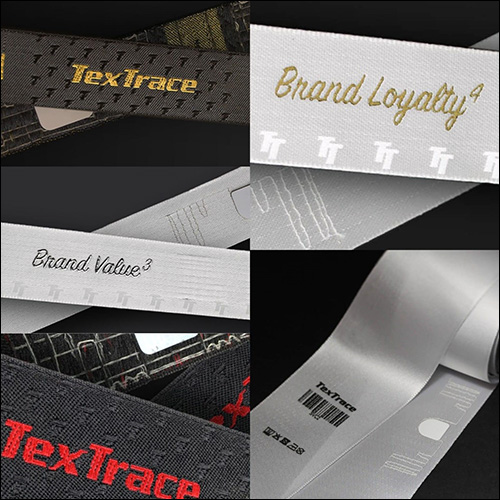 For several years, the company has had customers piloting the fabric-based UHF RFID labels on the products it sells, including fashion and undergarment businesses in Europe (see Luxury Apparel Maker to Test TexTrace's Fabric RFID Label). The system enables the companies to capture RFID data from the time of manufacture until long after a product is sold, which would not be possible with traditional disposable paper RFID hangtags attached to garments after manufacturing.
The labels operate with ICs provided by either Impinj or NXP Semiconductors, says Marc Höntsch, Textrace's commercial director. They can include 13.56 MHz NFC chips compliant with the ISO 14443 standard, he adds, so that the tags could respond not only to UHF readers, but also to NFC-enabled smartphones or tablets.
Together with technology partners, Höntsch says, Textrace has created efficient manufacturing equipment that supports the complete process of manufacturing textile RFID labels. The new machines come in two varieties: one that makes Jacquard-brand labels and another that produces soft woven labels (which can include satin labels with a printed brand name).
Companies that are already testing—or are planning pilots of—the Textrace labels tend to be high-end fashion and larger vertically integrated retailers, Höntsch reports, in contrast with department stores that sell a variety of products and commonly use paper hangtags. "These are not the kinds of retailers we are looking for," he states. "We see RFID-experienced retailers with high control of their entire supply chain as early adopters of the new label technology," such as businesses that sell their own fashion or luxury brands. Interest in these sewn-in RFID fabric labels is growing, Höntsch says, in part because more brands and retailers are already familiar with—and are using—RFID technology within their stores, back rooms and warehouses.
There are limitations with traditional RFID tags applied to products as hangtags, however. Companies that employ the sewn-in labels can apply them at the point of manufacture, then use them to track products throughout the supply chain, as well as in stores as they move from back room to store front or travel around the sales floor. While traditional hangtags are often removed at the point of sale, the Textrace label would remain with a product for the duration of its life. That means it could be used for purchases, providing security as a product leaves the store and enabling a consumer to interact with the brand if the item is returned, via an app, by reading the tag at home (provided that it comes with NFC functionality).
Textrace has been in conversations about its new soft labels with several brands and retailers, which have asked their label providers or service bureaus to speak directly with the company. The firm charges a licensing fee and directs them to their technology partners, such as Jakob Müller, so they can purchase the machines. "The fee we are asking for will be on a level that will make it competitive price wise," Höntsch states.
Höntsch sees several benefits to a transition from paper labels to Textrace woven labels. For one thing, he says, it eliminates the need for at least one label on a product that already typically has a brand label, a price label and, in some cases, a hard tag for electronic article surveillance (EAS). The Textrace label, he explains, eliminates the need for the paper UHF tag and a hard tag, since the woven label, sewn into a product, can provide EAS security at the door.
Current tagging and labeling solutions, such as RFID hangtags, often support only a single use case, Höntsch says: the improvement of inventory management at stores or warehouses. Further value-adding use cases, like theft protection or checkout processes, can theoretically be supported via an RFID hangtag, but the risk of the label being removed or falling off is high.
With integrated RFID labels, the companies have "always-connected-textiles," meaning the tags can continue to be interrogated even after products are purchased. According to Höntsch, the Soft Brand Labels can also be used as brand labels, thanks to dual-sided printing options. Moreover, he says, they can resist damage from washing.
The DualTag, which offers both UHF and NFC functionalities, comes with two separate RFID chips, as opposed to a combination tag with a single chip capable of both NFC and UHF transmissions. "With one IC, normally UHF performance is weak," Höntsch states. "We wanted the same performance on the UHF side," while also offering NFC functionality. "With the new machines, the weaving process, including the woven antenna, is comparable to a standard ribbon product without antenna, in terms of speed and quality."
"We believe that RFID-experienced brands and retailers will be convinced by the benefits of our technology," Buehler says, "and their demand will create more interest on their current label supplier side to invest in the new label technology." The company expects label suppliers to begin investing in the technology during the next 18 months, he adds.