Sep 13, 2004The U.S. federal government must get involved in both developing and restricting RFID if the technology is to quickly reach its full potential, according to Byron Dorgan, the Democratic U.S. senator from North Dakota.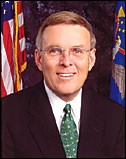 Speaking at the Frontline Solutions Conference and Exposition trade show today in Chicago, Senator Dorgan told supply chain and technology executives that government action was crucial to the development of RFID.
"Policymakers need to understand the challenges, the promise and the potential of this technology…but so far in Congress, there has only been two speeches, one hearing and one piece of legislation regarding RFID. The technology draws almost no interest in U.S. Congress," Dorgan said.
When there is interest, he pointed out, it revolves around consumer privacy. While that concern is legitimate and to be expected, Dorgan said, the senator insisted that the government could play a strong role in allaying those privacy concerns and that with retailers and government agencies pushing ahead with RFID deployments, Congress needs to act quickly.
"Timing is important, and especially important in public policy. We need to move now, as this technology is driven by others like the DOD and Wal-Mart. We can observe this or be an active partner, playing a role in addressing the challenges [of RFID]," he said.
Dorgan called on the current administration and Congress to develop a task force to begin thinking through these challenges.
Dorgan said an agency similar to the Office of Technology Assessment, which was abolished in 1995, could be working to ensure the establishment of RFID standards both in the U.S. and across international markets and tackle privacy concerns.
Senator Dorgan has been a leading policymaker on issues affecting the high-tech industry and has said that he wants North Dakota to be the epicenter of RFID development.
To that end Dorgan has developed the Red River Valley Research Corridor initiative to bring research and manufacturing to the northern Great Plains by attracting high-tech companies to the region and linking them with North Dakota's colleges and universities. Federal funds have already helped establish the North Dakota State University Center for Nanoscale Science and Engineering, which is working with the Department of Defense to apply RFID and other wireless technologies to critical national security concerns.