Jul 22, 2013Four years after an initial installation of radio frequency identification technology, and following several years of improving on that deployment, Oak Ridge National Laboratory (ORNL) is monitoring its inventory of chemicals within 1,200 individual storage areas. The solution, consisting of passive ultrahigh-frequency (UHF) RFID tags, handheld readers, printers and software provided by Open Wave RFID, allows laboratory managers and technicians to accomplish inventory checks within a matter of hours, as opposed to the days required to track the same materials via bar-code labels and scanners.
ORNL is the largest U.S. Department of Energy science and energy national laboratory, with a 3,000-acre campus located in Oak Ridge, Tenn. Researchers at the site focus on neutron science, nuclear energy, systems biology and national security. ORNL stores approximately 105,000 containers of chemicals within storage areas that include everything from flammable cabinets and coolers to shelving in full laboratories. About 25,000 new chemicals enter the ORNL annually, while a similar number are removed. On a regular basis, the national laboratory requires that technicians and other users of these chemicals conduct inventories to reconcile what is on hand with what is listed in the electronic records, according to Jeff Sickau, the manager of ORNL's Hazardous Materials Management Plan (HMMP) and chemical-safety programs. This task was time-consuming using bar codes, he says, since it meant removing each vial, canister or other container from its storage location and scanning every bar code individually.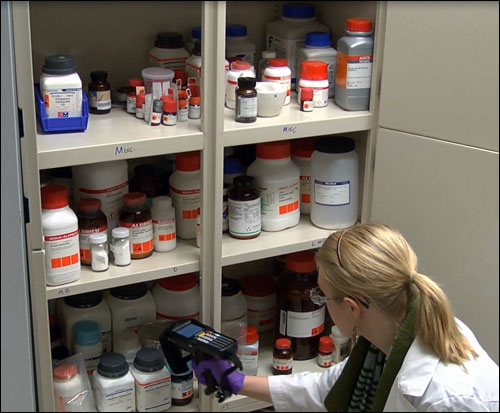 "We've been looking into RFID since about 2003," Sickau states, but the ORNL was waiting for the cost of RFID tags to drop to an affordable price. In 2009, the lab decided that tag cost had met that requirement (having dropped to about 20 cents per tag), and thus invested in software, passive EPC Gen 2 RFID tags, printers and handheld readers.
The initial RFID system was more efficient than the bar-code solution, Sickau reports, but did not produce the results that the laboratory had hoped to achieve. The read rate was approximately 80 percent, he says, which was not nearly high enough. Some tags were difficult to read on metal, and the software did not provide the details required in the field (at each storage location) to reconcile against the laboratory's electronic records. "We realized early on," he explains, "that you could have 80 percent accuracy, but you could quickly lose any efficiency you gained when trying to find the missing 20 percent."
About two years ago ORNL began working with Open Wave RFID, a solution provider based in Chattanooga, to resolve problems related to RFID read rates and data management from those reads, recalls Tim Waggoner, Open Wave RFID's co-founder. After examining the system in place at ORNL, Waggoner says, it became clear that the software was inadequate, and that the readers, printers and tags were not operating as needed. Open Wave developed a software solution that pulls data from ORNL's existing Hazardous Materials Management Information System (HMMIS), stores information regarding each chemical and links that data to the unique ID number encoded to the RFID tag. Open Wave has since commercialized the solution under the name ChemVue, which includes Motorola 3190z handheld readers, as well as RFID printer-encoders and tags from a variety of vendors.
ORNL took the solution live in 2012. As each new chemical is received, data is input into the HMMIS, after which staff members print an RFID tag with a unique ID number encoded to it, and the same number is printed on the front in both text format and as a 2-D bar code. The adhesive tag is then applied either to the container itself, such as a bottle or canister, or to a zip-lock bag in which the vial or container is placed. In some cases, several vials may be stored with a single bag, to which all of the tags for those vials are affixed. The chemicals are then assigned a particular location and put away in coolers or on shelves.
To conduct inventory counts, a user uploads all inventory data from the ORNL server to the handheld, via a docking station and an Open Wave software interface. The Open Wave software loaded on the handheld then stores that information. The user enters his or her ID, indicating in which storage area he or she is conducting an inventory count, and the Open Wave software populates the screen with a list of all items that should be located within that area. The user next waves the handheld near the chemicals, and the software highlights any items that should have been read and were not, as well as any that were read but should be located elsewhere.
In the event of a missing item, employees can pull up details on the handheld and determine, based on the description listed, where that item should be located, and then physically look for it there. Alternatively, they can place the handheld in Geiger counter mode and begin searching for the item by waving the reader near the stored chemical inventory until the unit indicates that it has found that product.

Once finished, the handheld reader can again be docked, and all data is then uploaded back into the HMMIS chemical-management software on the server via the Open Wave interface.
Since the latest version of the RFID solution has been in place, Sickau reports, personnel have indicated that it saves time by about 80 percent. "When we first initiated [the use of RFID], we sent out instruction sheets for tag placement," he says. The instructional material helped employees understand where the tags should be placed for greatest read rates. Since then, ORNL personnel have learned to attach tags accordingly. "We've also improved read rates with the type of reader we're using," he adds, noting that the device has a more circular-shaped antenna that can interrogate a tag at any orientation.
"It's been a real learning process for us," Sickau says, noting that there were few existing RFID solutions for the type of inventory ORNL was tracking. Now, other national laboratories and commercial pharmaceutical firms have been visiting ORNL to view its RFID system in action.
In the future, Sickau says he would like to see the solution also used for waste management related to the disposal of chemicals that have expired and need to be discarded or recycled. In addition, he hopes the Open Wave software can be employed to determine if two incompatible chemicals are being stored too near each other, and to issue alerts to users if that is the case.
Open Wave RFID is now providing the same solution to another national lab, Waggoner says, as well as to at least one pharmaceutical company. The company often helps clients with RFID-related concerns, he adds, such as those faced by ORNL—namely, installations of RFID technology that may not work well due to problems with the tag, antenna or reader selection or placement. "I see that kind of thing all the time," he states.