Apr 26, 2010Edison Chouest Offshore (ECO), a marine transportation and logistics company, has begun employing RFID technology provided by Mojix to tracks tools, equipment, food and other consumable supplies as they are transported to, and returned from, offshore oil rigs.
The system is intended to provide a more efficient, reliable delivery of goods to oil drillers in the Gulf of Mexico, as well as reduce costs by making the location and status of rented equipment—such as pipes, valves or generators—available in real time. In that way, for example, if a piece of equipment returns from an offshore rig, Edison Chouest Offshore knows about it right away and can return the items before incurring excess charges. Dane Vizier, the general manager of the firm's C-Logistics division, outlined the system to an audience at RFID Journal LIVE! 2010, which was held in Orlando, Fla., on Apr. 14-16.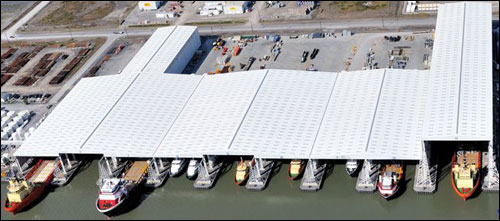 Chouest's C-Logistics branch orders or rents equipment and supplies, including consumables, tools and heavy machinery, on behalf of its oil-drilling customers. The company then transports those items to oil platforms as they are needed, from its facility in Port Fourchon, La.
To track the location and movement of the supplies—which can be anything from a box of soap to an anchor or thousands of feet of piping—ECO's C-Logistics division has used pen and paper to manually record information, as well as scanned bar codes and taken photographs of equipment and supplies as they are received from trucks, staged for shipping, and then loaded onto vessels. It has also used this process to record any equipment returned by customers. Data related to the process, which was largely manual before the RFID system was installed, is stored on the company's proprietary software system, known as Triton.
At Port Fourchon, ECO operates a 24-acre yard, where it receives and stores supplies and equipment for offshore platforms. The firm utilizes a 500-ton overhead derrick to load those goods onto its vessels. The site includes nine slips at which trucks drop off ordered equipment and goods, and where supply vessels are loaded up with cargo. Approximately 130 semi-trailer trucks deliver equipment and supplies daily, supplemented by deliveries by barge. Once vessels back into the company's slips, they load up on water, fuel and mud (composed of water, clay and a mix of chemicals, and used to lubricate and cool drilling bits and flush out rock particles), along with various other supplies and equipment.
Edison Chouest was interested in a solution that would make this process more visible, require less labor, and ensure that the goods were sent quickly and accurately.


"What we wanted to do," Vizier told attendees, "was make our stuff more visible as far as staging areas, checking things as they come off trucks, knowing where that piece of equipment is."
In 2008, the marine company invited Mojix and four other RFID companies to present their technology. ECO then conducted testing in the slips using metal-mounted passive tags attached to equipment, or adhered to cartons of supplies. Locating a passive tag that could be read was a challenge in the highly metallic environment, and across large spaces. The slips are large—as much as 135 feet wide and 30 feet tall—so the tags needed to be read across that distance. In the first quarter of 2010, Edison Chouest chose to deploy EPC Gen 2 RFID tags from Omni-ID, which exhibited the best read range of the tags tested, Vizier said. The company installed Mojix eNodes and antennas at both sides of each slip, as well as a single, central STAR reader per slip.

The eNodes act as exciters, transmitting ultrahigh-frequency (UHF) RF signals to the Omni-ID tags, which send their unique ID number to the STAR reader. The interrogator then forwards that data to ECO's back-end system, explains Robert Kowalik, Mojix's VP of sales. Mojix software, he notes, uses algorithms to determine the tag's location, as well as the direction in which that tag is moving as it is loaded or unloaded from the vessel. The system then sends that information to the Triton software.
Cargo is brought to one of two locations by truck. If a particular truck is delivering cargo destined for one specific oil-drilling platform customer, that vehicle backs directly into the staging area of the slip dedicated to the client in question. If a truck's cargo is intended for several customers, it unloads the shipment at the lay-down yard.

In either case, as cargo is removed from trucks, C-Logistics workers attach the RFID tags to equipment or cartons containing supplies. The ID number of each tag is then associated with data regarding the object being tagged, or the contents of a box or container, by scanning or visually reading the bar code or alphanumeric serial number applied by the products' suppliers. The products are then taken from the truck unloading slip or lay-down yard and moved into the warehouse facility, where RFID interrogators at the door read the tags, and their location and status are updated in the back-end system. Some larger items, however, remain in storage in the lay-down yard.
Prior to loading a vessel, workers pull supplies and equipment from storage in the warehouse or lay-down yard and transport them to a staging area near the vessel's slip. A warehouse employee can use a handheld computer equipped with a PCMCIA card RFID interrogator, to read tags at a distance of 20 feet or less, thereby verifying what he or she is pulling.
When the items are loaded onto a supply vessel (by means of the overhead derrick, in the case of large equipment), the Mojix system again reads the tags, verifies that the items are being moved onto the correct vessel, and sends that information to the Triton software, which updates the order's status. The software then links each ID number with the items on a loading manifest, and issues an alert if an incorrect item is being loaded onto the vessel. It can also indicate when an object is missing from a load that has been placed on that vessel.
"This will save oil companies time—and, therefore, money—by getting equipment out to them right away," Vizier states. What's more, he says, it can also reduce the risk of errors, such as a piece of equipment not being loaded onto a vessel, and thereby stalling oil production on the offshore platform. It will also help C-Logistics manage the shipping and return of rental equipment, which can cost an oil-drilling customer $25,000 to $125,000 per day in rental fees.
The next phase, Kowalik says, will be to install eNodes in the lay-down yard, where large pieces of equipment remain in storage before being shipped to offshore rigs. Here, he explains, Mojix will set up eNodes, with the level of granularity varying according to ECO's needs in different areas of the yard. According to Kowalik, that is expected to be accomplished in the second quarter of this year.