Dec 16, 2015With more than 20 percent of a hospital's operating budget tied to logistics activities, it's no wonder hospitals are implementing RFID replenishment solutions for inventory management. These solutions can monitor high-value medical supplies and surgical devices such as stents, valves and pacemakers, or low-cost items such as syringes, sponges and gloves. They also automate manual processes, enabling hospitals to reduce operating costs and improve efficiencies.
The first step to determine the return on investment from an RFID replenishment solution is to identify whether benefits will be recurring or nonrecurring. Time savings is often at the top of the recurring benefits list. It includes productivity gains from automating processes, such as counting stock and requisitioning supplies. Reducing or eliminating inventory shrinkage—the cost associated with expired products, for example—is also
a recurring benefit. Providing traceability, which facilitates recall management for
specific drugs and implantable devices, is another benefit.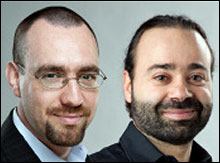 An important nonrecurring benefit is inventory reduction. An RFID replenishment solution provides real-time visibility into the consumption of supplies. That means hospitals no longer have to stock excess inventory to ensure doctors or nurses have the supplies they need when they need them.
Next, identify which products you need to manage to determine the solution that best fits your needs. If you decide to monitor high-value items, you'll want to evaluate cabinets with built-in RFID readers and antennas. Some cabinets are refrigerated for temperature-sensitive products. The cabinet will track who opened the door (nurses have RFID-enabled badges), which RFID-tagged item was removed and at what time. The RFID reader transmits the tag's unique ID number to the hospital's inventory-management system. The item also can be associated with the procedure number to automate billing, if the cabinet is linked to the clinical management system. Another option is RFID-enabled smart shelves, which work in a similar way, but without controlled access.
For small, low-cost items, it's more economical to RFID-tag the bin in which the items are stored instead of individual items. Many hospitals, for example, use a two-bin kanban system equipped with bar-code technology, which requires nurses to scan each item when it is removed. A more efficient method relies on RFID-tagged bins. When a bin is empty, a nurse simply removes the RFID tag and puts it on a panel that has a built-in reader.
As you develop your business case, keep in mind that an RFID replenishment solution frees nursing staff from spending valuable time monitoring inventory, thereby allowing for improved patient care.
Ygal Bendavid and Harold Boeck are professors in the school of management at the Université du Québec à Montréal, and members of RFID Academia's research board.