Oct 07, 2021Presented here are recent news announcements regarding the following organizations: STMicroelectronics, STAR Systems International, Semtech, Ryoden, Renesas, Truphone, Sony Semiconductor Israel, Kigen, Allot, the Single Pair Ethernet Consortium and the Single Pair Ethernet System Alliance.
STMicroelectronics Boosts Performance of Its NFC Tag ICs
STMicroelectronics has announced that it has increased the I2C interface performance in the latest generation of its ST25DV-I2C dynamic Near Field Communication (NFC) tag ICs, designed to let a host system access a tag's on-chip EEPROM more quickly and easily. Writing to the EEPROM on the new ST25DV-I2C tags via the I2C interface can be accomplished as quickly as with standard EEPROM, the company reports, and it allows the tag's flexible use to reduce system bill-of-materials costs. Designers can configure the tag's I2C address to ensure coexistence with other devices on the bus.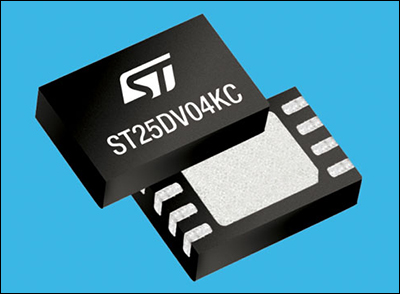 As a Type 5 NFC tag certified by the  NFC Forum, the ST25DV-I2C supports contactless interaction with 13.56 MHz RFID readers and NFC phones, permitting such common use cases as tap-to-connect pairing with NFC Data Exchange Format (NDEF) messages. The tags feature support for arbitration that allows convenient access to data written into the EEPROM through the RF interface.
The ST25DV-I2C is intended for such industrial applications as smart metering, asset tracking and logistics, as well as for medical equipment, smart-home devices and lighting, smart retail labels and consumer products. The tag can accommodate multiple use cases throughout a product's lifetime, including configuration and product tracking, user features, field maintenance and end-of-life management. It comes with support for Fast Transfer Mode and energy harvesting, while integrated circuitry provides unregulated output voltage for powering external components in battery-less applications.
The ST25DV dynamic tag contains up to 64 kilobits of EEPROM, with configurable password protection for user memory and an interrupt pin that can be programmed to respond to various events detected at the RF interface. The tag is available in SO-8, TSSOP-8 and chip-scale packages, including 8-lead UFDFPN, 12-lead UFDFPN and WLCSP-10, and is now available for free sampling and purchase.
STAR Systems International Unveils Antenna for Smart-City Initiatives
STAR Systems International (SSI), a provider of smart-city products, has announced its Vespira curved antenna, designed for congestion pricing, road usage charging, and traffic monitoring using passive radio frequency transponders. The antenna has a tuneable, phased-array, down-tilt design that provides a controlled and angled radiation pattern, the company reports. This allows it to be mounted upright and flush to a utility pole, creating a read zone capable of covering up to two traffic lanes, while blending in with urban environments.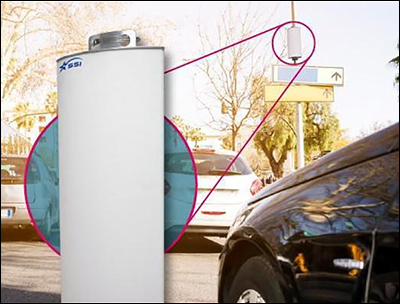 Founded in 2013, SSI offers automatic vehicle identification technologies, including transponders and readers, as well as consulting services for smart-city initiatives, such as electronic tolling, congestion and road use charging, electronic vehicle registration, Express and HOT lanes, fleet management, parking and secure access-control applications.
"Vespira integrates our years of expertise in antenna, electrical, and industrial designs," said Alan Mak, SSI's head of antenna engineering, in a prepared statement. "This high-gain and wide-beam antenna is optimized for applications using passive transponders. The novel curved housing design wraps around most street-side poles very naturally. Besides its aesthetics, Vespira's unique tuneable phased-array down-tilt design allows it to effectively target and direct radio frequency energy while flush-mounted in an upright position."
Robert Karr, SSI's CEO, added in the statement: "Congestion and road usage pricing are critical applications in the evolvement of smart cities. Vespira is the industry's first curb-side antenna specifically designed to address the needs of these applications. It is aesthetically pleasing, and it delivers exceptional performance in nearly all urban road layouts and environments." The Vespira antenna is available in either a linear or circular polarization for different road layouts and environments.
Semtech, Ryoden, Renesas Partner on Zero-Carbon Asset-Management System
Semtech, a supplier of analog and mixed-signal semiconductors and algorithms, and  Ryoden, a LoRa ecosystem solution and network provider, have announced a zero-carbon solution with an RE Family microcontroller (MCU) from  Renesas. The MCU can connect directly to the LoRa cloud utilizing Semtech's LoRa Edge platform (LR1110). The platform's addition, according to the companies, allows for geolocation capabilities and can be applied to the tracking of personal valuables, transportation and logistics, animals, and health care.
"The demand for green energy solutions is increasing as the world becomes more conscious of the environmental impacts we make," said Shiro Kamohara, a senior principal specialist with Renesas's Low Power Product Department, in a prepared statement. "The energy-harvesting RE Family represents the evolution of MCU products that have the advantages of being maintenance-free while keeping top-class efficiency. Through our collaboration with Semtech, we are able to offer a cost-efficient green energy solution for our customers."
The new MCU, based on  Arm's Cortex M0+, consists of a built-in controller that, according to the companies, enables a battery-less, maintenance-free product suitable for energy-harvesting applications. The solution features security capabilities critical to the Internet of Things (IoT) and can protect IoT embedded devices from viral infections and eavesdropping. Target applications for the LoRa Edge platform with RE Family include asset management, tracking goods through the supply chain, and other use cases requiring continuous indoor or outdoor tracking.
"The collaboration between Ryoden, Renesas and Semtech is in line with our overall strategy of extending low-power geolocation to newer IoT platforms and applications," added Sree Durbha, the director of product management in Semtech's Wireless and Sensing Products Group, in the prepared statement. "With the low-power nature and end-to-end security of the LoRa Edge platform, the embedded LoRa Basics Modem-E native modem software operating on the LoRaWAN standard, and the LoRa Cloud geolocation and device and application services, the Renesas RE Family is one of the most power-efficient MCUs available on the market."
Truphone, Sony, Kigen Collaborate on IoT Deployments
Truphone has announced, in collaboration with cellular IoT chipset provider  Sony Semiconductor Israel and security company  Kigen, that it has enabled its IoT platform and global connectivity to run on the integrated SIM of Sony's Altair cellular IoT chipsets, powered by Kigen iSIM OS. This, according to Truphone, will enable the company to expand the reach of its IoT connectivity solutions, providing global connectivity to Sony's Altair cellular IoT chipsets. Truphone's IoT platform and connectivity are now integrated with the Altair cellular IoT chipsets.
The first chipsets to utilize Truphone's connectivity solution are Sony's Altair CAT-M/NB ALT1250 and NB-only ALT1255 cellular IoT models. The chipsets connect millions of devices, including wearables, vehicle telematics, logistic trackers, home appliances, consumer electronics and smart utility meters, using the integrated SIM technology hardware. This connectivity is integrated with the Altair chipsets and portable iSIM OS software. The solution is designed to allow companies to connect IoT devices at scale, according to the companies.
"This collaboration demonstrates Truphone's strength and leadership in enabling connectivity for IoT," said Ralph Steffens, Truphone's CEO, in a prepared statement. "This merging of technologies will create powerful, scalable IoT deployments. We're thrilled to be joining Sony and Kigen in bringing seamless connectivity to a breadth of industries—from vehicles to wearables and everything in-between."
"Sony is playing a crucial role in the evolution of connected devices and collaborating with Truphone via our integrated SIM enables global connectivity without roaming, which is absolutely vital for large-scale IoT applications," added Aviv Castro, Sony Semiconductor Israel's VP of business development, in the prepared statement. "In addition, Truphone provides unique, affordable business models for connectivity, which further encourages the adoption of IoT."
Vincent Korstanje, Kigen's CEO, added in the statement: "Enabling a new model of partnerships for simpler and wider adoption of secure, cellular IoT has been a driver for Kigen that led the vision for the iSIM. This collaboration with Truphone and Sony will simplify and accelerate the journey for OEMs and enterprises for new battery-efficient devices with straightforward, global out-of-the-box connectivity."
Allot Smart-Home Survey Shows Consumer Cybersecurity Concerns
Allot, a provider of network intelligence and security-as-a-service solutions for communication service providers (CSPs) and enterprises, has announced the results of its "2021 Smart Home Survey." Conducted by  Coleman Parkes Research, the analysis of responses from 6,000 consumers throughout Europe and Canada found cybersecurity to be a rising household concern. The popular sentiment, according to the report, is that CSPs, not vendors, should be on the front lines of home network security.
Eighty-two percent of respondents indicated a preference to consolidate all things digital (including IoT and other smart devices) under the umbrella of their provider, with 83 percent claiming they would definitely switch (26 percent) or consider switching (57 percent) to a CSP that offers a holistic approach to protecting their homes. Seven out of 10 respondents said they anticipate more acute risks as the adoption of smart devices increases, with greater than 10 percent intending to acquire another smart device during the next 12 months. However, 42 percent said they desire expert help to install them, while 19 percent said devices are too complicated to understand overall.
"These results are paradoxical at face value, but make sense given the strong and long-standing relationship between consumers and CSPs," said Yael Villa, the senior VP of Allot's Cybersecurity Division, in a prepared statement. "There's significant sentiment that households are willing to pay for no-hassle cybersecurity services for all connected devices. Modems and routers were once the network boundary, but homeowners are open to more comprehensive measures to ensure that their virtual lives don't impact their family's safety."
Seventeen percent of respondents believed they were capable of adequately securing their devices, with only 34 percent having taken such rudimentary steps as changing the manufacturer's default administrative password. Two-fifths said they were independently managing their device security with manual updates and configurations, but a third rely on automated services to handle it for them. Sixty-two percent expressed concerns regarding smart cameras being hacked and spying on their families, while 57 percent said they were wary of how their sensitive data is being handled, and 52 percent said they fear eavesdropping on conversations via integrated microphones.
Single Pair Ethernet Associations Form Partnership
The  Telecommunications Industry Association's Single Pair Ethernet Consortium (TIA SPEC) has announced that it will partner with the  Single Pair Ethernet System Alliance to educate the global market about the benefits that Single Pair Ethernet (SPE) technology can bring to different applications, including the Internet of Things. Through this collaboration, the associations hope to accelerate market adoption of SPE technology, and to bring clarity and confidence to the market by harmonizing communications, education and global standards development.
SPE is suitable for automotive, industrial and building automation applications, the associations explain, due to its ability to transmit power and data via a single pair of copper wires over distances as long as 1,000 meters (3,280 feet). SPE cabling's small size, light weight and extended reach enable it to support the billions of connected devices and sensors being installed to support IoT and building-automation systems. "SPE technology is a potential game changer for Industry 4.0," said Simon Seereiner, the Single Pair Ethernet System Alliance's chairman, in a prepared statement. "To help with adoption, it's important to define the technology ecosystem within the global market. Working with TIA SPEC, our two organizations can present a unified message."
"Standardization of OT and IoT is critical to obtaining widespread adoption," added Ronna Davis, TIA SPEC's chairperson, in the prepared statement. "By enabling the entire OT network to be supported by Ethernet and replacing disparate legacy protocols with a universal language, SPE lays the foundation for more functional and secure network. SPEC's mission is to speed awareness of SPE technology, build ecosystem support, and provide the proof of concept and support that companies need to make the transition. Working in partnership with the SPE System Alliance will help us all accelerate the adoption of this transformative technology."