Jul 15, 2021Presented here are recent news announcements regarding the following organizations: Confidex, HID Global, Toppan, STMicroelectronics, Qeexo, Vizinex RFID, Giesecke+Devrient, Pod Group, Microsoft and Rockwell Automation.
Confidex Offers Rugged Industrial RFID Plates
Confidex has announced the latest member of its Ironside product family for industrial settings, combining the digital intelligence of RFID with the visual markings of a standard ID plate. The technology company teamed with an intergovernmental organization leveraging its DesignStudio program to cocreate a unique product for that agency's needs. The result, Confidex says, is the Ironside Plate, designed for harsh environments and track-and-trace applications.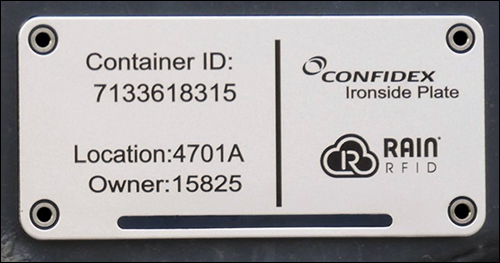 This IP68-rated RFID tag uniquely identifies assets, equipment and products, via RFID reader interrogation and manually, with laser-engraved visual marks intended to remain legible in dirty or industrial environments. The Ironside Plate is designed to help users solve logistical challenges related to tracking goods in supply chains and industrial environments, the company reports. The tag's introduction follows Confidex's recnt collaboration with  Aton SB S.p.A, its Italian partner focused on the software integration and management of large RFID and IoT projects.
The tag can be uniquely identified whether or not users are equipped with RFID readers, the company reports. It provides high sensitivity and reliability for tracking all types of metallic high-value items, for use in container tracking, construction and public utilities. Features include an aluminum encasing with anti-corrosion coating and a bottom stainless-steel plate to make it more robust than standard tags. As with other Ironside products, its IP68 hard-tag rating allows it to operate reliably outdoors. The tag measures 3.7 millimeters (0.15 inch) in size.
Leveraging  NXP's UCODE 8 IC, the tag responds to readers from a distance of up to 10 meters (33 feet) on metal and 7 meters (23 feet) on plastic surfaces. For visual identification, the Ironside Plate's laser engraving ensures its human-readable numbers will not be affected by harsh environments. Development of the tag took place as a Confidex DesignStudio project, for which the company worked closely with its international customer to design a solution that would fit the latter's needs.
HID Intros New Asset-Tracking Tags
HID Global, a provider of trusted-identity solutions, has announced two additions to its family of asset-tracking RFID tags. The SlimFlex Ultra technical label is built for durability, the company reports, while the Seal edTamper Aura is designed to securely track and trace highly sensitive materials. The latter model digitally detects unauthorized access to sealed containers, such as boxes or crates.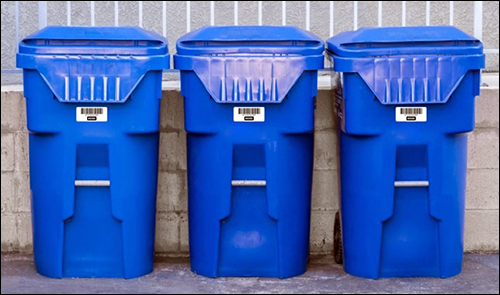 "We continue to solve customer challenges across a variety of RFID applications, from monitoring individual items under harsh conditions to ensuring that the seal integrity of secured inventory or high-value commercial shipping goods has not been breached," said Jean-Miguel Robadey, HID's VP of industrial smart components, in a prepared statement.
According to HID, the SlimFlex Ultra label's construction is intended to increase durability when the tag is mounted on non-metallic flat or slightly curved surfaces. It joins the company's family of high-frequency and ultrahigh-frequency RFID tags built to withstand exposure to harsh elements, chemicals and extreme temperature, for use in waste management, food distribution and other asset-tracking applications. Custom colors are available, as well as 1D or 2D barcode and laser-engraving options for special branding or other identification needs.
Affixed to metal and non-metal items or containers, the Seal edTamper Aura tag combines tamper-evident fasteners with RFID technology that transmits item ID, seal status and a digital notification if a seal is compromised. The tag can be used for scanning large sets of sealed items, the company reports, such as weapons, racks or controlled medications, and users can itemize and detect the status of assets without having to open a storage container during security checks.
Toppan Develops Interactive Packages to Connect with NFC Phones
Toppan, a provider of communication, security, packaging, décor materials and electronics solutions, has developed interactive packages that connect with smartphones via Near Field Communication (NFC) to provide digital content to consumers, such as games and music. In recent years, the company reports, businesses have increasingly offered optimized services to customers by leveraging consumer touchpoints, such as enhancing customer and purchasing experiences by making use of smartphones and other digital devices in product marketing.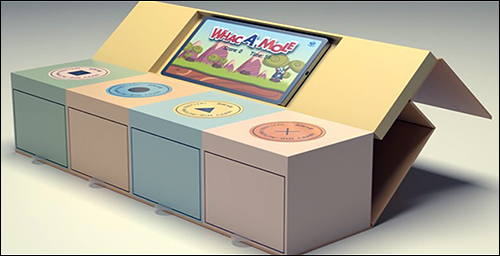 Toppan's NFC-enabled packages are designed to provide interactive customer experiences linked to smartphone apps. A wireless NFC-based connection is established when a smartphone comes within close proximity to a package, with no Bluetooth pairing required. Pad-type switches embedded in the packages allow consumers to enjoy interactive experiences, the company explains, by pressing or tapping to produce sounds or control content on the phone's screen via a compatible app. LEDs and other components can be incorporated based on the purpose or conditions of use.
The structure of input-output devices such as antenna modules and switches can be customized, allowing controller modules to be built into various types of packaging, including gift boxes and other paper-based packages, as well as molded plastic and corrugated fiberboard. Power for the controller is supplied by the smartphone via the wireless NFC connection, eliminating the need to incorporate a battery into the package. This power can also be used to make LEDs embedded in the package light up. The use of NFC means a high level of security can be provided, the company notes—for example, by linking to ID authentication systems to ensure that apps and content are only activated when the unique ID number of the NFC tag built into the package is verified.
"These packages are very effective for making the most of touchpoints to provide new experiences to consumers when they purchase products," said Takamitsu Nakabayashi, the senior R&D manager of Toppan's security business, in a prepared statement. "The combination of easily accessible interactive functions and NFC-enabled ID authentication means that this is a solution that provides both outstanding added value and enhanced security for packaging."
STMicroelectronics, Qeexo Partner on Machine-Learning IoT Sensors
Qeexo, which offers its AutoML automated machine-learning platform, and  STMicroelectronics, a global semiconductor provider for electronics applications, have announced the availability of ST's machine-learning core (MLC) sensors on AutoML. The sensors are designed reduce overall system power consumption, the companies report, by running algorithms built from large sets of sensed data that would otherwise run on the host processor.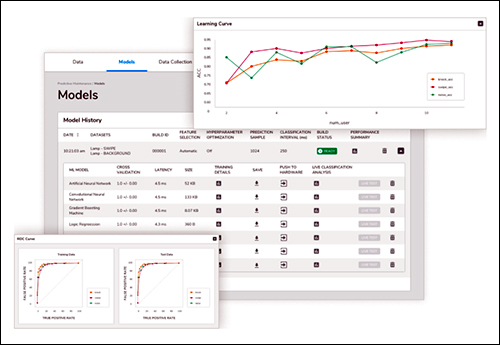 Using this collected sensor data, AutoML can automatically generate optimized machine-learning solutions for edge devices, with ultra-low latency and power consumption, as well as a small memory footprint. These algorithmic solutions overcome die-size-imposed limits to computation power and memory size, with efficient ML models for the sensors to extend battery life.
"Delivering on the promise we made recently when we announced our collaboration with ST, Qeexo has added support for ST's family of machine-learning core sensors on Qeexo AutoML," said Sang Won Lee, Qeexo's CEO, in a prepared statement. "Our work with ST has now enabled application developers to quickly build and deploy machine-learning algorithms on ST's MLC sensors without consuming MCU cycles and system resources, for an unlimited range of applications, including industrial and IoT use cases."
"Adapting Qeexo AutoML for ST's machine-learning core sensors makes it easier for developers to quickly add embedded machine learning to their very-low-power applications," added Simone Ferri, the director of STMicroelectronics' MEMS sensors division, in the statement. "Putting MLC in our sensors, including the LSM6DSOX or ISM330DHCX, significantly reduces system data transfer volumes, offloads network processing, and potentially cuts system power consumption by orders of magnitude, while delivering enhanced event detection, wake-up logic and real-time edge computing."
Vizinex RFID Expands Its Tag Production Equipment
Vizinex RFID, a provider of RFID tags tailored to specific applications, has announced that it has added two new pieces of production equipment to its facility in Bethlehem, Penn. The equipment supports Vizinex's growth due to demand for RFID tags and is intended to streamline the company's operations, according to Vizinex.
The firm says it has doubled its production capacity with a second flip-chip bonder line. It recently installed a Datacon flip-chip die bonder, which doubled its capacity for RFID tag manufacturing. Vizinex also invested in a Schunk Intec router-saw for cutting the circuit boards it uses to make tags. The high-speed router-saw, which replaces a saw its team had designed in-house years ago, has reduced the time required to cut a circuit board, Vizinex reports, while improving its efficiency and increasing its capacity.
"Our business is up significantly this year, especially the demand for RFID tags from the rental industry," said Ken Horton, Vizinex RFID's cofounder and CEO, in a prepared statement. "Companies are realizing how much money they can save doing asset tracking with RFID. The extra flip-chip bonder machine and our new router-saw are helping us meet the growing demand for off-the-shelf and custom RFID tags."
Giesecke+Devrient Acquires IoT Company Pod Group
Pod Group, an Internet of Things (IoT) enterprise network operator (ENO), has announced that it has been acquired by  Giesecke+Devrient (G+D), a global security technology group headquartered in Munich, Germany. The acquisition will build on Pod Group's positioning as a provider of the connectivity, infrastructure and managed services required by enterprises to own and control their IoT networks, and will complement G+D's offering of trusted connectivity enablement for the IoT with tailored connectivity-management services.
Pod Group's approach to IoT connectivity is designed to simplify deployments by providing enterprises with access to an ecosystem of integrated connectivity technologies. These include eUICC/eSIM, Private LTE and Advanced SIM App Technology (for example, Zero Touch Provisioning), supported by a centralized management and billing platform called Pod IoT Suite. The acquisition is expected to help the firm accelerate the market adoption of eSIM for the IoT, by reducing barriers to entry and cost of adoption, while increasing enterprise ownership and control.
"The acquisition of Pod Group by G+D has been driven by synergies and a mutual understanding of some of the existing barriers to mass IoT becoming a reality," said Sam Colley, Pod Group's CEO, in a prepared statement. "G+D and Pod Group, together, will now be able to accelerate the growth of Pod's ENO ecosystem, allowing us to deliver secure enterprise-grade connectivity and security solutions seamlessly, which is becoming increasingly important as spectrum opens up for the deployment of private LTE and 5G networks. As well as benefiting enterprise customers, we feel it also represents a great opportunity for both parties to deepen their relationships with existing ecosystem partners and vendors through broader collaboration."
"We are truly excited about this acquisition," added Carsten Ahrens, G+D's CEO, in the statement. "As a dependable IoT provider for solutions connecting to private and public networks, Pod and their products ideally complement G+D's trusted connectivity portfolio. The enriched offerings will now enable IoT ecosystems to connect, manage, bill and secure devices globally in a seamless and cost-effective approach. The joint portfolio comprises proven connectivity management, proven security and performance in supporting hundreds of millions of mobile devices worldwide. Together with Pod, we will accelerate our work to unleash the full potential of IoT solutions for enterprises and MNOs globally."
Microsoft Honors IoT Partner Rockwell Automation
Rockwell Automation, a company focused on industrial automation and digital transformation, has announced it has been named a finalist for  Microsoft's 2021 Internet of Things Partner of the Year Award. "We're honored to receive this recognition from Microsoft," said Blake Moret, Rockwell Automation's chairman and CEO, in a prepared statement. "Achieving results is what Rockwell is all about, and teaming with Microsoft helps us to deliver on that promise. Our intelligent industrial systems enable our customers to seamlessly save on infrastructure costs, speed time-to-value and increase productivity."
The Partner of the Year Awards recognize Microsoft partners for developing and delivering Microsoft-based solutions. Awards were classified in various categories, with honorees chosen from a set of more than 4,400 submitted nominations from more than 100 countries worldwide. Rockwell Automation was recognized for providing solutions and services for the IoT. The award recognizes a Microsoft partner that has designed, developed and deployed IoT solutions built on its intelligent cloud and edge innovations, such as Azure, IoT and edge devices, with their customers.
According to the company, these solutions are helping companies improve their business by increasing visibility into their digital assets, such as determining where they are at any given time or predicting maintenance required to ensure zero downtime. As such, the firm notes, the technology can drive business results and grow customer value.
"I am honored to announce the winners and finalists of the 2021 Microsoft Partner of the Year Awards," added Rodney Clark, Microsoft's corporate VP for global partner solutions, channel sales and channel chief, in the prepared statement. "These remarkable partners have displayed a deep commitment to building world-class solutions for customers, from cloud to edge, and represent some of the best and brightest our ecosystem has to offer."
The winner in the Internet of Things category was Mexican company Bside. A full list of award winners can be viewed  at Microsoft's website.