May 09, 2013The following are news announcements made during the past week by the following organizations: OATSystems; Convergence Systems Ltd. (CSL) ; William Frick & Co.; Mühlbauer and NovaCentrix; Ekahau; Redpine Signals; and Evigia Systems.
OATSystems to Provide RFID Asset-Tracking Equipment and Software to Veterans Hospitals
OATSystems, a division of Checkpoint Systems, has announced that it has been selected as a subcontractor to Hewlett Packard's HP Enterprise Services' maximum-value $543 million Indefinite Delivery Indefinite Quantity (IDIQ) real-time location system (RTLS) contract with the U.S. Department of Veterans Affairs (VA), to procure and deploy a management system that will assist in the automation and improvement of operations and veteran health-care services. The contract covers the deployment of RTLS technology, including passive and active radio frequency identification tags and readers, at 152 medical centers and 1,400 ancillary facilities (see VA Re-awards $543 Million RTLS Contract to HP). The initiative is intended to improve health-care efficiency via a variety of RTLS hospital solutions. OATSystems is providing the VA with reader portals, handhelds, tags and other asset-tracking EPC Gen 2 UHF RFID hardware supplied by Motorola Solutions, Mojix, Vizinex and Laird Technologies' Emerson & Cumming Microwave Products unit. As part of that deployment, says Su Doyle, OATSystems' head of industry programs, OAT is installing 7,500 of Impinj 's RFID portal readers. OATSystems will also deploy its OAT Foundation Suite, a collection of RFID software for configuring and managing RFID devices and filtering data and mitigating RF interference. Both the equipment and software will be deployed across 152 VA medical centers, encompassing more than 7,500 read points. "OAT's passive RFID solutions provide us with up-to-the minute inventory and asset data across multiple facilities, supporting our vision to improve health care efficiency across the VA enterprise," said Kimberly Brayley, the director of the Veterans Health Administration's RTLS Project Management Office, in a prepared statement. OAT's RFID software platform and RFID-enabled use cases, the company reports, provide the flexibility necessary to track and locate a range of assets for primary care (incubators, diagnostic supplies, sterilizing equipment and physical therapy equipment) and facility operations (laboratory equipment, uninterruptible power supplies and biological safety cabinets). OAT's passive RFID solutions will also be used to track IT assets (smartphones, laptops and network routers) across VA facilities, in order to improve operational efficiency and asset utilization.
CSL Announces Line of Battery-Assisted Passive Temperature Sensor Tags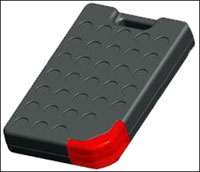 Convergence Systems Ltd. (CSL), an RFID provider in Hong Kong, has announced a new line of EPC Class 3 Gen 2 ultrahigh-frequency (UHF) RFID temperature sensor tags. The battery-assisted passive (BAP) tags are designed to operate under difficult and harsh cold-chain environments, the firm reports, and are able to monitor cold-chain temperatures in storage applications, mobile overseas containers and trailers moving from coast to coast. In addition, the tags are user-programmable to set alerts according to business rules, according to CSL. Unveiled and showcased at the RFID Journal LIVE! 2013 conference and exhibition, held last week in Orlando, Fla., the portfolio offers several versions of tags, with options for multiple light-emitting diodes (LEDs), push buttons, data logging, custom graphics and more. The CS8300 is a slim-profile, lightweight, low-cost temperature sensor tag for cold-chain tracking at the carton and item level, CSL reports. The CS8301 is a rugged temperature sensor tag designed for the harshest, coldest and most demanding cold chain applications, according to the company, and is fully enclosed by a plastic case to meet IP 67 standards (meaning it is impervious to dust and water), with LED lights indicating temperature violations and battery life status. To complement the tags, CSL provides a temperature-monitoring system that includes demonstration software compatible with CSL's line of handheld and fixed readers and antennas. The temperature-sensing tags are available now, and CSL is currently working with partners on such applications as tracking salmon in Europe, monitoring perishable fruit in a global cold-chain application, and product verification in temperature-controlled warehousing and transportation. One of the major advantages of our temperature-sensing tags, as compared to other tags on the market, is that our tags are fully EPC Class 3 Gen 2-compliant and can be read by all EPC Gen 2 readers," said Jerry Garrett, CSL's managing director, in a prepared statement. "Moreover, CSL's temperature sensing tags provide a cost-effective solution for cold chain monitoring to extend temperature logging down to the carton level."
William Frick Intros Armored 300C RFID Tag for Extreme, High-Temperature Applications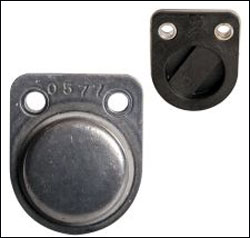 William Frick & Co. is offering a new ultrahigh-frequency (UHF) passive RFID tag designed for extreme high-temperature applications. The Armored 300C RFID tag is compliant with the EPC Gen 2 standard, ATEX and the ISO 17665 and ISO 11135 sterilization standards. ATEX certification is achieved by complying with the ATEX directive, which consists of two European Union (EU) directives describing which equipment is allowed within an environment containing an explosive atmosphere. According to William Frick & Co., the Armored 300C solution is the only available metal RFID asset tag, not just metal-mounted, which makes it suited to such harsh environments as manufacturing paint lines, construction, and oil and gas. It is composed of high-temperature ceramic-coated steel, the company reports, making it able to withstand the most severe industrial environments, and can be bolted or welded directly onto any metal surface. In addition, the firm notes, it offers a 360-degree read profile for improved read-write performance from all angles and directions, at long distances. The tag has undergone reliability testing, William Frick reports, and has demonstrated that the Armored 300C RFID tag can withstand long-term exposure to temperatures ranging from -40 degrees to +570 degrees Fahrenheit (-40 degrees to +300 degrees Celsius). The Armored 300C RFID tag and various other tags in William Frick's portfolio were showcased at the RFID Journal LIVE! 2013 conference and exhibition, held last week in Orlando, Fla.
Mühlbauer, NovaCentrix Partner to Develop RFID Antenna Printing Technology
Mühlbauer and NovaCentrix have announced a partnership to collaborate on the development of new RFID antenna-manufacturing technology. Under the terms of the agreement, Mühlbauer will develop, produce and market scalable antenna-production systems designed for RFID inlay and label manufacturers. The systems will be turnkey solutions for producing flexible, fully integrated and cost-efficient RFID factory applications, the two companies report, including antenna production, inlay assembly, and label converting and personalization, and will enable them to create antennas in-house, with very short lead times and at reduced costs, particularly for antennas on paper substrates. The systems will incorporate NovaCentrix's PulseForge photonic curing tools, and will be optimized for NovaCentrix' Metalon ICI copper oxide reduction inks. According to the companies, the PulseForge tools are used to dry, sinter or anneal thin-film materials on substrate materials, such as polymers and paper, and utilize a patented photonic process to cure functional inks and thin films in milliseconds, without heating underlying or adjacent substrates. Unlike traditional oven technologies, the firms add, the transient nature of the process heats thin films to a high temperature on low-temperature substrates without causing damage. The Metalon ICI series of inks are formulated with copper-oxide nanoparticles, along with a reduction agent, in water. After the ink is printed, a PulseForge tool is used to drive a reduction reaction, thereby converting the copper oxide into a thin film of highly conductive copper. This process is performed in ambient air on low-temperature substrates, at speeds exceeding 30 meters per minute (98.4 feet per minute). The RFID antenna-manufacturing technology has already been developed in large part, prior to the announcement's release, and the two companies say they are now working to optimize the technology's performance, and will base the next phase of effort on feedback from key beta customers. The duo expects to have an initial version of the system by early 2014. The APS 20000 will be for a reel-to-reel antenna-manufacturing line, the company indicates, and will be capable of producing 100 million antennas annually. The APS 20000 system consists of modules for printing, drying, photonic curing and quality control; other processes can be integrated upon request. The two companies report that they will develop higher-capacity systems per market demand. NovaCentrix demonstrated the Metalon ICI copper oxide reduction ink at the RFID Journal LIVE! 2013 conference and exhibition, held last week in Orlando, Fla. The ink was pre-printed on representative paper card stock samples, and was processed using a PulseForge photonic curing tool. The printed and processed samples were then handed out to interested booth visitors.
Ekahau Adds New Forensic and Emergency Features to Wi-Fi RTLS Solution
Ekahau has announced Forensics Replay, customizable alert rules and other new safety-related features and messaging enhancements to its Ekahau Vision business-intelligence (BI) and location-analytics platform designed to provide visibility into hospital workflows and deliver business intelligence from rules based on the movements of assets and individuals. The system consists of battery-powered Wi-Fi tags mounted to assets or carried by people; when a badge-holder uses the patent-pending pull-down switch on an Ekahau badge, those in the vicinity receive an alert indicating the distressed party's location on their badges' light-emitting diode (LEDs). Ekahau enables two-way messaging via badge LED displays, as well as e-mail or pop-up messages on end-user computer screens and mobile devices. The solution also includes the Ekahau RTLS Controller software, used to locate and manage tracked devices; and Ekahau Vision software. The new features and functionality leverage location-awareness to reduce emergency response times and improve emergency planning. For example, the software's new Forensics Replay feature lets hospitals easily review data collected regarding the movements of tagged assets and individuals equipped with badges, and to correlate that information with workflows and communications. With Forensics Replay, managers and emergency-planning professionals can view and retrace Ekahau badge-holders' movements following an alerting incident or emergency. Much like a video with pause and play buttons, the company explains, Forensics Replay shows post-emergency location histories, allowing security, police and managers to better measure emergency plan effectiveness. Another new feature enables hospitals to customize rules that determine when and how the real-time location system (RTLS) escalates alerts and messages, and user-defined categorization capabilities that provide hospitals with a quick view indicating the level of emergency (i.e., Code White vs. Code Blue events). There is also a new, visually intuitive Ekahau Vision Messaging Tab that allows users of Ekahau's Wi-Fi Text pagers to type text messages that can be sent to Ekahau badge-holders. Ekahau Vision and the new features were on display at the RFID Journal LIVE! 2013 conference and exhibition, held last week in Orlando, Fla.
Redpine Signals Rolls Out Dual-Frequency Cisco-Compatible Wi-Fi RTLS
San Jose wireless-systems company Redpine Signals has announced the availability of a comprehensive set of real-time location system (RTLS) hardware and system components that include a 2.4 GHz and 5 GHz dual-band Cisco Compatible Extensions (CCX) certified RTLS tag, known as the WiseMote WM1-50. The complete RTLS solution, according to Redpine Signals, includes a location engine that provides accurate locationing in beaconing, associated and CCX modes of operation. The company has also extended its Cloud-based Location as a Service (CLaaS) offerings, by adding SuperMote and NetworkMote devices, which allow the creation of a Wi-Fi RTLS infrastructure even in environments with limited or no previous Wi-Fi deployment. Unveiled in April 2102 (see Redpine Signals Intros Dual-Frequency Wi-Fi RFID Tag), the WiseMote WM1-50 tag is designed to address the crowding of data that can occur at the 2.4 GHz channel. The tag receives a transmission from an exciter, known as a WM0 Configurator, and then transmits its own identifier, along with that of the configurator, to the nearest Wi-Fi node. The company's dual-band WM1-50 tag can transmit not only at 2.4 GHz, but also at 5 GHz, complying with the IEEE 802.11a Wi-Fi standard. The WiseMote tag family, which also includes the WiseMote WM1-20 2.4 GHz tag, provides two-way messaging, with simultaneous multi-mode capability. The tags can work with standard off-the-shelf access points for locationing via their associated mode of operation. The new solution was unveiled and demonstrated at the RFID Journal LIVE! 2013 conference and exhibition, held last week in Orlando, Fla.
Evigia Systems Launches SensiTrack RFID Solution to Track HazMat
Evigia Systems has announced SensiTrack, an integrated RFID solution designed to track, monitor and secure hazardous materials and high-value goods for supply and distribution operations requiring specialized product transport, handling and storage conditions. Unveiled at the RFID Journal LIVE! 2013 conference and exhibition, held last week in Orlando, Fla., SensiTrack can continuously monitor transit location, container handling and storage conditions of nuclear and radioactive materials, hazardous waste products, corrosive or toxic chemicals, volatile bulk process ingredients, and other products or materials that are highly sensitive to handling and environmental conditions, according to the company. The solution tracks such parameters as transit and storage location, seal breakage, package impact, temperature, humidity, radiation levels, and the presence of gases and certain biological elements, the company reports. The solution incorporates patented active 433 MHz RFID tags (compliant with the ISO 18000-7 standard) equipped with a variety of sensors (EV3-ES1), fixed and mobile RFID readers (EV3-AFI and EV3-HHI) and a suite of software tools (ARG-US SensiTrack) for location tracking, storage configuration and condition monitoring. The EV3-ES1 active RFID sensor tags employ e-seal technology enabling them to be attached directly to drum-type packages, cargo containers or palletized shipments. The battery-powered RFID tags combine a full range of sensors, onboard memory and secure wireless communications. SensiTrack also includes Evigia's EV3-AFI fixed interrogator and the EV3-HHI handheld interrogator, providing standard 433 MHz (ISO 18000-7) networked fixed and mobile interrogation capabilities. The readers are configurable to provide a secure active RFID reader network, according to Evigia, with an omni-directional read range of up to 350 feet, even in highly metallic environments. The software tools enable the configuration of multiple RFID tags and interrogators via secure mobile, desktop and Web-based interfaces, as well as wide-area communications via satellite and cellular-based systems. The software tools can be integrated with legacy software and back-end infrastructure, Evigia reports. In a prepared statement, Navid Yazdi, Evigia's president and CTO, said that the SensiTrack system lowers life-cycle management costs, reduces the requirements for manned surveillance and inspection, minimizes the potential hazardous exposure for plant personnel, extends maintenance cycles of storage and transport vessels, and provides so-called "cradle to grave" management of hazardous waste now required by international agreements. SensiTrack is the result of collaboration with the U.S. Department of Energy's Argonne National Laboratory (ANL) regarding the development of customized active RFID sensor tags, and has a technology transfer license for sensor and software technologies from ANL. In August 2012, Evigia and Argonne announced a licensing agreement under which Argonne's patented, application-specific RFID sensor/seal technology and custom-developed ARG-US software suite would be further developed and marketed by Evigia as a comprehensive nuclear and hazardous material-handling solution (see RFID News Roundup: Argonne, Evigia Finalize Licensing Agreement for Hazmat-Tracking RFID Sensor Technology).