Oct 26, 2007Yedioth Information Technologies, the IT subsidiary of Israeli media company Yedioth Media Group, has partnered with RFID hardware provider PowerID. Together, the companies will offer PaperVue, an RFID software and hardware solution designed to track large reels of paper as they leave the mills, are distributed to printing houses and are used to make newspapers.
PaperVue leverages a battery-assisted passive (BAP) RFID tag called PowerR, designed by PowerID to overcome the challenges associated with tagging reels of paper. Specifically, PowerID modified the antenna of its standard logistics BAP RFID tag to compensate for the RF-blocking properties of paper, including the approximate 10 percent humidity within each reel of paper, says Elan Freedberg, the company's director of marketing. The tags—which are designed to be attached to the surface of the thick cardboard core on which the paper is wound—must also be able to withstand the physical forces and pressures of the winding machine, as well as emit their unique ID numbers through the multiple layers of paper that will later be wound around the core (a full reel measures between 1 and 1.5 meters in diameter).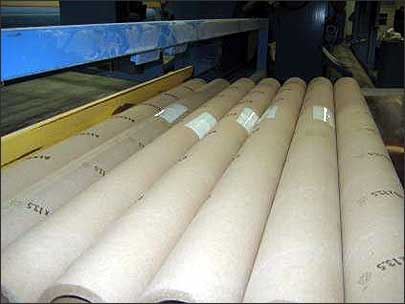 "What makes our tag superior to a regular passive tag," Freedberg says, "is that you can actually read it from 3 to 10 meters away from the paper reel, which means you can use the tag throughout the whole supply chain, including portals." Regular passive tags, which typically have a read range of less than 2 meters, may work well if you can position interrogators close to the edge of a reel to read the tag. However, he notes, "when you have to go through a dock door, that is a problem," because the readers would be too far away.
The PowerR tag operates within the 865-956 MHz frequency range and currently supports the iP-X air-interface protocol, developed by RFID company IPICO. Later this year, PowerId plans to release a version of the tag compliant with the EPC Gen 2 standard.
Yedioth Information Technologies has developed software that printing houses can use to analyze all the tag reads culled as the reels traverse the supply chain. For example, companies can utilize the software to ascertain, in real time, when—and which—reels leave a paper mill, when they arrive and when they are delivered to the printing facility. With this information, the firms can then determine their exact inventory levels at any given time.
Paper reels are often tracked manually, either using pen and paper or by the scanning of bar code labels attached to the reels. Either process, says Assaf Avrahami, CEO at Yedioth Information Technologies, is time-consuming and prone to error. With the automated tracking that RFID provides, Avrahami explains, "inventory levels [of paper reels] can be dropped because the information you have is more accurate." And since tag reads can be collected throughout the supply chain, companies have more data about the location of a particular reel at any time. "Typically, you don't know what you really have since the reels are traveling around the printing house. And once a reel is put on the press, it's counted as consumed, even if only half a reel is used."

More than a year ago, Yedioth Information Technologies began investigating the possibility of using RFID to track reels of paper, which can cost up to $1,000 apiece, to help support its sister companies, such as
Yedioth Ahronoth
, a Hebrew-language daily tabloid that boasts Israel's largest circulation. In speaking with some of
Yedioth Ahronoth
's paper suppliers—who claimed passive RFID tags didn't have the necessary read range, and that active tags were too expensive—the IT group learned about PowerID's BAP RFID tags.
In 2006, Yedioth Information Technologies ran several pilots in Sweden with Holmen Paper, and in Belgium with Stora Enso. The tags were adhesively affixed to the reels' cardboard cores, and reads were collected at various points. During the three-month-long Holmen pilot, for instance, at least a thousand reels were tagged and read via portals at the production area, and at a storage warehouse. The portal gates measured 3.5 meters wide and 5 meters tall, and the reels were on forklifts. In this pilot, Yedioth Information Technologies and PowerID ultimately attained successful tag reads 100 percent of the time.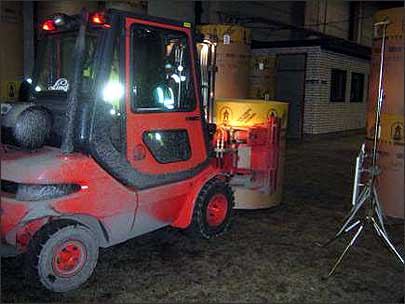 Affixing RFID tags to paper reels promises more than inventory reductions, Avrahami says. Companies will be able to reduce the labor currently required to track the reels. What's more, adds Avrahami, the firms will be able to better control quality because they'll be able to ensure the right reels are put on the correct reel stands on the press, and track when paper breaks during printing (the paper sometimes rips due to faulty manufacturing as it unwinds off the roll at the press). With an interrogator affixed to the reel stand, a newspaper company could document such reel breaks and provide that information to the supplier.
In addition to the two completed pilots, Yedioth Information Technologies also worked with the Technion-Israel Institute of Technology to develop a simulation model that could analyze how well RFID would contribute to the operational efficiencies of a paper-reel supply chain. The partners' analysis revealed that RFID, within two years of being implemented, has the potential to save €50,000 ($72,000) for a midsize printing house that consumes 20,000 tons of paper per year.
In several weeks, Yedioth Information Technologies plans to embark on additional pilots. The company intends to expand its pilot with Holmen Paper, and to launch trials with Abitibi Consolidated and Norske Skog, paper suppliers in Canada and Sweden, respectively.
Meanwhile, the IT group is now offering its PaperVue solution, including PowerR tags and readers, software and integration services. According to Avrahami, one customer—a large Swedish printing house—will begin testing the system in two weeks.