Apr 17, 2013Nissan Europe is employing a radio frequency identification-based solution to link visitors at car shows and other events to Facebook and Twitter, enabling them to post photos and messages about Nissan's products. Dwinq, an RFID company based in Cambridge, Mass., provided the system to Nissan Europe's creative partner, TBWA/BEING, which integrated the technology into kiosks and displays installed at the Paris Motor Show, a private Leaf Tour that demonstrated the automaker's electric car in six Scandinavian cities, the Geneva International Motor Show and, most recently, the Paris International Marathon. Nissan intends to use the technology again at upcoming car shows for interaction and games at its booths, according to David Parkinson, the automaker's general manager of social and digital engagement.
Attendees at these events are issued RFID-enabled ID cards that they can use to have themselves photographed, and then post those images on their Facebook wall or share their "likes." By enabling this function, Parkinson explains, the Dwinq system provides a source of publicity for the car manufacturer, while users can share their activities with friends or colleagues online.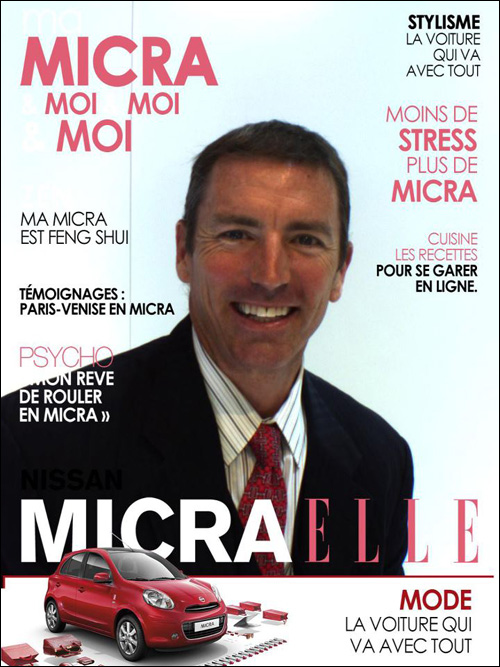 The first installation took place at the Paris Motor Show (in September 2012), the Scandinavian Motor Show (in November 2012) and the Geneva Motor Show (in March 2013). This month, a Nissan booth was installed at the Paris International Marathon.
The technology consists of badges made with Vanguard ID Systems RFID tags, as well as a combination of readers from Impinj, ThingMagic and MPI Label Systems to interrogate those tags, says Patrick Sweeney, Dwinq's president and CEO. The data related to read events is collected by Dwinq software, and is forwarded to the user's selected social network.
Car companies typically spend many millions of dollars on publicity at car shows, in order to provide excitement about their latest vehicles among attendees, who comprise members of the press, a well as consumers. In Nissan's case, the motor vehicle company chose to use social media to spread interest in its vehicles beyond the car show itself, by enabling visitors to have their photos taken against special Nissan-themed backgrounds, or to play games and then share the resulting pictures or other data with friends. For each person who utilizes the social-media solution Dwinq speculates, the message reaches between 500 and 800 people, based on an average of 250 friends per user, as well as the friends of those friends who respond to the posting. "The amplification of their brand is tremendous," Sweeney says.
In Paris, the system consisted of 12 RFID stations offering a variety of photo booths and games. First, attendees arrived at the booth and were invited to sign up in order to share their experiences on Facebook or Twitter. An interested individual then provided his or her username and password to the site on an Apple iPad, and that data was linked to the unique ID number encoded on a badge's RFID tag. The badge was then provided to the user, to be worn on a lanyard around that person's neck.
The tag could be read at a variety of stations. In one case, individuals sat in front of a photo booth equipped with a touch screen that read their badge, and then followed prompts to have their photo taken and superimposed on the cover of Elle magazine, to promote Nissan's Micra Elle car model. Dwinq's social-media platform linked the appropriate badge ID number with the user's Facebook account, and posted an update on that individual's page with the picture taken.
At other booths at the Paris Motor Show, kiosks display pictures and text about the latest Nissan cars, and individuals can swipe their cards near the reader installed at those locations and then press the "like" prompt. The picture and information about the car is then posted on that individual's Facebook page or Twitter feed.
Additionally, visitors were able to use their RFID-enabled cards to link them to a design that they made of a car of their own, which could then be shared on Facebook or Twitter, and they could also create their own sound for the Leaf electric car, which could be shared online via RFID. Finally, they could have a picture taken and superimposed on a photo of Times Square in a Nissan NV200 Taxi (known as New York City's "Taxi of Tomorrow"). Altogether, the company reports, approximately 2,000 attendees at the Paris Motor Show who visited the Nissan booth utilized the technology, connecting to a total of about 400,000 social-network members.
During last year's Leaf Tour, a smaller version of the solution was used in six Scandinavian cities. In this case, Nissan set up a single RFID reader to record and share video of individuals sitting in the driver's seat of the car. A person would first sign up and receive his or her RFID card, linked to that individual's social network, and then step into a Nissan Leaf and tap the card near a reader positioned within the car. The system recorded a 15-second video of that attendee in the car, which was then linked to the user's Facebook or Twitter site.
On March 17, the Dwinq solution was installed at Nissan's booth at the Geneva Motor Show. The Geneva solution consists of approximately 17 "sharing stations" equipped with RFID readers, and providing the same types of picture and game experiences as those offered at the Paris event.
Most recently, a Nissan booth was installed at the Paris Marathon's Runners Expo. In this case, Dwinq provided the technology to Proud Robinson, a British company that was responsible for setting up the booth, including the Dwinq technology. At Nissan's booth, Sweeney says, Proud Robinson installed two or three readers that were used at photo booths, on which users could again have their pictures superimposed so as to appear to be wearing a NASCAR uniform.
"The use of RFID, specifically, is fine," Parkinson states. "Once a card is activated, the use of it is simple and seamless." The company is still seeking ways in which to improve the registration process, he notes, in order to make it easier for people to connect the RFID-enabled badge with their Facebook accounts or other social network, without waiting to have that data input by staff members at the booth into an iPad. According to Parkinson, Nissan will be looking for ways to not only make this registration process simpler, but also increase the reward that a user gains from taking part in the promotion.
Parkinson says he is still evaluating how the solution might be deployed at future events. "So far, we have used the technology to allow people who are physically at an event to enrich and share that experience through sharing and activation on social channels, mainly Facebook," he says. "We are looking to use [the technology] in other shows if we can get the balance right for registration and reward, and provide some great experiences."