Jul 15, 2016In April 2016, several teams competing in a championship car race sanctioned by the Fédération Internationale de l'Automobile (FIA) began using an RFID-based system to authenticate their adidas Climacool race suits produced by U.K.-based motorsport equipment company Fyshe Ltd. Since then, Fyshe has been sewing Near Field Communication (NFC) RFID tags into all of its adidas Climacool racing suits, which it manufactures itself. The company plans to incorporate the transponders in other products that it makes or distributes, in order to allow FIA and race car drivers to ensure that the suits, boots and helmets they use are authorized by FIA for use in the race.
Fyshe is not yet tagging adidas gloves, shoes or underwear product lines, though it expects to do so in the future. At a later date, says Christopher Nurse, Fyshe's founder and managing director, the tags may also be utilized to track the expiration dates of the items it sells. For instance, Fyshe is the exclusive U.K. importer and distributor of Arai car and karting helmets and accessories. The FIA imposes life limits on some such products, in order to ensure that they will meet the latest standards.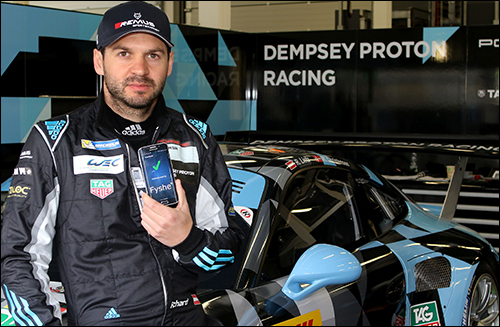 Fyshe offers a free smartphone app known as Otentico—provided by its software partner, authentication technology firm Otentico—that drivers and race inspectors can use on an Android NFC-enabled phone to read a suit's RFID tag, as well as access and manage data related to that suit.
Fyshe developed the idea of employing NFC technology as a means of more reliably authenticating race suits worn by drivers, thereby ensuring that the suits meet regulations and standards established by FIA and SFI Foundation Inc., a nonprofit organization that issues and administers standards for the quality assurance of racing equipment within the United States. (FIA referred all questions about the RFID technology to Fyshe.)
Founded in 2002, Fyshe is a specialized motorsport equipment company that sells its products primarily to FIA drivers (the company manufactures the adidas Climacool suit, and also distributes products such as helmets and boots made by other manufacturers). "We're a focused specialist motorsports business very experienced in our space," Nurse says. As racing has become a more international sport, he explains, with drivers bringing their suits to races around the world, authentication of that equipment is becoming more complex.
For instance, Nurse says, only certain suits can be worn that meet FIA and SFI guidelines for fire retardants and other materials, and the suits, as well as boots, underwear and a helmet, can be expensive—up to approximately $10,000. Some drivers may purchase suits that cost less, but that might not meet those guidelines. In such cases, inspectors at the FIA event will determine that a suit is not sanctioned and can thus disqualify that driver.
The FIA sells holograms to authorized suit providers like Fyshe to be incorporated into those suits. But in general, Nurse says, holograms are less secure than NFC technology since they can be faked, so they don't offer a foolproof method of ensuring that the proper suit is being used. Beginning in April, therefore, Fyshe started embedding an Otentico NFC RFID tag into every adidas Climacool race suit. Each tag is made with a 13.56 MHz NXP Semiconductors chip compliant with the ISO 14443 standard and encoded with a unique ID number. Otentico offers an app and content-management software to store and manage data related to each NFC tag ID number. The tag ID is then linked with that specific suit's color, size and date of manufacture in Otentico's software.
Once a driver participating in the FIA World Endurance Championship at Silverstone (held on Apr. 15-17, 2016) received the NFC-enabled Smart Suit, he could use any NFC-enabled Android phone loaded with the Otentico app to read that suit's tag ID. The app then displayed data about that particular suit, confirming its authenticity. Inspectors (known as "scrutineers") at the championship race used the app to confirm that each driver had an approved adidas race suit from Fyshe, by simply opening the app, holding the phone in front of the hologram, where the tag was embedded, and viewing the relevant data displayed on their phone screens.
Drivers on the Dempsey-Proton Racing, Abu Dhabi–Proton Racing and KCMG teams first wore the Smart Suits during the 2016 FIA World Endurance Championship at Silverstone. For each suit, Fyshe personalized the information linked to its tag, including the driver's name, the team, the season and pictures of that suit's unique design.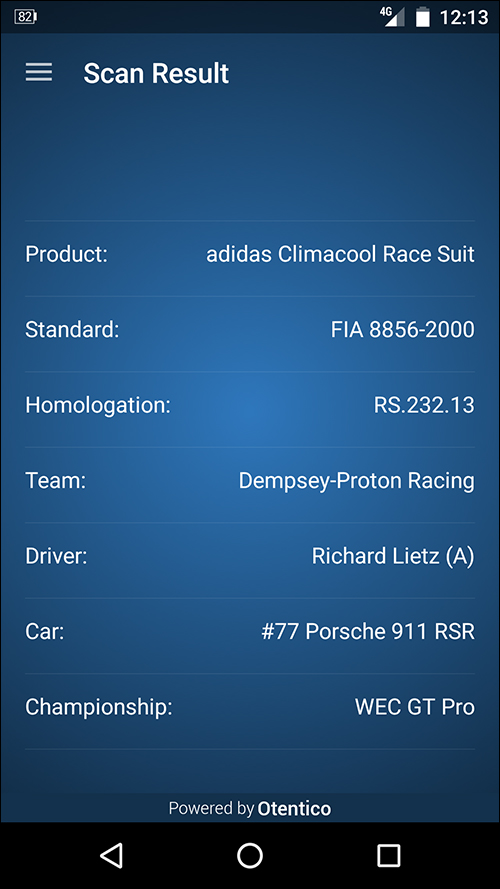 Fyshe now embeds Otentico NFC RFID tags in all of its suits, and Otentico software stores data for users of the app. Once race car drivers started using the app, Nurse says, they began thinking of other ways in which to use the technology. Drivers liked the idea of storing their medical records and linking that information with their suit data, he reports. In that way, if a driver was involved in an accident during the race, medics or other personnel could read the tag on that individual's suit, and his medical information could be displayed on their phones. For instance, if a driver were allergic to penicillin, that information would be available immediately.
Allergies and other medical data, however, would not be something that the Otentico app would store. Rather, this information would need to be managed by medical responding agencies or a group like FIA. "Because such data is private and sensitive, it would be stored partially on highly encrypted chips and partially on the secured servers," Nurse states. "And it would only be made available to authorized medical teams."
Fyshe is a distributor of helmets as well, and has been in discussions with its helmet manufacturer in Japan about applying an NFC chip to each helmet sold to a driver. Someone could read a helmet's tag not only to prove its authenticity, but also to view its expiration date. Helmets can only be used for a specific amount of time before they expire, and by entering the expiration data into the Otentico software and linking that information to the tag's ID, inspectors and drivers could quickly determine if a helmet was expired prior to each race.
To date, drivers have been enthusiastic about the RFID tags, Nurse says, adding that Fyshe plans to explore other ways in which NFC can be used with its products. "[NFC] is something we wanted to do because it's interesting from a technological point of view," he notes, "but we're also looking at ways to use wearable technologies."
"When you first put a new product out there," Nurse states, "customers start to provide feedback about its use, and new applications are identified. This creates a virtuous circle of ideas and innovation." Fyshe plans to continue entertaining those ideas in its search for ways to expand the NFC use case.