Sep 21, 2005Dimatix, a provider of ink-jet products for commercial and industrial applications, has introduced a desktop printer that enables prototyping of a range of printed electronics and electronic components, including RFID tags.
Dimatix designed and manufactured the printer, the DMP 2800, at its fabrication plant in Santa Clara, Calif. There, the company combines micromechanics and microelectronics to make a range of micro-electro mechanical system (MEMS) components in products ranging from rear-projection televisions to mobile phones.
So what makes the DMP 2800 noteworthy? For one thing, its printhead is made of silicon.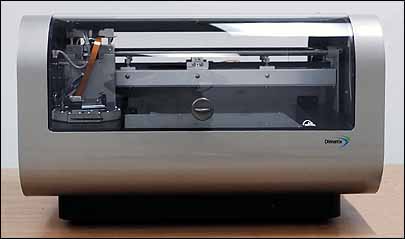 "We use a typical semiconductor manufacturing tool to generate the silicon printhead, giving the forms a high level of accuracy," says Martin Schoeppler, Dimatix's VP of corporate strategic business development. He says the silicon is compatible with any type of fluid that can be used in an ink-jet process, including nanoparticle-based conductive inks used to print RFID antennas and semiconducting organic inks for printing transistors. A number of firms are currently working to develop technology that enables the high-speed printing of organic materials needed to form integrated circuits for RFID tags (see Developing Tomorrow's Tags).
As ink enters the DMP 2800 printhead, it is jetted through an orifice and deposited onto a substrate. Over time, Schoeppler says, silver-based inks and certain others, such as light-emitting polymers needed for printable displays, can ruin a printhead with nozzles not made purely of silicon. According to Schoeppler, Hewlett-Packard (HP) also produces MEMS-based printheads, but those are not made entirely of silicon. In addition, he adds, since HP's printheads use a thermal application process to move the material through the printhead, the heat generated in this process can change the structure and behavior of some printed materials. The DMP 2800 printhead, on the other hand, uses a piezoelectronic application process, producing acoustic waves that move the ink through the printhead.
Developing the printhead required a considerable amount of time and capital, says Schoeppler. "We're using the most modern etching techniques and tools," he says. "We've had to reengineer a number of tools in order to use them to perform as we required. For example, we had to grind and polish a wafer down to micrometer levels of accuracy and make thickness variations of just half a micron."
Schoeppler would not divulge how much Dimatix spent to develop its printhead manufacturing capabilities and DMP system, but says it would cost another company around $50 million to duplicate its efforts. Dimatix was able to initiate its DMP system development through the purchase of a MEMS fabrication facility owned by a bankrupt fiber optics manufacturer, he says.
"Developing this system also required a mix of knowledge on staff, too: ink-jet, semiconductor, chemical, etc.," he says. Dimatix, which was named Spectra Printing until earlier this year, has been building this base of knowledge for the past 20 years.
According to Dimatix, the DMP 2800 can print on any type of surface, including plastic, metal sheets, silicon and paper. It uses a disposable ink cartridge, which a person operating the device can fill with any material used for ink-jet printing, discarding the cartridge after use. This enables the user to create prototypes with only a small amount of ink, conserving expensive materials such as the conductive inks used in creating RFID antennas and tags. The ability to change out the cartridge also lets the user easily deposit different types of materials onto a substrate, required when building integrated circuits. Without this feature, a printing device would need many different printheads to deposit the materials.
The printhead is also capable of extremely fine depositions, jetting droplets of fluid as small as 10 picoliters in volume for printing line widths as narrow as 50 microns.
The DMP 2800 printhead is also capable of extremely fine depositions, jetting droplets of fluid as small as 10 picoliters in volume for printing line widths as narrow as 50 microns. But Rob Beeson, senior development engineer with HP, notes that some of HP's printheads can deposit droplets as small as 4 picoliters, while one of Canon's has can print droplets of 1 picoliter. The smaller the droplet a printhead is capable of depositing, the smaller and more intricate the lines or forms it can print, says Beeson. He believes that the DMP 2800's 10-picoliter minimum droplet size could pose some limitations in terms of what it can print.
The DMP 2800 desktop printer is the first part of Dimatix's Materials Printer (DMP) system, a printing platform the company is developing to bring designs from the prototyping stage to the production stage. Dimatix is also developing a modular system that will allow for high-volume production printing, wherein the same printhead cartridge employed by the desktop DMP 2800 can be used in a larger printer that is part of a production line including a cure oven and other printers used to deposit the various materials needed to create a circuit. Schoeppler says an undisclosed company is already piloting the large-capacity printer.