Jun 01, 2004ADT Security Services, a unit of Tyco Fire & Security, has introduced Sensormatic SensorID Device Commander, software that lets companies manage large numbers of RFID readers remotely.
"As companies move toward large-scale deployments, RFID will be part of mission-critical applications," says Randy Dunn, ADT's director of RFID sales and marketing. "These companies need an architecture that enables them to manage and support the readers in an efficient, cost-effective way, and that's what Device Commander does."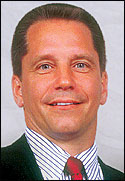 Under the Device Commander architecture, readers are set up on a separate network—it can be wired, wireless or a mix of the two—from the corporate local area network to avoid having RFID data bog down the corporate LAN. Each server running Device Commander manages up to 50 readers on one segment of the RFID network and delivers data from the readers through a single connection to enterprise IT systems. If the readers are in different facilities, a company can set up a virtual private network connection between the remote readers and server running Device Commander.
The Device Commander software enables users to monitor RFID reader performance. If a reader goes down, the software will try to connect with it. If, after several tries, Device Commander can't communicate with the reader, it will send an alert to a systems manager that there is a problem.
If a new reader is installed on the network, either to read tags at a new location or to replace a broken reader, Device Commander will automatically detect it and enable a user to configure it appropriately, based on the application. The software can also be used to update firmware within the readers, so they can read new protocols as they emerge. It costs slightly less than $45,000 and is available immediately.
ADT is building a services business, and Device Commander will enable ADT to manage readers remotely for companies that choose to outsource the maintenance of RFID readers. When Tyco purchased Sensormatic, a provider of electronic article surveillance systems, Sensormatic's services team was merged with ADT's, so it has a large group of field technicians capable of installing and maintaining RF-based systems.
"Device Commander will let our field service personnel understand exactly what's going on with a reader," says Dunn. "We'll be able to fix many problems remotely and make sure that we get the right people and parts to a location to address a problem when necessary. In the end, that saves the customer money."
ADT also introduced the Sensormatic SensorID RFID Launch package aimed at providing consumer-goods manufacturers with a complete and upgradeable solution for meeting the January 2005 RFID tagging requirements set by Wal-Mart and other leading retailers. The package includes four EPC Class 1 readers, eight antennas, software, 3,000 Class 1 EPC labels, a printer and a server. In addition, ADT will do compliance testing on three stock-keeping units, do a site survey to determine any RF issues, deploy readers in a facility and provide up to eight weeks of on-site training. The package costs $150,000.