May 28, 2003May 29, 2003 - TransCore, a privately held transportation services company based in Dallas, Texas, hopes to cash in on the popularity of RFID toll payment systems by launching a pay-as-you-go system for the parking industry. The new program takes advantage of battery-powered transponders already installed on many vehicles.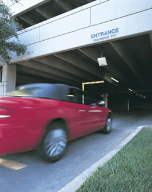 TransCore says its system requires no changes or security to be added to existing vehicle ID tags and should drive demand and business opportunities for wireless vehicle systems. The company also says its network can support other data collection technologies, including RFID transponders from other manufacturers and proximity cards.
Currently, most wireless parking and RFID toll collection systems require that you set up an account and deposit money in it. The account is then debited each time you park or pass through a toll, and the account is replenished automatically. TransCore says it can now link RFID and other vehicle tags to a subscriber's credit card or bank account, so that they can be used for a range of larger and less regular payments.
"Road toll fees can be as little as 25 cents, whereas five days' parking at an airport can be $125," says Frank Dittoe, director of sales, Western US at TransCore. "That would be well over the threshold of existing toll credit."
Under the new system, subscribers would still have to provide a credit card or bank account in advance. But they would not have to maintain a pre-paid balance, and the program will also drop the current requirements for membership fees. According to TransCore, the new system is the first of a number of additional applications that can leverage the growing tag subscriber base across the country.
"Houston and Dallas, for example, both have 1 million toll tags in use and that installed base can be used for multiple commercial applications," says Dittoe. "With so many subscribers in such high concentration, there is clearly uses beyond parking and toll payments."
TransCore says it can take over management of the new-pay-as-you-go system. That is, it will create patron accounts, distribute transponders, establish collection procedures and provide the facility operator with reports and deposits of funds.
For its part, TransCore says it will take a processing fee of around 2.5 to 3 percent per transaction for its pay-as-you-go clearinghouse system. TransCore maintains that its system supports a range of data collection devices,.
The first deployment of its system is set to be at Chicago O'Hare International Airport. "We already have 300 lanes using our automatic vehicle identification system in downtown Chicago, which will be brought online as well," says Dittoe. -- By Jonathan Collins
Only two weeks left until the most important RFID conference of the year. Seats are limited, so register today for RFID Journal Live!, Chicago from June 11 to 13.