Oct 07, 2005Reverse logistics is a headache for many large organizations, and the U.S. Navy is no exception. Each year, the Naval Inventory Control Point (NAVICP) tracks more than 500,000 broken parts, worth a total of $25 billion, as they move from locations overseas to Advanced Traceability and Control (ATAC) facilities in Norfolk, Va., and San Diego, Calif., then either to warehouses run by the Defense Logistics Agency (DLA) or to any one of more than 100 contractors enlisted to effect repairs. The Navy recently completed a major RFID field trial, which showed that radio frequency identification could increase the visibility of parts in transit and reduce the manual labor involved with reconciling shipments between ATAC and DLA facilties.
"We definitely found some items that we didn't have proof of delivery for, items that we would not have seen if we hadn't read the RFID tag on them," says Beverly Thomas, project supervisor for NAVICP. "This project also allowed us to know what we would have to do to use RFID across our entire pipeline."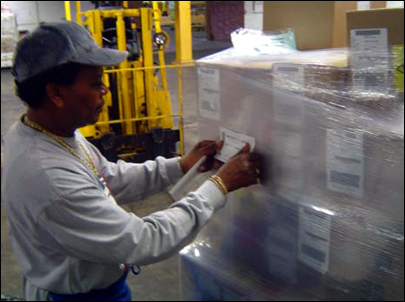 The project began in January, when the Navy hired SAIC, an employee-owned research and engineering firm based in San Diego, to act as project contractor. SAIC did site inspections to determine the RF conditions in facilities that would be used for the trial. Tagging of parts began in March and lasted through the end of September.
The Navy tracked retrograde parts moving from Al Asad, Iraq, to the ATAC facility in Norfolk. Some parts were tracked as they moved to the Defense Depot Norfolk Virginia, a DLA facility, while others were sent to contractors for repair.
ATAC staff in Al Asad used a Zebra Technologies R110Xi RFID label printer-encoder to print labels with the Department of Defense's standard shipping label, including a bar code. The Zebra printer encoded an EPC to an RFID transponder embedded in the label. The transponders were based on EPCglobal's Class 1 Gen 1 standard. In all, 764 parts and 18 cases were tagged, with most parts coming from airplanes, including such items as gyroscopes, transmissions and avionics components.
A Symbol Technologies MC9060 RFID handheld computer interrogated the tags in order to collect their EPCs. Savi Technology's SmartChain Site Manager 5.5 then transfered the RFID data to the Retrograde Packaging Management Program (RPM) program, which the Navy uses to capture information about shipments by scanning bar codes. The data was then transmitted to ATAC's Retrograde Management System (RMS), a Web-based logistics platform.
"We took the RPM system and RFID-enabled it to handle EPC data," says Doug Litten, RFID program manager at SAIC. "In a remote location, if there is no LAN connectivity, [personnel] can print and generate labels. When they get connectivity, they can upload the data to a Web server, and it would be made available to ATAC Norfolk."
One aim of the trial was to see if RFID could confirm receipt of items moving between ATAC and DLA. In addition to interrogating tagged items and containers arriving from Iraq, ATAC's Norfolk facility also placed tags on parts and containers being shipped to the DLA facility in Norfolk. ATAC used a Zebra printer to print RFID labels for 11,140 items and 620 containers; Alien Technology readers to create a shipping portal; and Savi's middleware to transmit RFID to ATAC's RMS. The DLA declined to participate in the pilot, so ATAC used another Symbol handheld to interrogate items and containers arriving at DLA.
The total value of parts tagged during the pilot was more than $200 million. Using RFID, the project resulted in 99.6 percent of the 11,904 tagged items being confirmed as delivered to the DLA facility. In addition, the RFID system identified more than 350 items—worth a total of $12.6 million—that were not captured with ATAC's existing bar code system. The bar code system confirmed only 97.1 percent of items as having been delivered.
Thomas says she believes there is a return on investment in reducing the workload for both ATAC and the DLA, if they both interrogate tags on items moving between the two facilities to confirm receipt. Another benefit is the improvement in the accuracy of data about items being returned to ATAC and shipped on to the DLA facility.
The field trial has now concluded, and the project has been shut down. NAVICP is putting together a proposal to obtain funding for another trial that would include both its other hub in San Diego and the DLA. The Navy's goal, eventually, is to use RFID to track all retrograde parts moving through its supply chain, which could greatly improve reverse logistics.