Dec 14, 2004Looking to improve the management, security and safety of hazardous materials, NASA's Dryden Flight Research Center at Edwards Air Force Base, Calif., has tested a UHF RFID system linked with temperature sensors to track the location, handling and condition of chemicals at the center.
"When we heard about RFID we saw its potential, but instead of just producing a PowerPoint slide show of what RFID could enable we went ahead and developed a working solution to prove it," says Ralph Anton, chemical program manager at NASA Dryden.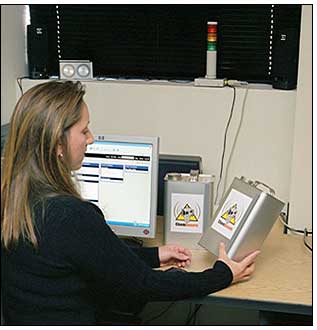 The pilot program—dubbed ChemSecure—used RFID tags and readers to detect and relay real-time information on the usage, shipment, tracking and storage of chemicals at the base to Dryden's existing Web-based hazardous materials management system (HMMS). The HMMS provides a way to manage data including the inventory, status and location of chemicals and the tracking of hazardous waste. At present, NASA uses bar codes on its chemical containers to track their arrival and storage at the base. The chemicals are kept in five secured fenced-in storage areas, with each area containing a 6-by-20-foot storeroom.
In a three-month trial that ended in October, one of the five chemical storage areas was fitted with fixed readers. About 24 chemical containers, ranging from metal cans to cardboard boxes with plastic bladders, were tagged prior to placement in the storage area. Because liquids absorb RF transmissions and metal reflects them, the trial required RFID tags designed to minimize the harmful effects of the item they were tagging. After a series of tests carried out by Intermec Technologies, which supplied the tags and readers for the trial, a single tag design—Intermec's Metal Mount Stick Tag, a passive 915 MHz read-write tag that measures 15mm (0.590 inches) by 210mm (8.25 inches)—was chosen. In addition, 12 NASA chemical-handling staff had 915 MHz RFID tags added to their identity cards so that the system could also track which workers were using which containers.
One Intermec Intellitag UHF fixed reader, configured with two antennas, was installed at the entry to the secured storage area, and another reader was placed on the inside of the door to the storeroom itself. In addition, temperature sensors were also placed both inside and outside the storeroom.
Automatically recording temperature, NASA believes, could significantly cut expenses. "Storing at the correct temperature can extend the useful life of chemicals. Given that for every $1 spent buying a chemical it costs about $10 to dispose of it, monitoring the temperature can save the government money in future," says Anton. Previously, staff members had to take temperature readings manually by visiting the storage area.
For the trial, both the RFID readers and the new temperature sensors were wired to Dryden's existing hazardous materials management system (HMMS) so that tagged containers and their contents could be linked to documentation and operating procedures related to each substance. Dryden's HHMS system, built using Oracle application and database products, was developed by EnvironMax, a Salt Lake City provider of environmental information management systems, at the Edwards Air Force base.
The trial RFID system was connected to visual warning lights, which were placed outside the storage area to provide an immediate signal to personnel if a container was being incorrectly removed from or added to a storage room. "That provides additional monitoring for trained employees who might make a mistake," says Anton. Used in conjunction with the RFID tags on ID badges, the system could also be used to ensure that workers are properly authorized and trained to use the chemicals in their possession.
Throughout the trial, containers were added to and removed from the storage area, as well as repositioned inside it, to test the ability of the network to track real-time changes. According to NASA, the system proved to be extremely sensitive in detecting movements within the storage room. "We could tell not just if a container was moved from a shelf but even if that container was just turned on the shelf," says Anton.
"We wanted to prove identity data could be integrated with data from other systems. This project provided a good test bed by combining location data with information from the HMMS," says Allyson Fryhoff, vice president of Oracle Sensor-Based Services, which is part of Oracle, in Redwood Shores, Calif. The trial used Oracle Corp's Sensor-Based Services software to collect and filter data from the readers and sensors, as well as to provide tools to manage and analyze the data. Rules set up within the software also could enable a host of responses to be automated based on information detected by the network. For example, environmental professionals could be alerted when the storage limit of a hazardous chemical locker was close to exceeding capacity. Also, automatic alerts could be automatically sent—via text messaging, telephone and e-mail—to professionals in security, safety, health and environment to warn them of any changes with the chemicals.
The NASA project tested Intermec handheld RFID readers and handheld computers to test the potential for reading tagged chemical containers outside of the storage area. "We can see the potential for emergency responders to identify chemicals that have left the base and are moved though the community," says Anton.
Handheld computers capable of reading tags on containers could be particularly important in identifying chemicals and how best to handle them if an accident should occur off the base, says Anton. "We have a great deal of information on chemicals at the base, but once the chemicals leave, the police, fire and medical responders have little information and have to wait for hard copies of [informational] material from us. Handheld computers would allow us to push information in real-time to emergency response personnel," he says.
NASA Dryden is planning a second phase of the ChemSecure project, which could start as early as January. That project will aim to provide the ability to automatically check all vehicles entering and leaving unguarded access points for tagged items, as well as extend RFID tracking throughout the facility. Additionally, the sensor-based technology will track all climate-controlled chemicals in restricted storage areas.