Mar 14, 2007In Boulder, Colo., this coming May, BolderBoulder, one of the largest running races in the United States, will deploy an RFID-based system for tracking each of its 48,000 race participants. RFID-based timing systems, consisting of passive tags worn by competitors—usually on their shoes or around their ankles—and RFID interrogator antennas integrated into mats at the finish line or at checkpoints passed by the racers, have been widely used since the mid-1990s. BolderBoulder's organizers, however, have not used them in the past, citing prohibitive costs and the adequacy of its existing system of manually recording bib numbers as racers cross the finish line.
The race's organizers, however, have now decided to switch to an RFID-based timing system from IPICO Sports, a newly formed business that markets and distributes IPICO RFID technology for sports timekeeping. The technology, says IPICO Sports, will cost BolderBoulder organizers a third of what those organizing many other large running races pay, and will help race organizers improve the runners' experiences by generating split times at each mile of the 10-kilometer (6.2-mile) race. The runners will be able to check these times on the BolderBoulder Web site the night after the race. In future years, according to BolderBoulder's race director, Cliff Bosley, this data will be available in real time, accessible over e-mail or via text message.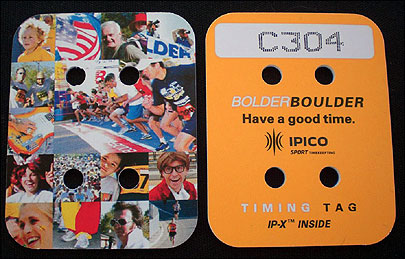 For the past three years, IPICO has been developing its solution for an official sports timing offering. During that time, BolderBoulder's management has been testing the IPICO technology, Bosley says, starting with the small field of 100 professional runners who race in BolderBoulder each year, in three-member teams from countries around the world. This use of IPICO's system has enabled television commentators covering the event live to provide leaderboard stats on the professional field more quickly than in previous years, when the front runners had been tracked manually.
Two years ago, to test the robustness of the system, race organizers issued IPICO tags to the first wave of amateur runners, made up of about 600 participants, as well as a field of 1,500 runners from a corporate group. Bosley says the organizers will not raise registration fees to cover the costs of the tags this year, but might do so in future years. "We want to show the participants that the tags work," he says, "before we ask them to pay more."
Most large marathons and triathlons, including the Ironman series, use ChampionChip's race timekeeping system, which utilizes a passive low-frequency Texas Instruments (TI) tag compliant with the ISO 11784/5 standard, along with interrogator antennas built into mats laid across course finish lines and at points along the course where organizers want to track split times. The interrogators, made by ChampionChip, are set to scan the area above the mat 16 times per second, to read the RFID tags of passing racers. The device records the racer ID encoded to each tag, along with a corresponding timestamp. The ChampionChip system is sold through a global network of distributors, and most organizers hire timing companies to install and manage the system for them. Winning Time, an RFID time-tracking equipment provider operating out of Calgary, provides a similar system using the same TI tag.
The IPICO Sports offering employs an IPICO IP-X dual-frequency passive tag embedded in a piece of plastic a bit smaller than a business card, which has holes to accommodate being laced onto the top of a running shoe, as well as interrogator antennas that can be integrated into mats installed along a course; the antennas are linked to readers networked to a back-end server. The IP-X dual-frequency tag is powered by a signal from a low-frequency (125 kHz to 135 kHz) interrogator, but the tag uses a high-frequency (13.56 MHz) signal to transmit its data to the reader. This approach alleviates problems with collision of RF signals, explains Mark Herbst, CEO of IPICO Sports. "We can successfully read 50 to 75 tags per second," Herbst says. At BolderBoulder's peak finishing times, Bosley notes, by staging groups of runners, the organizers ensure that no more than five runners cross the finish line per second, so the read rates of the IPICO tags should be more than adequate.
High-speed sports—such as road cycling races, in which participants might move across the finish line or checkpoints at speeds exceeding 35 miles per hour—can use IPICO's active UHF tags. These tags have been designed into a form factor for good performance when mounted on metal, which interferes with RF signals, and built to fit onto bicycle frames. IPICO Sports is also selling these active tag systems. The ChampionChip passive low-frequency transponder, according to ChampionChip CEO, Cees Verhoef, can be read at up to 45 miles per hour. Though unable to provide a definitive number of tags the system can read per second, Verhoef says no amount of racers has ever exceeded its capabilities at any of the 20,000 to 40,000 annual race events in which it has been used.
IPICO's claims that its competitor's timing systems are three times more expensive are false, Verhoef says, though he cannot provide specific pricing for the ChampionChip product, since that is set by the distributors. Tom Kelley, director of race scoring for the
New York Road Runners
(NYRR), the organization behind the New York City Marathon, says that while he's been happy with the ChampionChip system and its performance, he plans to attend the BolderBoulder this spring to learn more about IPICO's offering. "We're open to new technology," he says, "even though we've gotten no complaints about ChampionChip."
Kelley notes that it will be tough for IPICO, or any other new entrant, to break into the sports timing market. The network of timing providers around the world provide and service the ChampionChip system, he explains, and have already made a large investment in it.


IPICO recently launched IPICO Sports through an agreement with Mercury Sports Group, a sports technology development company based in Peoria, Ill. Under the agreement, Mercury Sports Group is now doing business as IPICO Sports and is the exclusive distributor of IPICO's RFID tag and reader systems for sports timekeeping applications.
Thus far, the main applications for IPICO's passive and active RFID technology have been in the areas of asset tracking, transportation and logistics, and supply chains. However, IPICO has been looking for an entrance into sports timekeeping in the North American market for some time, and has been in discussions with Mercury Sports for the past three years, according to IPICO's president, Gordon Westwater. Outside North America, IPICO has tested its tags and interrogators for timekeeping at sporting events in Europe and South America, as well as in South Africa, where the technology was field-tested at the Cape Epic mountain bike race, an eight-day, 900-km (559-mile) cross-country event involving 1,000 participants. IPICO's Australian office, Westwater adds, has deployed the technology for several marathons in Sydney and Brisbane as well.
During the next two years, IPICO Sports plans to deploy more than 500 readers, 1,000 mats and 400,000 passive shoe tags to fulfill the agreement, which requires a minimum aggregate revenue to IPICO Inc. of $6 million during the initial 24 months of the contract.
According to Kelley, AMB—a firm that got its start providing active RFID tags for Formula 1 racing and supplies active tags for major road cycling races as well, including the Tour de France—is trying to break into the road running market. AMB's active tag, however, is heavier and more costly than passive tags. French company DAG sells a 13.56 MHz passive timekeeping system for running and other types of races, but its tag is worn inside the racer's bib and the antennas are built into frames surrounding the read points.