Nov 25, 2013Individuals using computers or tablets containing Intel's 4th Generation Core processor can make payments for goods online by simply tapping their Near Field Communication (NFC)-enabled credit card against their device. That's because the Intel processor comes with a built-in NXP Semiconductors PN544PC NFC RFID reader chip, capturing the credit card's ID number and transmitting an encrypted version to a merchant, as well as to MasterCard's MasterPass e-wallet service, to complete a purchase.
The technology is intended to provide consumers with greater security and convenience, explains Michel Brun, NXP's international product marketing director for product line infrastructure. Although shoppers already make purchases online (American consumers are expected to purchase $262 billion worth of goods and services this year via e-commerce websites), credit card numbers are not always entirely secure. When shoppers enter a credit card number and a security code to be sent to a server, there is always the possibility of a computer virus or a Trojan hacking program collecting that data and providing it to someone else. With the NFC MasterPass e-wallet and Intel Core processor's Identity Protection Technology (IPT), however, this is not a concern since the credit card number captured by the NFC reader is encrypted and thus of no use to potential identity thieves. What's more, Brun says, NFC technology makes shopping more convenient, since an individual simply taps the NFC-enabled card against the reader built into a computer or laptop, rather than entering a series of numbers.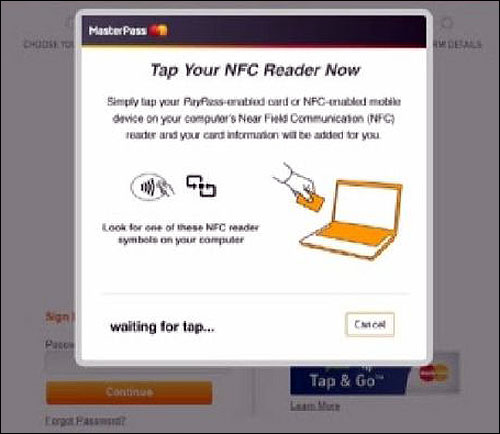 The IPT stores a security passcode in the Intel processor. When a user makes a payment via MasterPass, the IPT sends the security password to the MasterPass service, which can then confirm, in less than a second, that the device is authorized to make that transaction.
Intel collaborated with MasterCard to provide the solution that works with any NFC-enabled credit card (whether Visa, MasterCard, Discover or American Express) registered with the MasterPass Wallet. If an individual is visiting a participating merchant's website, she can make a purchase using her NFC-enabled credit card. First, the merchant's site provides a prompt for the user to click on or press, inviting that person to make a MasterPass payment. Upon selecting that prompt, the user is directed to the MasterPass Wallet website. To use the system, the individual will initially need to register her computer and input her MasterPass Wallet ID number. Intel Identify Protection technology loaded on the processor will then encrypt that ID.
After that, whenever the customer visits the website of an online merchant participating in the MasterPass Wallet service, the site invites her to select the Tap & Go button to make an NFC-based transaction. The consumer clicks on that prompt, and then taps her NFC credit card against the NFC reader symbol on her computer. The NXP NFC reader chip interrogates the card's NFC RFID tag only at a distance of a centimeter or less. The Identify Protection software in the processor sends an encrypted card number with the security password to the server, and the transaction is then completed. Alternatively, a consumer can opt to pay for the purchase using a non-NFC-enabled credit card, by entering a password.
The technology could support an NFC-enabled phone if the user had her MasterPass Wallet ID stored on the phone and an application downloaded from the MasterPass Wallet website. However, Brun notes, that functionality has not yet been released.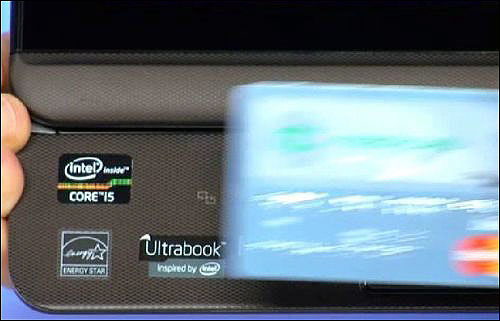 Currently, Brun says, about 20,000 online merchants participate in the MasterPass Wallet system, with more expected to join in the future. Some computers already include the Intel 4th Generation Core processor with NXP's PN544PC NFC reader chip, while all computers made with that processor in the future could have NFC capability. Tablets would also utilize the processor, thereby enabling individuals to make payments with their tablet even while at a store.
To date, Brun reports, the system is being employed in the United States, Canada, Australia and the United Kingdom. Next month, he says, the technology will also be made available throughout most of Western Europe, as well as in Brazil.