Apr 07, 2014Hanmi IT, a division of Korean pharmaceutical company Hanmi Pharmaceutical Co., has launched multiple pilots of its Keidas RFID software, a platform that it developed for use in-house. The firm is now marketing the solution for use by other companies in the pharmaceutical industry, including manufacturers, hospitals and drug stores. The pilots currently underway include two Korean government programs that are testing the technology throughout the supply chain to harness RFID-based visibility to prevent the theft or counterfeiting of narcotic drugs.
Hanmi IT, an IT solution provider for the drug supply chain, has been developing RFID-based technology for use by Hamni Pharmaceutical since 2005 (see Hanmi Pharmaceutical Uses RFID to Automate Picking, Shipping). The company is now marketing the solutions it has developed, including its Keidas software platform, the RFBlaster Bluetooth-enabled handheld EPC Gen 2 ultrahigh-frequency (UHF) reader, and the Micro SD card EPC Gen 2 reader that fits into a smartphone, tablet or computer, enabling it to read RFID tags.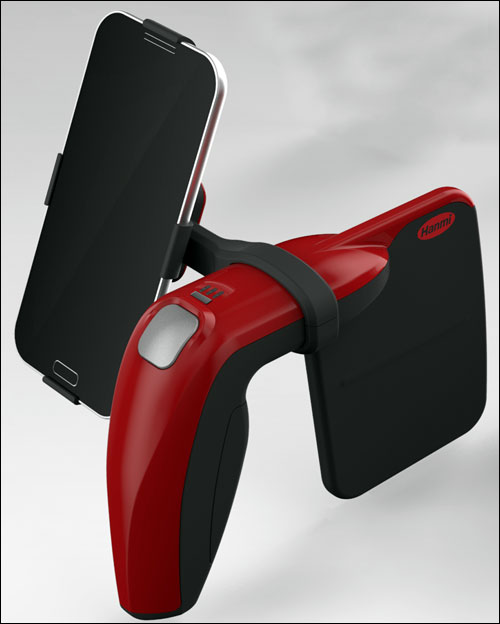 In 2013, Hanmi IT began developing its Keidas platform to manage data from readers that would enable the company to monitor the movements of pharmaceutical products. "The root of Keidas started as an RFID-enabler" to track data related to RFID reads in-house, explains Jay Jun, Hanmi IT's strategy and planning manager. "Tracking and tracing our individual products among the distribution channel was a very big task that we did not have full control over." Hanmi IT initially developed a proprietary RFID system for use in the drug company's own facilities, in order to track and manage products from manufacturing through shipping. "From attending various types of conferences and seminars," he explains, "we quickly realized that if we did not follow standard and global protocols, our system would not communicate with other systems that are used by many distributors and pharmacies." Therefore, the company began building what is now the Keidas system.
Hanmi installed the solution on two production lines and one dispatching line (from which goods were prepared for shipment to customers), as well as at two separate wholesalers, by December 2013. Hanmi Pharmaceutical is presently tagging every pharmaceutical item, and then tracking those products as they pass down the production lines, via RFID readers stationed at those lines. As each tag is interrogated, the Keidas software captures that tag's ID number, links it to data about the product—such as its serial number, product name and expiration date—and creates a record of that item. As the drug passes an RFID reader located on the dispatch line, that product's data is updated to indicate that it has been shipped, and to which wholesaler.
Once items arrive at the wholesaler's site, their tags are read again upon receipt, and they are interrogated once more when the wholesaler ships the items to its customers, thereby providing further inventory data for Hanmi, as well as the wholesale managers. Keidas operates with any EPC UHF RFID tag or reader, Jun says, and Hanmi IT is not committed to a specific hardware vendor. Hanmi's own site is employing LSIS and Smartrac tags, as well as Impinj Speedway R420 readers.
The Keidas software is offered as a cloud-based service, or it could be installed on a user's own server. The cloud version of the solution will be hosted by Korean mobile network operator SK Telecom, while Hanmi IT will provide the Keidas platform to users on their own server.
In the case of the government-sponsored pilots, Jun says he is at liberty to describe only one. Korea's Ministry of Food and Drug Safety and Ministry of Science, ICT and Future Planning are piloting the Keidas platform for their RFID Narcotic Drug Management System (NDMS), to determine if blind spots in the narcotics supply chain can be eliminated by using Impinj readers to interrogate Smartrac RFID tags at various points from factory to consumer.
The Korean agencies identified 17 narcotics most vulnerable to theft, and are employing RFID to track these drugs. This provides a view into when product arrives at each location within the supply chain while en route to a customer. To date, the agencies have tagged and tracked 2.3 million items, employing 55 readers.

The project began in November 2013 and is slated to conclude on Apr. 30 of this year. The pilot's aim, Jun says, is to determine whether the visibility derived from RFID technology can prevent the theft and counterfeiting of narcotics, such as Propofol, morphine, hydrocodone and Fentanyl.
In addition, Korean pharmaceutical company Daewon Pharm is preparing to deploy the technology to track pharmaceuticals throughout its own supply chain.
At this week's RFID Journal LIVE! conference and exhibition—being held on Apr. 8-10, in Orlando, Fla.—Hanmi IT will demonstrate the Keidas software, the RFBlaster and the Micro SD card UHF reader, at its booth (320G). The RFBlaster is designed by Hanmi IT to be low-cost and operate with any Bluetooth-enabled device, such as a PC, smartphone or tablet.
The Micro SD card consists of an EPC Gen 2 reader module built directly into a microSD card slot, enabling mobile phone users to read RFID tags by simply inserting the card into the phone. The device was designed and fabricated by SK Telecom, while Hanmi IT is the product's exclusive reseller, with the health-care market in mind.