Jan 22, 2016At its plant in Anderson, S.C., Robert Bosch LLC manufactures oxygen sensors used in the automotive sector. Many of the steps in the process require manual assembly, and operators receive alerts whenever a fault occurs on the assembly line. A jam on a conveyor system would trigger an alert, for example. Such faults, if not fixed promptly, can force production to halt.
An automated system informs assembly operators of specific faults through audible alarms and red lights, as well as messages transmitted on large digital displays. But sometimes, if operators are engrossed in their work or have turned their attention to a specific task, such as a quality-control audit, they might miss an alert.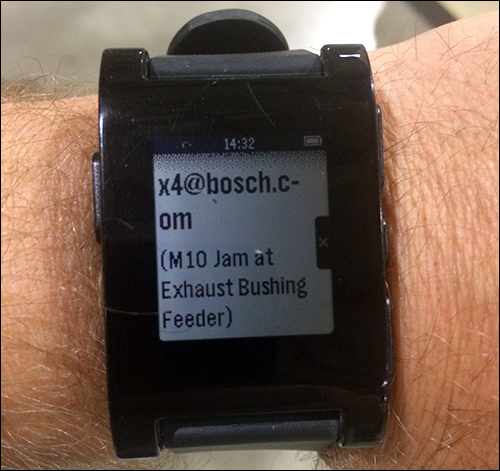 Last April, Josh Lee, a senior control systems engineer at the Anderson plant, had an idea. Lee had been experimenting with various ways to improve the means by which operators receive alerts. "I had tried using iPhones to send them alerts, but they would put the phones in their pockets and, therefore, sometimes still missed alerts," he says. "Then it came to me: What if we used a smart watch? So I went to my bosses and said 'What do you think?' and they said Ttry it.'"
Lee began winnowing down the wide selection of smart watches available on the market, by establishing three main criteria: the watch needed to have a vibrate function, so that operators would not need to rely on visual or audio indicators; it needed to be lightweight; and it needed to be programmable, so that multiple smart watches could interface with a single iPhone. "I didn't want to have five iPhones mounted on each line to pair with five watches," he explains.
"Once I found a few models I wanted to try, I started watching video reviews on YouTube," Lee recalls. "YouTube was so full of reviews, I could watch them instead of going out and buying three or four different models."
Lee narrowed the available smart watches down to two models: The Pebble and the Apple Watch (which Apple began selling in April 2015). Price was the deciding factor, so he opted for the Pebble, which cost much less than Apple's offering.
With the Pebble watch in hand, Lee began programming an interface between the iPhone and the computer system that controls the assembly line and its fault messaging system, which is triggered through optical and other types of sensors mounted in the assembly area. He then learned how to interface multiple Pebble smart watches to a single iPhone via a Bluetooth connection. The entire process took roughly three weeks to complete, he reports.
To date, Lee has issued 12 Pebble watches to operators at the plant, who work on four different lines. Lee can pair up to five watches to a single iPhone, and the Bluetooth radios in the watches reliably connect to a phone located as far as 60 feet away, which means he needs only one iPhone per assembly line. "I can't speak for the range you'd get in a different plant," he adds, noting that the RF environment at other factories might generate greater interference.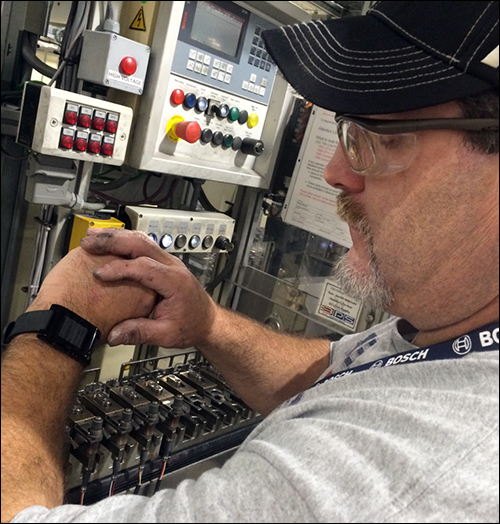 But the crux move has been obtaining buy-in from the assembly operators. "Some operators love it more than others, but in general, they do very much enjoy wearing the watch and it's helping them be more productive," Lee states. "I just recently rolled out the system to the fourth line, and everyone said one of the operators on that line would be my toughest nut to crack. I gave her the watch and said 'Give it two hours'. Two hours later, she was sold."
What's more, this once-skeptical operator now collaborates with Lee to determine what types of alerts are most important to send via the smart watch, and how to phrase the text messages that accompany the vibratory alerts received by the wearer.
As for the impact the smart watches are having on the plant's uptime and productivity, Lee says he does not yet have hard data. However, he feels confident that the watches have paid dividends.
"The operators are telling us that the watches have made their jobs easier," Lee says, adding that he believes the watches are leading to operators responding more quickly to faults. When a fault occurs, there is a buffer of time before the line will stop running. While the smart watches may not be eliminating all instances of a line stoppage, Lee estimates that the system has reduced the length of each line stoppage by roughly 80 percent.