Oct 16, 2006Orlando-based pallet and reusable-container rental giant CHEP has announced a new RFID-enabled track-and-trace program it plans to pilot with two of its clients: Procter & Gamble Brazil and beauty product company Avon facilities in Brazil. CHEP says the system will provide its customers with increased supply-chain visibility and may someday provide additional information on the condition of raw and bulk materials in transit, through the use of sensors.
The new program, called the CHEP Global Track and Trace System, uses software that collects RFID tag data from CHEP's PLUS ID pallets and other reusable containers, such as Intermediate Bulk Containers (IBCs), which are large reusable vats used to ship liquid raw materials, food ingredients and bulk quantities of manufactured products. Gen 2 tags are affixed to the center post inside the pallets and on the sides of IBCs. For the pilot project, Procter & Gamble and Avon will track tagged IBCs.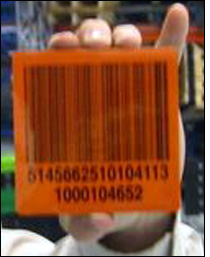 Puneet Sawhney, CHEP's RFID program manager, says that for the IBCs in this pilot, CHEP is using an EPC UHF Gen 2 tag, made by RF Identics, which was recently purchased by Avery Dennison (see Avery Dennison Announces Licensing Program, Acquisition). Each tag contains an Impinj Monaco/64 Gen 2 chip, which offers 64 bits of user-programmable memory, in addition to 96 bits designated for an EPC. The tags have a hardened shell to make them rugged enough to withstand shock and vibration during transit.
CHEP is using a strong adhesive to attach the tags to IBCs. Upon associating a tag's ID number with the container to which it is attached, CHEP will encode the tag with an EPC containing a Global Returnable Asset Identifier (GRAI), a unique number based on GS1's standard for identifying returnable assets. A CHEP client will be able to use the additional memory to store data relating to the contents of the container, its last read point and so forth. This additional information will be erased before the container is rented again. The EPC will also be printed on the face of the tag as bar coding and text, so that the container can be identified in facilities not equipped with RFID interrogators, or even bar-code scanners.

For the pilot projects, CHEP, P&G Brazil and Avon will use Impinj Gen 2 interrogators to collect tag data and
Microsoft
Biztalk RFID middleware platform (which is still in beta form and has not yet been released) to filter that data. The filtered tag data will be compiled on a Microsoft SQL servers and forwarded to
SAP
's Auto-ID Infrastructure and Event Manager software, which will send container location data to CHEP, P&G and Avon, as well as issue any alerts concerning missed reads or delays in the supply chain.
Cactus Commerce is installing and supporting the Microsoft products for the pilot, while IT consulting and software services company Infosys is doing the same for the SAP solution. The SAP platform can analyze data and monitor key performance metrics, based on the RFID read events and other supply-chain data collected. Eventually, if sensors for measuring temperature and other variables are integrated with the tags, the system could also provide information on the condition of raw materials and products in transit.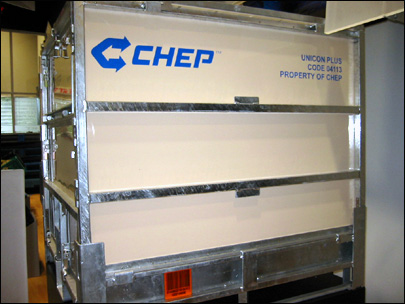 The pilot projects involving P&G and Avon are due to begin next month. Soon, says Sawhney, CHEP hopes to expand the pilot to include projects involving some of its clients in Europe, South Africa and Australia, and to tag and trace some of the containers it rents to automotive parts companies.
CHEP expects to reap internal benefits from the Global Track and Trace System by using the tags to improve its inventory management and get better control over its assets—such as by using read-event data to associate damage to containers with the sources of the damage. This improved visibility should reduce the cost of running its asset pools.