Jan 27, 2015German mobile app and software company Ginstr has teamed up with Packaging Horizons, a U.S. manufacturer of plastic security bags, to market a tamper-evident secure bag employing Near Field Communication (NFC) RFID technology to track the chain of custody of important items, such as forensic evidence or lab specimens.
The solution, known as Alert Mobile Security, is intended to manage items that may have a high security concern. Users can employ the NFC reader built into their phones, or a dedicated high-frequency (HF) RFID reader, to capture the unique ID number of the tag built into the secure bag. That ID can then be viewed via the Ginstr app on a smartphone. Alternatively, the user can run the Ginstr Administration software on a computer to access the data residing on a cloud-based server.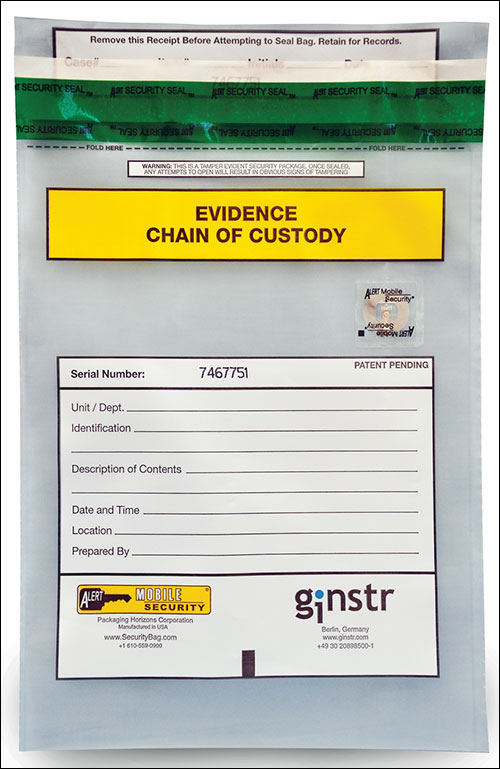 Ginstr focuses on solutions designed to eliminate the need for paperwork by workers in the field. Its apps are used to create GPS-based timestamps and electronic signatures, and to enable the tracking of workflow efficiency via mobile phones. Approximately two years ago, the company began offering NFC-based solutions to allow its customers' workers to capture or share data from the field by tapping NFC phones against tags, according to Markus Semm, Ginstr's mobile app developer.
The Berlin company sells RFID-based solutions for hospital bed inventory tracking, library checkout, and attendance tracking at chemical plants, mines and construction sites. It also offers RFID-enabled apps for tracking security guard tours, as well as for fire extinguisher or smoke detector maintenance and inspection, and another that helps home-health-care nurses manage their patient visits and tasks. In each scenario, the system consists of an app that can be purchased for each phone or tablet device for a flat fee, in addition to a monthly charge for access to cloud-based software, which can also be integrated with a user's existing management software.
"It turns out that the NFC functionality is being highly appreciated," Semm says, adding that his company's customers find that the technology provides an easy way to capture or send data from a specific location. The NFC-based app's functions could be as simple as identifying that a security guard has reported to a room or building, he says, or could be much more complex.
For example, Semm developed a solution for the cleaning industry, known as Avantclean, using Ginstr's smartphone app and software to capture and manage NFC read data. In this case, cleaning companies could equip their housekeeping staff with Android-based smartphones, and apply NFC tags within the specific rooms that housekeepers will be cleaning. Each tag's unique ID number is linked to instructions specific to that room for each particular day.

When a housekeeper uses her phone's built-in NFC RFID reader to capture the tag's ID, the phone app receives the ID number and displays icons indicating what needs to be done that day, such as cleaning the chairs in the conference room. In this way, she does not have to remember which tasks need to be carried out each day, but rather can simply refer to the data displayed on her phone. The individual presses the prompts after completing her work, and then taps the phone against the room's tag once more as she leaves. Management can then use this data to not only confirm that the work was done, but also how long she took to complete it, and thus whether some tasks are taking longer than expected, or if some staff members are working inefficiently.
A construction company in the Stuttgart area, Semm says, is employing a Ginstr NFC app to track how many workers are present on a tunneling site for an underground railroad project. Monitoring every worker's location is critical, he explains, due to the possible presence of undetonated World War II-era bombs that could be located during digging. In addition, a wind-turbine maintenance company is using a Ginstr NFC app to create an electronic record of the work its staff does. Moreover, Ginstr is in the early phases of a deployment for a company in Ethiopia, involving the tracking of bags of harvested tea in fields where workers exchange those bags for tokens that qualify them for cash payments. This system protects the company owner from fraud in the event that a supervisor gives a worker more tokens than he or she has actually earned, and then splits the difference with that individual.
The Alert Mobile Security solution is the latest offering for Ginstr. The company will market the system in Europe, while Packaging Horizons (based in Pennsylvania) will do so in North America. Packaging Horizons sells plastic security bags that are used to protect items like money, evidence, documents or valuables from tampering, and to uniquely identify those items. The bags range in size from 6 inches by 9 inches (152 millimeters by 228 millimeters) to 15 inches by 20 inches (381 millimeters by 508 millimeters). The bag is sealed via an adhesive tape; if someone attempts to open the bag, the tape's color changes and the words "Alert Void" become visible.
Although the bag offers security against tampering, there was no simple way to document that an item was received by a given party at a certain time, says John Gregor, Packaging Horizons' VP and general manager.. That function is now possible, however, thanks to a smartphone app that works in conjunction with a passive NFC RFID tag affixed to the new Alert Security bag via a special adhesive during manufacturing. (Gregor declines to name the make or model of RFID tags used with the new product, saying the company has employed several types of NFC tags.) The tag is encoded with its own unique identifier, as well as the ID number printed on the bag itself, so that a user can confirm that the tag has not been removed from one bag and placed on another. The numbers are then locked in the chip's memory, preventing them from being rewritten.
A person would place a DNA sample or other item into the bag, enter data about that item into the Alert Mobile Security app running on his or her Android-based phone, and use the phone's built-in NFC function to read the ID numbers encoded to the bag's tag. This could be done, for instance, in the field when a crime investigation is underway and sampling is taking place. That data could then be received by the software (via a cellular or Wi-Fi connection from the phone), which other individuals—such as the manager of an investigation, or lab personnel—could access and view. If the user chose, the software could be integrated with that user's own evidence-management software.

According to Gregor, the variety of use cases has been growing as the two companies have been speaking with potential end users, including their own existing customers. "Most applications are chain of custody," he says, "in which something is moving from one point to another." Ginstr and Packaging Horizons are initially marketing the technology to the law-enforcement and forensics-lab sectors, he adds.
All of Ginstr's NFC apps, including Alert Mobile Security, can be accessed via the Ginstr Launcher app, and are available for a 30-day free-trial period at the Google Play website. The apps will not be marketed for iOS systems, Semm says, because even if Apple were to release an open version of the NFC technology built into its latest iPhones, most Ginstr app users would not want to pay the price of an iPhone for each workers. The Ginstr Launcher and the various apps, including Alert Mobile Security, are currently available only in German, but the companies expect to launch English-language versions sometime in the future.
To install the Alert Mobile Security app on a device, a user is charged a one-time fee of €790 ($899) per phone. The monthly fee for accessing data ranges from €10 ($11.40) to €15 ($17), and includes the use of the Ginstr Administration software. Pricing for the security bags varies according to the sizes and volume being purchased. If a customer so requests, Packaging Horizons and Ginstr can also provide NFC tags that could be applied directly to products that would then be tracked by the Alert Mobile Security app. The make and model of the supplied NFC tags would vary depending on the specific application requirements.