Aug 24, 2015Watching golf tournaments live isn't like viewing other spectator sports. At any given time, the players could be anywhere on a course spanning hundreds of acres in size, and they don't wear numbers on their shirts to make them easy to spot. For that reason, golf fans who attend tournaments have traditionally needed to use their paper program, a pair of binoculars and some reckoning to identify when their favorite players were coming close. This year, at the PGA of America Championship at Whistling Straits, in Kohler, Wis., fans could avail themselves of a solution involving Bluetooth beacons and the PGA app to determine which players were within close range.
Since 2009, Turner Sports (which manages PGA.com and has exclusive rights to all PGA digital assets) has offered an iOS-based PGA app (the Android version was introduced in 2013) to golf spectators, in order to help them stay in touch with what is happening on the course, says Gary Treater, Turner Sports' general manager of PGA.com. The PGA app's features include a digital version of the traditional paper program that lists when and where players will be teeing off, as well as video footage of player swings, known as "SwingVision," and images taken by drone cameras for aerial views of the course, in order to provide live action of some holes.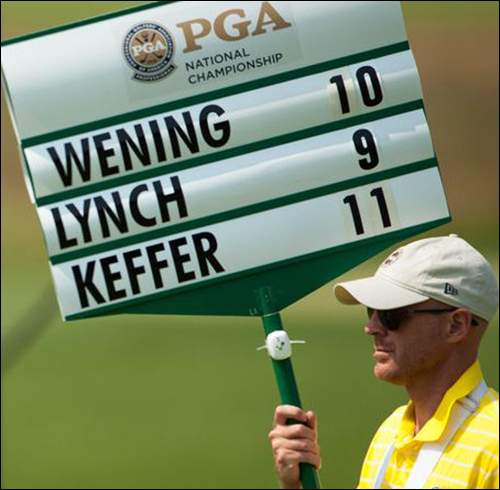 With all of these features, however, the app still couldn't offer viewers real-time information about the golfers within their vicinity, which is why Turner began investigating beacons. The 2015 Championship at Whistling Straits drew 200,000 spectators, averaging about 50,000 each day. Some proceeded to the stands at key locations on the course to watch the athletes pass by, while others attempted to follow their favorite golfers. They often did both, sometimes sitting in the bleachers, other times following or anticipating the movement of particular plahers.
In either case, the app's beacon-based Binoculars feature was designed to help locate which golfers are near, with a Kontakt.io beacon attached to the sign carried by the standard bearer who travels with each group of three golfers. The beacon ID is linked to that group, and thus the three golfers in that group, so that by pressing the binoculars prompt in the PGA app, spectators can view a list of names of those within the vicinity.
Rob Smith, Turner Sports' senior project manager, says his company began investigating beacons approximately a year ago, testing them first at its offices, and then at the senior PGA Championship in Benton Harbor, Mich. After testing a variety of beacons, Turner selected the Kontakt.io Tough Beacon because it was ruggedized and, therefore, better suited for use on an outdoor course.
Turner then tested the beacons again using the Binoculars function, which was developed by Turner, partially internally and partially by an outside development group. That testing took place during the PGA Professional National Championship, at the Philadelphia Cricket Club in Flourtown, Pa.
"We love to see the PGA Tour Championship implementing Kontakt.io Tough Beacons in the extreme environment they were designed for," says Szymon Niemczura, Kontakt.io's CEO. "We have another proof that with Tough Beacon and its resilient construction, you can easily take the Internet of Things outdoors."
When a beacon attached to a standard bearer's sign comes within approximately 250 yards of a Bluetooth Low Energy (BLE)-enabled phone or tablet running the PGA app, the app on that device displays the names of players linked to that beacon.
For the Championship Tour in Wisconsin earlier this month, Smith reports, the beacons worked well. About 50 were installed, one for each group of three players. Turner is still reviewing the data resulting from the tour's Binoculars use, in order to determine when, where and how often it was used.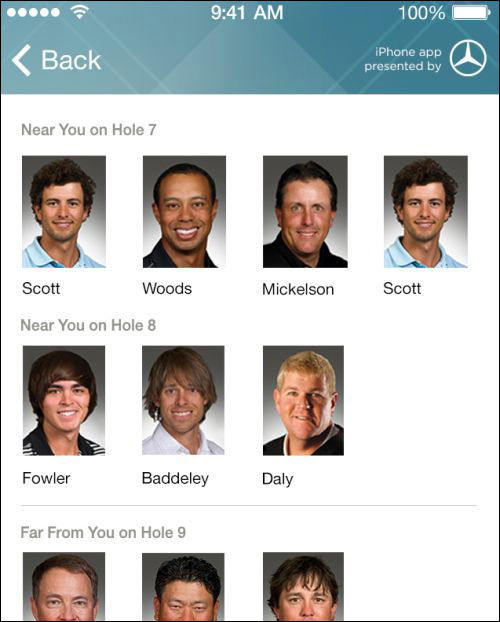 In the future, Treater says, Turner and PGA intend to use the beacon technology for additional purposes, such as the couponing and promotion of PGA products on sale at the course. For instance, he notes, a beacon could be installed at the merchandise tent offering promotional information for those who pass the area, which would arrive on their smartphones.
In addition, with beacons installed at key locations, the system could provide navigation functionality to help users find food, bleachers or the restroom, for example.
"This is year one," Smith says, "but we have a road map" for further enhancement of beacon solutions.
The technology could also be used to set up scavenger hunts, Treater notes. Spectators often tend to cluster in specific areas, and the PGA has found it difficult to encourage crowds to spread out more evenly around the course. To accomplish this goal, a beacon could be set up at specific points, such as at each hole, and spectators would then need to go to each of those sites. They would earn points as their phone captured each beacon's transmission, and they could win a free T-shirt, for instance, at the conclusion of the tournament.
Next year, Turner plans to employ the beacon-based Binoculars system at the next PGA Championship, as well as at the Ryder Cup, held in Minnesota. Because the course and the number of players differ for each event, Turner is still determining what kinds of features would be of most value for the beacons. "We're already strategizing what fans will want," Treater states. By way of example, he says, with the beacon data, along with other information from the app (such as each player's schedule), the system would be able to respond to inquiries from spectators regarding the real-time location of a specific player.