Dec 20, 2010The STRP Festival, a 10-day event filled with art, music and technology, takes place in the Netherlands' city of Eindhoven, attracting thousands of people to its concerts, galleries and conference tracks. This year, STRP—which ran from Nov. 18 to 28—introduced eSphere, an RFID-enabled system that enables attendees to express their feelings and opinions about featured artwork, and also share their reactions regarding the artwork and the event with their larger social networks on Facebook and Twitter.
Approximately 4,000 visitors participated in eSphere, which is a small portion of the 30,000 people who attended this year's event. But many STRP attendees come only for one of the many large music concerts featured at the festival, rather than the event's art installations, where eSphere was used. In addition, organizers say, this year represented what amounted to a pilot project, intended to evaluate the technology and determine what it could enable. They expect many more attendees will participate in eSphere and its related applications at the 2011 STRP Festival.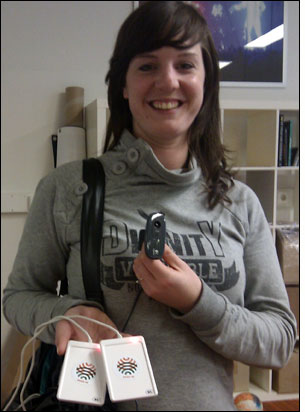 Just as the evolution of the Internet to its current phase—known as Web 2.0—enabled individuals to easily connect with each other and with online content, the next evolutionary phase, sometimes dubbed Web 3.0, links the physical and online worlds. This is sometimes referred to as the Internet of Things, but it's not limited to using RFID to identify and track tagged merchandise or assets. RFID can also act as a bridge between artifacts—or, literally, pieces of art—and people, says Marjoleine Timmer, the festival's technology curator.
Toward that end, Timmer explains, the chief purpose of the eSphere application was to allow visitors a means of critiquing artwork installed at the festival.
According to Timmer, the eSphere system is based on 13.56 MHz passive RFID tags and readers, compliant with NXP Semiconductors' Mifare specifications, including the ISO 14443A standard. The eSphere software was developed by STRP and its consultants, including technologists and RFID specialists from Delft University of Technology and Technical University Eindhoven.
While planning their time at STRP prior to arrival, visitors could learn about the eSphere program on the STRP Web site, and were encouraged to create eSphere profiles, containing their name (or an alias) and any personal data they wished to share (such as their gender or date of birth). Doing this, Timmer explains, would create a profile in the eSphere database, as well as provide access to Web-based day-planning software that attendees could utilize to sketch out a schedule for each day of the event. They could then access this software on site, using a smart phone or a laptop, to guide them to events or conference tracks or performance-art installations.

Upon arriving at the festival, any attendees who had already created a profile could call it up, using their user name and password, at one of six RFID-enabled computer kiosks. Anyone who had not already done so could create one on site, using one of these kiosks.
After creating a profile, an attendee had three options for linking it with an RFID device. One option was to pick up an RFID wristband at the festival. A second possibility was to utilize an RFID-enabled transit card issued in Eindhoven, which provides a payment and access system for the local public-transportation system. A third choice was to use an Eindhoven city card, called the City Pass—an RFID-enabled identification card that residents can use to access various services, including Eindhoven parking and transportation, as well as libraries and recreation facilities. Finally, the festival's employees, as well as special invited guests and artists who were given access to restricted areas—such as backstage in the music auditorium—were issued Mifare stickers (instead of wristbands) to attach to their ID badges, worn on a lanyard.
All four of these form factors contain Mifare tags, and could thus be read by the Mifare reader connected to the kiosk computer. According to Timmer, approximately 1,200 wristbands were issued (each attendee paid a small deposit for the wristband, which was refunded when he or she returned the wristband by the end of the festival). The remainder of the 3,200 attendees who created profiles used their transit or City Pass cards, or were issued a sticker to attach to their festival-issued ID cards.
After selecting the type of device to use, the attendee was then asked to hold it up to a reader embedded into the kiosk. The interrogator collected the identification number encoded to the tag, and an encrypted version was saved in the eSphere software, where it would be associated with the attendee's ID number, which the software generated when first creating that person's profile.
While walking through art galleries at the festival, attendees would come upon other kiosks (each containing an embedded Mifare reader), where they could use their RFID wristbands or cards to log onto (or, in STRP parlance, "dash in") their eSphere profile. In total, there were 45 works of art at the festival, 37 of which had associated RFID-enabled kiosks at which attendees could dash in and respond to questions. Once an attendee logged onto a kiosk's computer, it would show an image of a specific work of art and ask a question, such as "What is your impression of this artwork?" The visitor would input his or her response using a keypad on the kiosk touch-screen, and the eSphere software would post this answer to that individual's eSphere profile. If the attendee had set up the profile to link up with his or her Facebook or Twitter account, this response would also appear on that account page.
The eSphere software also took key words from each response and added them in a database, or to a "tag cloud" of words also used to describe the artwork. When an attendee uses the same word as other eSphere users, that individual is linked to those other users, through the tag cloud that the kiosk would display for that particular piece of artwork.

The software also asked each attendee to rate the artwork (based on a five-star system) and, according to each visitor's particular rating of and reaction to the piece, recommended other art at the festival that that individual would likely enjoy. Moreover, attendees could log into the eSphere system via a kiosk or a Web-based mobile phone in order to locate friends, based on where and when those friends last logged in themselves.
The artwork varied in size, shape and scope, but each piece had an interactive element. For example, in Staalhemel ("Steel Sky"), by Christoph De Boeck, attendees walked through a canopy of steel. Tiny hammers tapped rhythmic patterns on the steel plates, activated by the brainwaves of a visitor who volunteered to don a portable electroencephalography (EEG) scanner, thereby creating an acoustic representation of his or her electrical brain activities. In a piece called Shrink, by Lawrence Malstaf, visitors temporarily vacuum-packed themselves between two sheets of clear plastic film.


Attendees who used the eSphere system to rate the most artwork were issued electronic badges, which were then shown on their profile. This, Timmer explains, was designed to encourage them to visit and rate as much art as possible.
What's more, STRP's organizers worked with Memolio, a Dutch company that produces small, physical photo albums from digital photography databases, which users can create on Memolio's Web site, or import from Flickr or Picasa. Festival employees walked around the grounds carrying a pack containing a netbook with two small Mifare tag readers, each connected to the netbook's USB ports. Also connected to the computer was a camera. Attendees could hold their RFID wristband or card up to one of the readers, and a worker would then snap their photos, which would be saved to their eSphere profile. The visitors could later purchase a photo book from Memolio, made up of the photos taken at the event.
Ties van de Werff, a STRP conference curator, says radio frequency identification is generally embraced in The Netherlands as a tool of convenience, and as a way to link the offline and online worlds. "Many of the STRP attendees are high-school kids, and they think [RFID] is really cool," he states. "To them, it's an extension of the Web." STRP attendees, he notes, tend to be very pro-technology and interested in new media, so RFID is a natural extension of the devices and information networks they already use.
Dutch teens are not the only ones who seem to have an affinity for RFID. This summer, a total of 6,500 Israeli teenagers attended a series of festivals known as Coca-Cola Village, using RFID technology to share their experiences with friends and family members via their Facebook accounts (see RFID Helps Make Friends for Israeli Teens).