Sep 29, 2014Two years after developing an inexpensive ultrahigh-frequency (UHF) RFID reader for use with smartphones and tablets, Colorado startup U Grok It has begun filling orders from small and midsize companies throughout the United States and Canada. The solution includes a battery-powered RFID reader (compliant with the EPC Gen 2 standard) that plugs into the audio port of an iOS- or Android-based phone or tablet, as well as a software development kit (SDK), intended for developers to use in creating use case-specific apps.
Initially, the company intended to market its reader, known as a Grokker, primarily to consumers, who could then use the device to locate tagged items around their home or office (see U Grok It Wants to Help Consumers and Small Businesses Find Their Stuff). However, Carrie Requist, the company's CEO, and her husband, Tony Requist, its co-founder and CTO, began hearing from potential customers in the business sector, seeking an RFID solution that would be inexpensive and easy to use.

The types of companies that approached U Grok It fell into three categories, Requist says: current enterprises seeking to expand their existing RFID usage, small to midsize businesses that had yet to implement RFID at all, and app developers looking to offer value-added services based on RFID read data. Their requests for a solution led the Requists to ditch their plans to make a consumer product, and to instead refocus their efforts on the business market. "Our hearts are still in building drop-dead, easy-to-use RFID for everyone," she says, but the company initially intends to meet the needs of businesses.
In the case of enterprises that already used RFID, companies reported that they needed low-cost technology enabling them to expand their existing RFID deployments. For example, if a manufacturer was already tagging products in order to track them through a distribution center via fixed or handheld readers, the Grokker could be used by retailers receiving the products, for instance, or by salesmen working for the manufacturer to read the tags of goods they deliver at a store exhibit.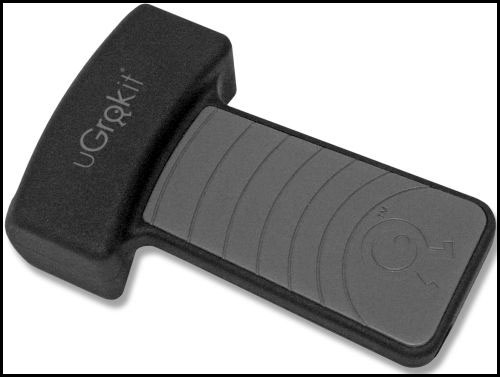 Some small and midsize businesses that have not yet deployed RFID are already sampling the Grokker, Requist says, or have begun purchasing units. In the case of this category of end users, she adds, conducting pilots and purchasing software and industrial-style readers can often be too expensive. The U Grok It solution, on the other hand, costs only $500 to purchase the Grokker and the Discover Grok app, which is designed to showcase the system and demonstrate its ability to read and encode tags, locate and take inventory of tagged items, and create databases. Discover Grok 2.0, slated for release later this fall, will allow data to be stored on a cloud-based server and then be retrieved via a smartphone, tablet or computer.
In addition, U Grok It offers an SDK that its customers can download for free and then use to create their own apps. (Versions of the SDK are available only for Apple and Android devices, since the Grokker is incompatible with phones or tablets that employ the BlackBerry, Microsoft Windows or Google Chrome operating systems.) For example, a storage service provider known as Cubiq developed a phone app enabling its personnel to use the Grokker to facilitate the cataloging, storing and delivering of its clients' belongings (see Cubiq Uses RFID to Create 'Magic Closet').
According to Requist, another customer is an unnamed company that offers office-management applications for legal offices. In this case, the U Grok It customer is adding an RFID function to its app so that attorneys can use the Grokker to apply RFID tags to client files, and thus more easily locate them.
"We believe an open platform is good for the RFID industry," states Requist, who hopes her company's customers will develop their own apps in ways that will serve their own users.

Because the Grokker plugs into the audio port of a smartphone or tablet, instead of using a Bluetooth connection, its communication with the mobile device is secure, Requist says. This has especially appealed to government-based customers that want a very secure connection, she notes, adding that several hundred companies have tested the Grokker within the past 15 months.
The device, says Laura Sankey, U Grok It's sales and marketing VP, has a read rate of 1,500 tags per minute and a range of 2 to 3 meters (7 to10 feet). The rechargeable 1,800-milliamp battery can power the reader for two to three hours of continual use, Sankey reports, which typically accommodates a full day of sporadic use. The device requires approximately two hours to become fully recharged.
The company recommends UHF RFID tag suppliers based on a customer's particular needs, though it did not indicate which suppliers those might be. U Grok It does not sell tags, Requist says, and has not partnered with a specific tag manufacturer. She adds that her firm has been disappointed with some tag companies' comparative reluctance to accept orders from smaller businesses for tags in quantities of only hundreds or thousands. That reluctance may be shortsighted, she points out, since many of these customers buying tags in small quantities will go on to place very large orders in the future. What's more, the large number of small companies that will require the tags ultimately equates to a very large volume of tags ordered.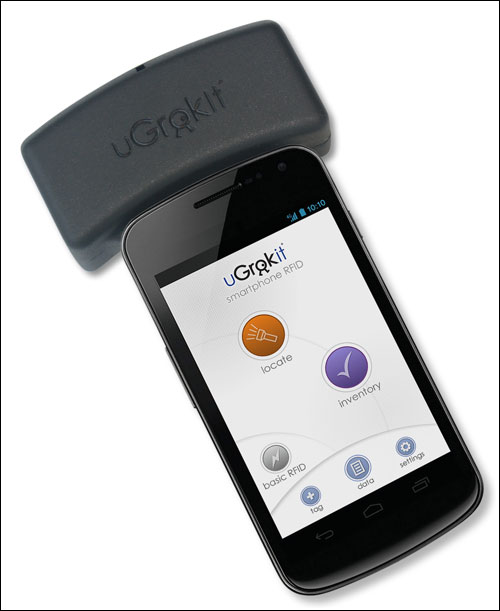 Requist says U Grok It will begin selling its product in Europe later this fall, and that it is also in discussions with several customers in South America and the Middle East, though the Grokker has yet to win approval from national telecommunication regulators overseeing the use of UHF RFID readers within these regions.
"We have received FCC and Industry Canada (IC) approval," Sankey reports, so U Grok It units can now be shipped to those two nations. "We anticipate EU certification this fall, which will open the European market. We will continue to open additional markets as opportunities arise."