May 26, 2022At the recent RFID Journal LIVE! 2022 conference and exhibition, Tageos, a provider of RFID inlays and tags, launched its latest UHF RFID products designed for specific application areas. These included the company's EOS-232 U8 and EOS-450 M730 products, designed for use cases typically found in the food sector, particularly at quick service restaurants (QSR).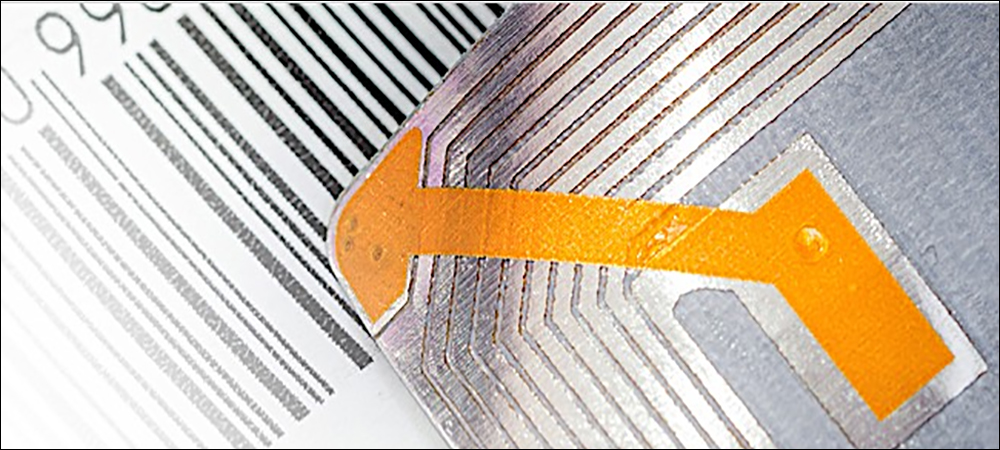 EOS-232 U8
The EOS-232 U8 inlay combines a compact form factor with a smart substrate and antenna design, the company reports, making it suitable for a range of on-metal applications in retail and other industries. A foldable section makes up roughly one half of the overall inlay size of 31.4 millimeters by 18 millimeters. Designed for RF-critical metallic surfaces, the foldable part can stick out like a flag, enabling the UHF inlay to use the object's surface as an extension of its antenna structure.
The inlay is intended for item-level tagging and inventory visibility applications in retail segments such as beauty, cosmetics, electronics and groceries, as well as for other segments including pharmaceuticals, healthcare, automotive and aviation. The product comes with NXP's UCODE 8 IC, which features a self-adjust capability, a product status flag for electronic article surveillance applications, a pre-serialized 96-bit Electronic Product Code and a brand identifier. The inlay complies with global frequency standards and is available in dry and polypropylene plastic-face delivery formats.
EOS-450 M730
Based on an antenna design targeted at ARC Specification Z, the EOS-450 M730 inlay is aimed at applications related to the food and QSR sectors for inventory management and ingredient tracing, according to the company. Other application areas, Tageos indicates, include retail, logistics and industrial, in which the inlay can be used for inventory visibility and item-level tagging.
The product is sized at 72 millimeters by 10 millimeters and can be used with a range of surfaces. The EOS-450 M730 inlay contains Impinj's M730 chip, which comes with 128 bits of EPC memory and provides high performance and fast inventory capability. The inlay complies with global frequency standards and is available in dry, wet and paper-face delivery formats.
EOS-241 U9 Zero Max
At LIVE! 2022, Tageos also showcase its sustainable Zero Max product line with the new EOS-241 U9 Zero Max ETSI inlay. The EOS Zero product family is built to reduce environmental impact, the company reports, by using FSC-certified paper as a substrate and leveraging eRFID precision laser-cut antennas from All4Labels.
This inlay is a sustainable version of the firm's EOS-241 U9 model, according to Tageos. Both models are suitable for inventory management in various non-food industries, including retail apparel, supply chain, logistics, pharmaceutical and healthcare.
EOS-340 U9
Based on NXP's UCODE 9 IC, Tageos's new EOS-340 U9 inlays are designed to replace diverse dual-dipole UHF RFID products based on discontinued IC families. Providing long read ranges when applied to plastic or cardboard surfaces independent of tag orientation, these inlays are intended for such applications as inventory visibility, supply chain management and parts management in the automotive, industrial manufacturing and logistics industries.
EOS-261 M730
The company also demonstrated its EOS-261 M730 FCC RFID inlay, which features an Impinj M700 IC and is designed for use on various surfaces, with a footprint of 44 millimeters by 20 millimeters. The inlay meets ARC specifications F, G, N, Q, W1, W2, W3, W4, W5 and W6, and Y, and it is intended for item-level applications in retail, particularly apparel, accessories, consumer electronics, home goods and toys, as well as for logistics, automotive and industrial manufacturing.
"With the wide range of our latest RFID inlays and tags that we are introducing and presenting at this years' RFID Journal LIVE! 2022, we are further diversifying and broadening our product portfolio, while supporting customer and market requirements worldwide," said Nicolas Jacquemin, Tageos's chief sales officer, in a prepared statement. "By launching these exciting innovations suited to many applications and segments, we are truly delivering on our promise to satisfy our customers and accelerate our sustainable growth."