Jun 07, 2005RFID systems provider Symbol Technologies has announced the commercial availability of its XR400 reader, which the Holtsville, N.Y.-based company says is the first fixed-position reader to use the Windows CE operating system. The XR400 reader was designed to help automate RFID systems by running third-party applications directly on the reader, rather than via software on a host computer.
With these Windows-based applications, users can apply business rules directly to the reader regarding how to process tag data, rather than through an application running on a separate computer. This allows for faster processing of the tag data, says Phil Lazo, vice president and general manager of Symbol's RFID infrastructure division.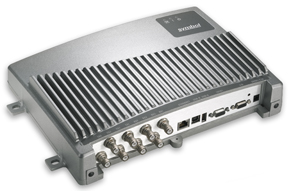 "The XR400 can run applications that drive business events based on the tag data that the reader is collecting," says Lazo. These applications apply business rules based on tag data that would, for example, trigger warning lights to prevent a forklift driver from delivering goods to an incorrect dock, or signal operators that goods being received at a particular dock door were fragile.
Symbol is hoping software developers will create applications to run on the XR400 and link directly to the end user's warehouse management or other enterprise resource planning software. No such applications for the XR400 have yet been released, but Symbol says it will be announcing some soon. Because many developers and Symbol customers are already familiar with Microsoft operating systems, Symbol hopes that applications will be created quickly, and that the XR400 will be widely adopted.
Symbol is also developing a reader with an embedded Linux-based operating system, because some of its customers are developing applications based on Linux. However, it does not yet have a release date for that product. Last summer, Cambridge Mass.-based RFID reader manufacturer ThingMagic debuted its Mercury4 reader, which features an embedded Linux operating system (see ThingMagic Bets on Smart Readers).

The XR400 has six input and six output DB9 and DB15 serial connector ports that can be used to connect light trees, electric eyes, conveyor controllers or other peripherals. Running third-party applications from the reader could benefit users outside of the supply chain and warehouse environments, as well. RFID-based baggage handling systems could, for instance, use the reader to control baggage-handling equipment based on RFID tag data.
The XR400 can read EPC Gen 1, Class 1 and Class 0 tags, and is upgradeable to the EPC Gen 2 standard through firmware, which should be available later this year. Lazo says the XR400 can currently operate in a multi-reader environment and, once upgraded to the Gen 2, will operate in dense-reader mode, which enables 50 or more readers to operate in close quarters without interfering with one another.
According to Lazo, a small group of unnamed end users have already installed the XR400 in pilot projects, but the reader is now generally available. The unit costs between $2,500 and $3,000.