Aug 26, 2014When a woman in labor arrives at a hospital, one of the first things caregivers do is hook her up to a tocodynamometer, a device that monitors the timing and severity of uterine contractions, by placing electrodes on her belly. But the electrodes and the wires connected to them can be annoying for a woman experiencing contractions.
A more comfortable monitoring device could be an RFID-enabled bellyband, which fits around a woman's midsection. It has no electrodes or wires—just smart fabric.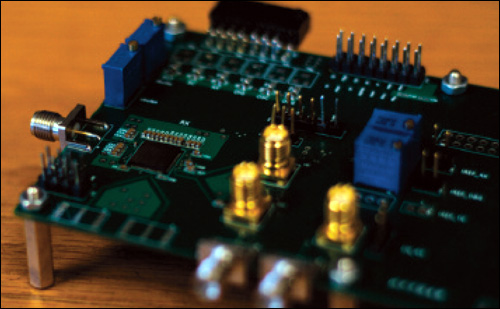 The smart fabric was designed by an interdisciplinary team of researchers at Drexel University, including Kapil Dandekar, Adam Fontecchio and Timothy Kurzweg, electrical engineering professors in the College of Engineering; Genevieve Dion, a fashion design professor in the Antoinette Westphal College of Media Arts & Design and director of the Shima Seiki Haute Technology Laboratory; and Owen Montgomery, M.D., head of obstetrics and gynecology in the College of Medicine.
The team knit an RFID antenna with a combination of conductive and nonconductive threads and created a little pocket for a Murata MagicStrap ultrahigh-frequency chip. The chip has pads that inductively couple with the knit antenna, creating a working passive RFID transponder that can wirelessly transmit data to a reader.
One obvious arena for smart fabrics is health care, and several of the team members who've experienced childbirth in recent years recognized the potential benefit of using them to monitor contractions. The project is supported by the Drexel-Coulter Translational Research Program and a National Science Foundation grant.
As a contraction occurs, the bellyband shrinks and expands. This changes the resonant frequency of the antenna and the level of inductive coupling between the passive RFID chip and the knit antenna, which affects the signal returned by the transponder to the RFID interrogator. The team is developing algorithms that use received signal strength indicator (RSSI), the strength of the signal the reader antenna receives from the tag, to determine when contractions occur.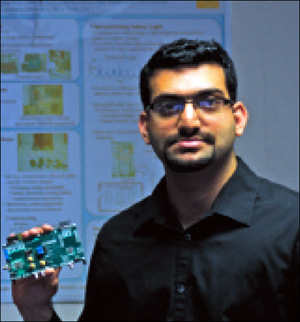 The researchers say that in lab tests on a mannequin designed for simulated childbirth, the RFID device appears to work as well as a tocodynamometer. "We are still testing, but the output
of our bellyband appears to deliver a similar profile as the tocodynamometer," Fontecchio says. "And because we can know when the simulated contractions will occur, we can determine that the system is monitoring them accurately."
The researchers are looking for partners to commercialize the bellyband. They believe it could be used at home for high-risk pregnancies. Data could be captured by RFID readers and transmitted to doctors, so they could monitor the patient remotely and respond to any early warning signs. "The same technology could perhaps be used on an infant as an early warning for sudden infant death syndrome," Dandekar says. "We are working on many other exciting biomedical smart textile applications."