Dec 11, 2015Lebanese men's suit brand and retailer Pellini has launched a radio frequency identification system to better manage its inventory as it expands the number of its stores throughout the Middle East and Europe. The ultrahigh-frequency (UHF) RFID EPC solution, known as Smart RFID, was provided by Swiss and Polish technology startup Smart Technology Group, and was installed and integrated into Pellini's existing management system by B.I.T. Security Solutions.
The suit company's system consists of Smart Technology Group's handheld RFID readers attached to tablets running software to manage the data captured on those devices, as well as Zebra Technologies ZD500R printers to print and encode Smartrac labels. Smart Technology Group developed the RFID software to integrate with Pellini's database software. The system was taken live in October 2015 at 10 of the company's 12 stores, in both Lebanon and Belgium.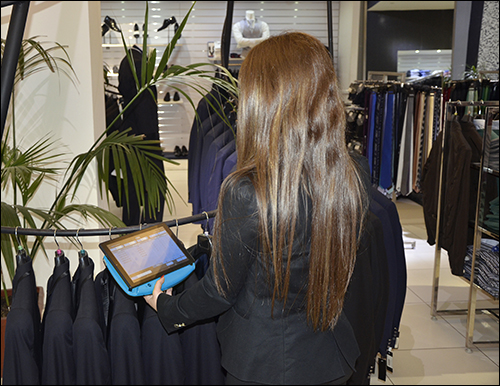 Since 1975, Pellini has sold men's formal suits, predominantly for weddings, at a few stores in Lebanon. Recently, the company decided to expand, based on the popularity of the suits in and beyond Lebanon, and has opened additional stores in both countries, explains Dany Boutros, the owner of the Pellini brand. There are currently seven Lebanese stores and five in Belgium, with all goods manufactured in Lebanon.

Smart Technology Group, headquartered both in Krakow, Poland, and in Zug, Switzerland, was founded this year to develop and produce solutions that use RFID, Bluetooth Low Energy (BLE) beacons, Wi-Fi, ZigBee and GPRS technologies, according to Karolina Kozlowska, the company's president and CEO. The firm makes UHF RFID readers that come with beacon, GPRS and Wi-Fi functionalities. It provides its technology for such applications as access control, parking management, inventory tracking, sports, tourism, airports and electronic article surveillance (EAS), she explains.
Pellini began working with Smart Technology Group early this year, as it was expanding beyond its stores in Lebanon. By opening locations in Europe as well, the company expected to increase the volume of goods purchased, and sought to ensure that it could know where its inventory was located at any given time, and that it would be available for stores to avoid out-of-stock events, as well as assist in the fulfillment of online orders.
"We took a strategic decision to expand into subsequent markets," Boutros says. "However, in order to assure that everything would go as planned, we had to improve the supply chain processes, reduce losses, increase efficiency of using the resources and implement an omnichannel program."
The company's priority was to deploy the RFID system for performing inventory counts of its merchandise at each store. By knowing what products were on the shelves and in the back room on a daily basis, the stores can reorder stock each day as needed, according to those counts, thereby ensuring that products do not run out. Additionally, if goods are ordered online directly by customers, the technology makes it possible for the company to know where those products are located, to ensure that they can be shipped from the closest store.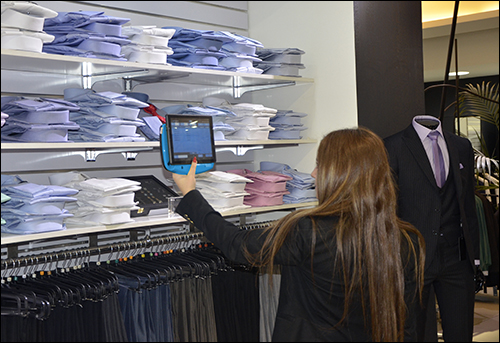 B.I.T. Security Solutions first visited Pellini's stores and factory in Lebanon, and then designed the system to include the most appropriate tags, printers and readers. For the first phase of the RFID deployment, enabling daily stock-taking at the stores, workers at Pellini's factory now use a ZD500R printer to encode Smartrac RFID tag and then attach that tag to the hangtag labels at the time that a garment is manufactured. The unique ID number on each tag is linked to the appropriate garment's stock-keeping unit (SKU) data, including its size, style and color, in Pellini's management software. The factory then ships those items directly to the stores, as directed via the software.
When the goods arrive at any of the 10 RFID-enabled stores, staff members can use their Neo 01 reader—which measures 267 millimeters (10.5 inches) by 165 millimeters (6.5 inches) by 43 millimeters (1.7 inches)—to capture each tag ID. The reader, which uses Bluetooth to communicate with any Microsoft Windows or Android smartphone or tablet attached to it, can read tags at a range of up to 8 meters (26 feet).
As each tag is read, the Smart Technology Group software residing on the reader captures its ID number, and the device forwards that information back to Pellini's software running on its own server, via a Bluetooth connection to an in-store mobile device. The store's software can then interpret how many of each SKU is present at that location, and when replenishment orders are needed.
"Smart RFID technology allows our staff to take stock of the products on a daily basis in each store," Boutros says. The pre-RFID inventory counts necessitated that every item's bar-coded label be scanned, which could require hours of work per store and, therefore, could not be conducted frequently. "Our shop assistants need now only a few minutes to take stock of the whole shop, with 100 percent accuracy."

The readers can also be put into Geiger counter mode and then be used to locate a specific item, in the event that it might have been misplaced in the store or back room. This makes it easier for employees to locate a particular item for a customer in the store.
Because the daily inventory counts ensure that products don't run out, Boutros says, the system can also be expected to increase sales.
Boutros says he has noticed another advantage to the RFID system as well: It reduces shipping costs by preventing stores from over-stocking goods to ensure that they don't run out. Because the stores can now have confidence in their inventory counts, they no longer need to keep as much inventory in their back rooms.
"As we are pleased with our experience with Smart RFID, we are, for sure, planning to use it in a wider context," Boutros states. He expects the next phase to be the installation of Smart RFID dressing rooms and RFID-enabled cash registers by B.I.T. Security Solutions. In that way, he says, the tags could enable customers to view data about the garments they try on in the dressing rooms, and could also allow faster transactions at the sales counter.