Aug 05, 2003By Jonathan Collins
Aug. 6, 2003 - Siemens Dematic, the material handling automation division of Siemens of German, and RFID specialist Matrics have completed testing the use of RFID tags to sort packages on conveyors.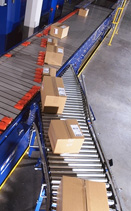 They say the system was 100 percent accurate, which opens the door for companies to consider using RFID instead of bar codes for sorting cartons.
Siemens Dematic, which has installed more than 10,000 distribution and warehousing systems across the United States, built and tested the RFID-enabled sorting system over the past few months at its Grand Rapids, Mich., headquarters. "Both the speed and the accuracy [of the RFID system] surpassed those of our existing bar code systems," says Joe Dunlap, RFID program lead for Siemens Dematic's Supply Chain Solutions group.
For the test, the conveyor system had to read 200 cartons per minute with a minimum gap of six inches between the cartons. Read rates were measured using cartons ranging from shoebox size to a few feet square. The cartons contained products of varying densities, and the RFID labels on them were in random orientation to the reader.
Siemens Dematic used Matrics' Smart Label DDS-001 tags, which operate in the UHF spectrum (915 MHz) and Matrics Stationary RDR-001. Matrics says its readers can read up to 1,000 tags per second. The tags have a read range of up to 30 feet. But more important for this application was the tags' double dipole antenna, which enables them to be read regardless of their orientation to the reader.
"The two antennas at a 90 degree offset means an accurate reading regardless of the orientation of the tag to the reader," says Tom Coyle, VP of supply chain solutions at Columbus, Md.-based Matrics.
The ability to identify cartons without having to line them up so a bar code would be in front of a scanner increased the speed of the sorting process, according to Siemens Dematic's Dunlap. "Bar codes require line of sight, and so speed is lost in ensuring the orientation of each bar code," he says.
Siemens Dematic says it opted to use Matrics tags and readers because of their speed and range, but also because the company is a fellow member of the Auto-ID center. Dunlap believes RFID standards will enable his company to deliver products using RFID hardware from a range of vendors, depending on the customer's needs.
"We see our customers selecting RFID vendors that best suit their requirements and being able to integrate a range of RFID equipment with our systems," says Dunlap. He adds that Siemens Dematic has no immediate timetable for shipping RFID capable systems, but customers are already showing interest in deploying the technology.