Feb 02, 2023RFID Journal LIVE! 2023 will feature end-user companies discussing RFID's use in a wide variety of industries, as well as exhibitors offering tagging solutions for multiple applications. To learn more, visit the event's website.
Presented here are recent news announcements in the radio frequency identification and Internet of Things industries.
RFID Global Intros New HF/NFC Reader
RFID Global, a provider of radio frequency identification (RFID), Near Field Communication (NFC) and Bluetooth Low Energy (BLE) solutions, has announced its latest HF RFID controller, known as RedWave MR74. This multi-standard device handles HF-band tags (13.56 MHz frequency) compliant with ISO 14443-A/-B, ISO 15693, ISO 18000-3M3, NFC (Near Field Communication) and ISO 18092 (a contactless smart-card standard used in electronic ticketing systems), as well as Sony Felica and Calypso for RFID tags.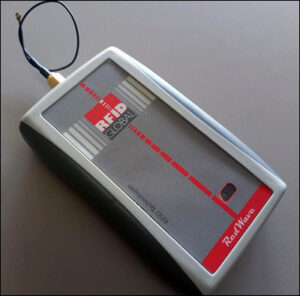 The desktop reader can use its built-in antenna and external antenna simultaneously, the company reports. It can be deployed as a proximity reader using only the internal antenna, or as a vicinity reader if an external antenna is connected via an SMA plug. In scan-mode, the MR74 listens to tags and sends data to a host via high-speed USB, then allows for automatic switching between the two antennas. The reader also works in ISO host-mode and with keyboard emulation.
The MR74's tag-detection range varies from a few centimeters up to 25 centimeters (9.8 inches), depending on the environment. This, the company notes, makes it suitable for a variety of applications, including retail (product identification, vending machines, loyalty and point-of-sale), rental services, authentication, security, e-commerce, e-banking, transportation ticketing, document tracking at libraries and bookstores, industry, laundry and logistics.
The device weighs 120 grams (4.2 ounces). SoftCrypto and SAMCrypto functionality provides an interface for accessing encrypted data from Mifare DESFire (Ev0, Ev1 or Ev2), Mifare PLUS, Mifare Ultralight C or NTAG 424 DNA via a secure communication channel. Housed in a gray IP30-certified box, the device generates a radio emission power of 450 mW and comes with a software development kit for Windows (C++, .NET and Java), Linux (C++ and Java) and Raspberry Pi.
Pilz Tech Lets Machine Operators Assign RFID Permissions
Pilz has announced new formats for the control of access permissions with its PITreader card unit. The RFID-capable PITreader card and PITreader sticker can be used in conjunction with or instead of the existing PITreader key. Machine operators can have individual permissions on a transponder and use them to authenticate themselves on the card unit to gain entry to a factory or machine.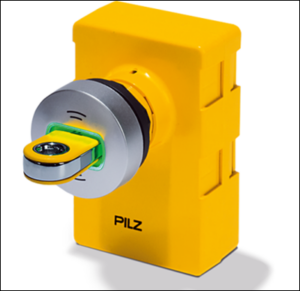 Companies can increase industrial security with the technology, Pilz reports, since they can control who has specific permissions and, thus, who is granted access to particular processes. At the same time, they can meet the requirements for functionally safe operating mode selection. RFID transponders are available as writeable and preconfigured versions. A transparent window on the PITreader card enables users to read the LED status indicator if a card is held up to it.
The system can be used in conjunction with other RFID-capable cards. The PITreader S card unit is designed for the OPC UA standard. Administrators can manage user settings, block lists and user data for the transponder keys, cards or stickers via the graphical interface on the corresponding PIT Transponder Manager software tool. With preconfigured templates, individual user permissions can be written to the transponder. An import function enables information to be read quickly and directly into the integrated database, saving administrator time.
If a company uses multiple readers and the PITreader, these will be organized using the User Authentication Service software tool. PITreader cards can be used in combination with Pilz's PNOZ configurable controller or PSS4000 automation system to manage access permissions and safe operating mode selection. According to the company, the solution allows businesses to provide safety and security for a range of processes.
Memfault Raises Funding for IoT Reliability Platform
Memfault, which offers an Internet of Things (IoT)-based reliability platform, has announced a $24 million series B funding round. The round was led by Stripes, with additional participation from existing investors Partech Partners and Uncork Capital, as well as the 5G Open Innovation Lab. The funding will support the company's product roadmap and partner development, Memfault reports, and will enable the company to grow its team and address rising enterprise demand.
Memfault's founders—embedded engineers from Fitbit, Oculus and Pebble—built its platform to equip developers with critical device reliability engineering tools, enabling them to build and operate IoT and edge devices with automation, data analysis and collaboration. Developers can leverage built-in performance monitoring, device debugging and over-the-air updates for proactive device operations to detect, patch and fix issues before users can notice them.
"Our commitment has always been to give embedded engineers a set of tools that lets them focus on building incredible products," said François Baldassari, Memfault's CEO, in a prepared statement. "With this investment, we can continue to innovate on our platform and scale the business to meet the needs of customers, whether they build a niche industry device or a wearable used by millions."
Bose, Lyft, Traeger and other customers use Memfault's solutions to implement scalable and sustainable processes, de-risk product launches, reduce costs and achieve other benefits, Memfault indicates. Designed to provide cross-platform support for large and small fleets, the platform is available for Linux, Android, RTOS and bare-metal device developers. The technology is compatible with multiple wired and wireless protocols, including Bluetooth, cellular, Wi-Fi, LoRa, Thread and Zigbee.
Blickfeld, CubiQ Partner on LiDAR-based Logistics Systems
Blickfeld, a Munich-based manufacturer of LiDAR sensor solutions, has announced a partnership with CubiQ, which develops technology for the automation of logistics processes. Under the agreement, Blickfeld's Cube 1 sensors will be integrated with CubiQ's warehouse-management solutions. The resultant LiDAR-enhanced systems, known as CubiQ-X, are intended to help warehouses precisely calculate objects' dimensions.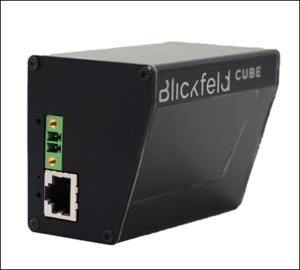 The 3D-based system provides a product's length, width, height, weight and photographic image within less than two seconds, the company reports. It can scan barcodes as well, and it uses natural language processing to read text on labels. With the Cube 1 sensor, CubiQ-X can measure pallets secured with black stretch wrap, and the solution is not affected by reflective light conditions. The technology-agnostic solution can be integrated with existing enterprise resource planning warehouse-management systems.
"Forward-thinking logistics companies, especially freight forwarders, couriers and airlines, are selecting CubiQ not only for its ability to formulate DIM accurately in less than two seconds, but also to see ROI in 30 days," said Patrick Pylypuik, Blickfeld's VP of sales for North America, in a prepared statement.
"Our customers will benefit greatly from the extremely fast available data," added Camilo García, CubiQ's CEO, in the prepared statement. "Their processes will be more automated and digitalized, reducing the lead time to clients by up to 60 percent and reducing operating costs by up to 80 percent. In logistics, speed, accuracy and reliability play a key role, and Blickfeld LiDAR sensors improve all these parameters enormously."