Oct 14, 2021Presented here are recent news announcements regarding the following organizations: Xerafy, NXP Semiconductors, Michigan State University's Axia Institute, Fresenius Kabi, AsReader, CDO Technologies, DT Research, ScaleOut Software, Trackunit, Silicon Labs, GS1 US and STMicroelectronics.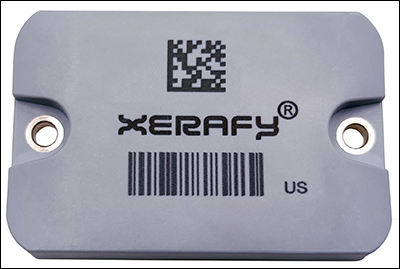 Xerafy Offers On-Metal RFID Tags with NXP Chips
Xerafy, a provider of Gen 2 passive UHF RFID on-metal tags, has announced the launch of its updated MICRO series tags designed to meet the challenges of automation and digitization in manufacturing. Industrial RFID systems for manufacturing are moving toward automation, digitization and data acquisition, the company reports, and its MICRO tags are designed to provide a reusable tagging solution that will work reliably under harsh conditions, including high temperatures, shocks, chemicals, pressure and water resistance. The tags feature  NXP Semiconductors' UCODE 8 IC chip.
With this upgrade, Xerafy says it is adding new features and customizable options to its industrial RFID tagging platform. The system will now operate at temperatures up to 250 degrees Celsius (482 degrees Fahrenheit), feature an IP68 ratings, and come with a rugged mounting with metal reinforcements for rivets and screws. ATEX-certified, the solution comes with a metal backplate and a case optimized for barcodes and optical identification. Aside from the all-purpose MICRO Industrial tag, the series includes two specialized designs for use in paint shops (the silicon-free MICRO Paint Shop) and in medical autoclaves (the IP69K-rated MICRO Autoclavable).
The MICRO tags are currently being utilized at manufacturing facilities worldwide, the company reports, for use in high-temperature production, automotive paint shops, work-in-process visibility and more. Xerafy says it selected the UCODE 8 IC chip for its sensitivity and overall performance. Tag samples of the MICRO series are available now, with orders expected to ship this month.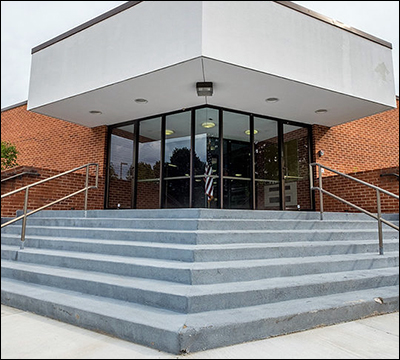 Axia Institute Launches RFID Tag Validation Program, Partners with Fresenius Kabi
Michigan State University's Axia Institute has announced the creation of  Axia Lab, a research and consulting service for radio frequency identification (RFID) item assessments, testing, compliance and technical implementations. According to the university, Axia Lab provides a neutral environment to facilitate impartial testing of the performance of RFID-tagged items according to  GS1 standards.
"The Axia Lab was created to empower RFID innovation and collaboration across the supply chain," said John D. Hatfield, the Axia Institute's executive director, in a prepared statement. "Our mission is to collaborate with industry to help enable the future of RFID-enabled technology, solving some of supply chain's greatest challenges—from smart packaging, serialization, traceability and risk mitigation to data analytics and security." Beginning with the pharmaceutical industry, Axia Lab conducts testing and validation of tagged items according to GS1's Tagged-Item Performance Protocol (TIPP) testing, to ensure serialization using RFID tags is deployed using a globally accepted standard.
The testing is designed to eliminate the need for in-house tag performance tests and the associated resources, time and expense. TIPP is a standardized test method that can be repeated and independently verified by all stakeholders, the company explains, thus providing performance grades for tagged items. These grades enable stakeholders to communicate their actual tagging requirements more accurately. TIPP makes RFID characterization easy for end users, the Axia Lab notes, since dBm levels, orientation pattern, detuning and proximity effects are all included in a grade.
"RFID is an important element of supply chain traceability," added Bahar Aliakbarian, the Axia Institute's director of research and development, in the prepared statement. "Particularly in the healthcare supply chain, implementation of RFID can help improve patient safety; save hospitals, companies and other organizations thousands of dollars in theft and counterfeit prevention; save hundreds of workhours in stocktaking; and reduce a myriad of misidentification issues. But this can't be done alone."
Aliakbarian added, "Our lab serves as a neutral exploration ground, collaborating with industry and globally recognized academic researchers to develop new protocols and ensure compliance with global, consistent standards, simplifying and speeding up RFID deployments. Our access to the highly sophisticated equipment and researchers at the national top-ranked MSU School of Packaging, Supply Chain Management, and Engineering makes us unique for this mission."
Fresenius Kabi, a healthcare company specializing in lifesaving medicines and technologies for infusion, transfusion and clinical nutrition, has partnered with the Axia Lab to test its +RFID smart-labeled portfolio of medications. "For Fresenius Kabi, working with the Axia Lab is another way we can help hospitals fulfill their mission of patient care and safety," said Gwen Volpe, Fresenius Kabi USA's director of medication technology, in the prepared statement. "RFID-enabled products must exhibit high performance, quality and reliability. Axia's testing protocols ensure that +RFID smart-labeled products have gone through the rigor of a comprehensive performance analysis and are tested in real-life scenarios using accepted GS1 global standards."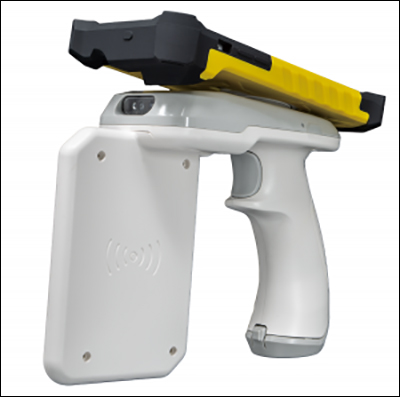 AsReader Unveils Lightweight RFID Reader-Writer
AsReader introduced its ASR-L251G scanner at the  RFID Journal LIVE! conference and exhibition, recently held in Phoenix, Ariz. The gun-style scanner, designed in Japan and made in South Korea, is currently being used by multiple manufacturers, retailers, healthcare companies, and transportation and logistics firms looking to quickly complete inventory counts and locate items. The scanner can be quickly attached, the company rerpots, and can easily auto-switch between iOS, Android and Windows smartphones and tablets, including legacy iPhone 5 through the 13 Pro Max.
The smartphone is connected either via USB or AsReader's Apple MFi Certified Lightning Connection, and it locks into place with a proprietary magnetic design, making setup quick and painless. "The ASR-L251G is the best gun style scanner we've launched to date," said Paul Whitney, the company's vice president, in a prepared statement. "Users need to inventory and deliver products lightning fast, and this device gives them both lightness and speed. As well as offering a read distance of 40 feet, it's fast because it's hardwired and doesn't have the bottleneck of Bluetooth. And inventory can be done in a fraction of the time it used to take."
With the ASR-L251G, AsReader reports, a single employee can count 30,000 items spread acorrs two floors of a store within two hours. The read distance provided and the 60-degree aperture of the device's linear antenna, the company notes, enable users to scan without ladders in some cases, and without having to reach far back through stacks of inventory to aim the scanner up close. AsReader also offers a pocket-version, sled-type RFID reader-writer called the ASR-030D, which can scan 20 tags a second and attaches to the back of a smartphone.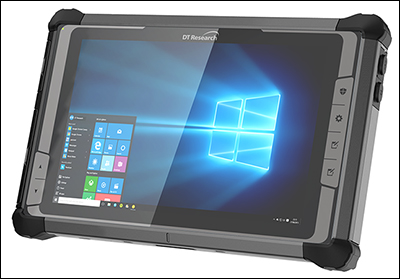 CDO Technologies Adds DT Research Tablet to DoD Auto-ID Contract
CDO Technologies has announced the addition of  DT Research's 382GL tablet computer to its Department of Defense Automatic Identification Technology (AIT-6) Contract. The DT382GL 8-inch Windows 10 tablet is designed to provide a rugged solution for government end users, and it comes with an integrated CAC reader and an 800 NIT display.
AIT-6, managed by Army Contracting Command, includes hardware, software and technical engineering services (TES) for use by the U.S. Department of Defense, the Coast Guard, the North Atlantic Treaty Organizations, and other federal agencies and contractors. The objective, the company reports, is to enable the logistics identification, tracking, locating and monitoring of assets and processes. The AIT technology will provide standardization and interoperability among government users of components purchased from this contract.
"CDO is excited to start this new relationship with DT Research," said Don Ertel, CDO Technologies' senior VP, in a prepared statement. "With a long history of mobile computing product delivery to the Department of Defense, CDO's ability to add a market-leading device to their Department of Defense contract helps us continue to grow our hardware implementation program."
The DT 382GL tablet features an 8-inch brightness capacitive touch screen and Microsoft Windows 10 IoT Enterprise, with a built-in Common Access Card (CAC) reader and a 1D/2D barcode scanner. The small-form, IP65- and MIL-STD-810G-rated rugged handheld tablet can perform secure ID and vehicle verification necessary to access restricted areas, the company indicates, as well as secure logical access to computer networks.
"CDO's goals are closely aligned with our mission," added Daw Tsai, DT Research's president, in the prepared statement, "which makes for a great partnership to deliver the most advanced technology solutions to meet the growing security, logistics and asset management needs for government agencies and other companies."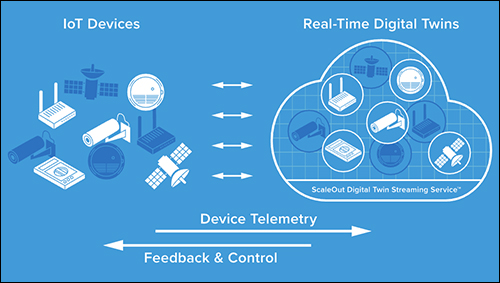 ScaleOut Software Upgrades Real-Time Digital Twin Streaming Service
ScaleOut Software has announced extensions to its ScaleOut Digital Twin Streaming Service that enable real-time digital twin software to implement and host machine learning (ML) and statistical analysis algorithms to identify unexpected behaviors exhibited by incoming telemetry. According to the company, real-time digital twins can now make extensive use of Microsoft's ML.NET library to implement these capabilities for virtually any Internet of Things (IoT) device or source object.
The integration of machine learning with real-time digital twins offers options for real-time monitoring across a wide variety of applications, ScaleOut explains. For example, cloud-based real-time digital twins can track a fleet of trucks to identify subtle changes in key engine parameters, using predictive analytics to avoid costly failures. Security monitors tracking perimeter entrances and sound sensors can use ML techniques to automatically identify unexpected behaviors and generate alerts.
By harnessing the no-code ScaleOut Model Development Tool, the company explains, a real-time digital twin can automatically analyze incoming telemetry messages using ML techniques. Machine learning provides real-time insights that enhance situational awareness and enable fast responses. The tool provides three configuration options for analyzing numeric parameters contained within incoming messages to spot issues as they arise: spike detection, trend detection and multi-variable anomaly detection.
Spike detection tracks a single parameter from a data source to identify a spike in its values over time using an adaptive kernel density estimation algorithm implemented by ML.NET. Trend detection monitors a single parameter to identify a trend change, such as an unexpected increase over time for a parameter that is normally stable, using a linear regression algorithm that detects inflection points. And multi-variable anomaly detection tracks a set of related parameters in aggregate to identify anomalies using a user-selected ML algorithm implemented by ML.NET that performs binary classification with supervised learning.
Once configured through the ScaleOut Model Development Tool, the ML algorithms run automatically and independently for each data source within their corresponding real-time digital twins as incoming messages are received. According to the company, each real-time digital twin can automatically capture anomalous events for follow-up analysis and generate alerts to popular alerting providers, such as Splunk, Slack and Pager Duty, to support remediation by service or security teams.
"We are excited to offer powerful machine learning capabilities for real-time digital twins that will make it even easier to immediately spot issues or identify opportunities across a large population of data sources," said William Bain, ScaleOut Software's CEO and founder, in a prepared statement. "ScaleOut Software has built the next step in the evolution of the Microsoft Azure IoT and ML.NET ecosystem, and we look forward to helping our customers harness these technologies to enhance their real-time monitoring and streaming analytics."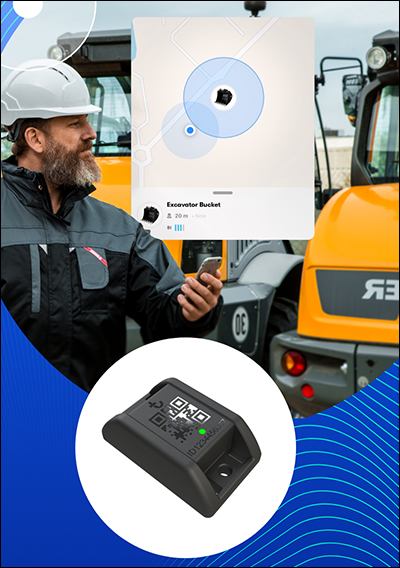 Trackunit, Silicon Labs Partner on BLE Asset-Tracking Solution
Silicon Labs, a provider of secure wireless technologies, has announced that global fleet management solution provider  Trackunit is leveraging its Bluetooth Low Energy (BLE) modules in its Trackunit Kin asset-tracking solution, to help construction firms better manage tools via wireless technology.
"Wireless connectivity is changing the dynamics and modes of operation across numerous vital industries, such as construction, which at times might be slower to adopt new technology," said Matt Johnson, Silicon Labs' president, in a prepared statement. "Silicon Labs' Bluetooth technology empowers Trackunit to help construction companies greatly improve overall site productivity by allowing them to keep accurate track of their assets, a feat that might sound small but is far from it."
The Trackunit Kin product uses a compact, self-powered tag to connect large machines and smaller accessories by enabling the entirety of a site's inventory to be connected and tracked via its secure, open Iris cloud-based productivity platform. According to the company, Kin allows users to increase productivity and reduce costs by locating small assets on large construction sites—a task that could otherwise result in schedule delays. Kin collects data about the assets it tracks, enabling users to monitor and evaluate any equipment that might be under-utilized or needs to be reallocated.
Silicon Labs' Bluetooth 5.2 SoC modules enable secure, wireless communication between the Kin tags and the Iris platform, the company reports, and they meet the requirements of high-volume, battery-powered Bluetooth products. With annual Bluetooth device shipments forecast to surpass six billion by 2025, Silicon Labs says it designed these modules to meet the need for secure connectivity and low power consumption in the billions of Bluetooth-enabled IoT devices expected to be in use within the next several years.
"Silicon Labs is a trusted partner that clearly understood our vision for asset tracking technology within the construction industry and saw the potential of the Trackunit Kin solution," added Soeren Brogaard, Trackunit's CEO, in the prepared statement. "As a pioneer in asset tracking and monitoring, it is exciting to see our customers gain tremendous productivity and operational business value from our technology. Trackunit is confident our IoT telematics technology will change the future of construction."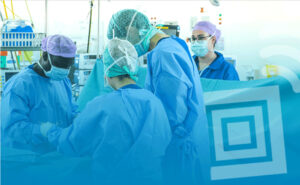 GS1 US to Host Virtual Healthcare RFID Workshop
GS1 US has announced a virtual workshop for the healthcare sector, which will be held on Oct. 29, 2021, from 8 AM to noon EDT. "For healthcare, patient safety is everything," GS1 US explains. "To help increase patient safety with improved inventory management, GS1 US will be facilitating a free virtual workshop on Electronic Product Code (EPC)-enabled radio frequency identification (RFID)."
Participants will learn how EPC-enabled RFID is being used in healthcare, and speakers will define industry needs to further enable open, interoperable, standards-based solutions. Those interested in making a positive impact in the healthcare sector can  register here or email  Jon Gregory for more information. The results of this workshop will be presented to GS1 US's leadership for planning activity in 2022.
"A standardized RFID technology will unleash unprecedented automation and data generation capabilities for healthcare professionals leading to improved patient care management," said Michael Attlan,  Sanofi's head of new technologies platform, in a prepared statement. Workshop topics will include an introduction to RFID technology and the value of GS1 standards, RFID-enabled use cases highlighted by industry leaders, the identification of opportunities for healthcare, and a consensus on needs to address moving forward.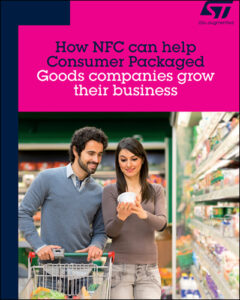 STMicroelectronics Publishes White Paper on NFC for CPG
The consumer packaged goods (CPG) industry is a highly competitive market, with multiple players and price-sensitive consumers who are becoming more concerned about their health and lifestyle, and who want to protect the environment. Digital technologies offer new opportunities for companies to create direct-to-customer communication.
Making product packaging smarter using Near Field Communication (NFC) offers a means for CPG companies to foster consumer engagement and set themselves apart from their competition. With that in mind,  STMicroelectronics published this white paper, which outlines the benefits of using NFC, how such technology works, the advantages offered by intelligent packaging, and how NFC can help brands grow their business by bridging the physical and digital worlds. You can download the white paper  here.